Head & Heel
Wednesday, August 1, 2018
Europe got an introduction to Cowboy wrestling in 1938
By David C. Peters
Eighty years ago, four Oklahoma Agricultural and Mechanical College student wrestlers took their winning ways to an international wrestling tournament in Europe. They missed a semester of classes, but they had an adventure of a lifetime and an educational experience that none of them would ever forget.
During the 1930s, the OAMC wrestling teams under Coach Edward Clark Gallagher dominated the nation with 74 wins, two losses and two ties, eight national championships and two second-place finishes. Gallagher believed his wrestlers needed more international experience. From 1924 to 1936, 16 OAMC wrestlers competed in Olympic preliminaries and games. His wrestlers won three gold and one silver medals, but he thought they could have won even more with additional exposure. After all, he was coaching some of the most exceptional wrestlers in the country.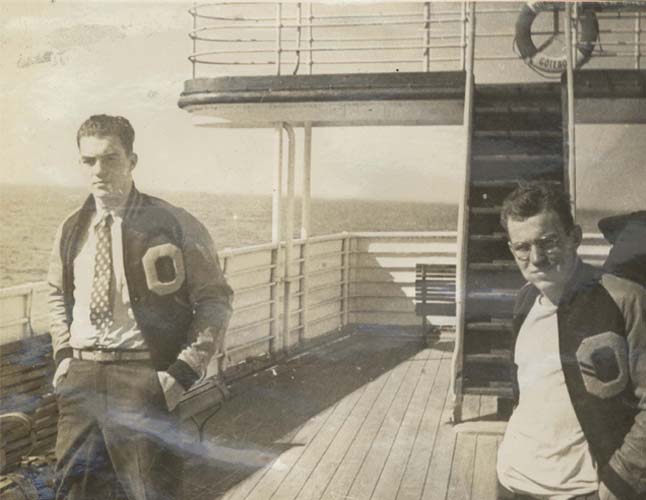 The U.S. National Wrestling Team, set to compete against Sweden, Hungary and Germany at the international match, was made up of winners of each of the Olympic weight categories at the 1938 AAU championships. Joe McDaniel captured first place at 123 pounds, and his "clever wrestling" was a feature of the tournament. Stanley Henson, competing at 148 pounds, and freshman John Harrell, wrestling at 191 pounds, were also crowned champions.
Summer camp in Sulphur
During the summer of 1938, McDaniel invited Henson and Harrell to join him in his hometown of Sulphur, Oklahoma, to train for Europe. They ran five, six or more miles daily and spent hours on the wrestling mats. Although they were dramatically different physically, they all benefited from the experience. Harrell, who had just turned 19, learned many of the wrestling holds and maneuvers Henson and McDaniel had been perfecting for years, becoming one of the quickest men in the higher weight classes. McDaniel and Henson also benefited in learning how to wrestle with someone stronger than they were. In order to maintain their weights, McDaniel and Henson followed strict and healthy diets. Harrell's father was just happy that someone else had to feed him. At times, other Oklahoma A&M wrestlers joined their summer camp in Sulphur. That summer, Henson eloped with his college girlfriend, Thelma Burnell; they would remain married for over 75 years.
In the fall of 1938, the trio of OAMC wrestlers headed for New York City. They drove the Harrell family's Buick sedan and even turned the long drive into a training opportunity. Whenever they stopped for gasoline, the two passengers would use the restrooms first, then start running east along the highway. The designated driver would then use the restroom, pay for the gas, head out and pick up the two runners. After arriving in New York City in mid-September, they put the Buick in storage and boarded a Swedish luxury cruise ship, the MS Kungsholm, for an eight-day voyage to Sweden.
Sweden's athletic authorities covered participants' costs, including those incurred getting to New York.
National AAU wrestling chairman George M. Pinneo traveled with the seven-member team. In addition to the Oklahoma trio, the team included Francis Millard (134 pounds), Walter Jacobs (158 pounds), Albert Crawford (174 pounds), and Clifton Gustafson (unlimited heavyweight). Millard had competed in the 1936 Games in Berlin.
European arrival
The American wrestlers arrived in Sweden's port city of Gothenburg before traveling by train 270 miles to Stockholm. In Stockholm, they were treated like royalty and stayed in a first-class hotel. McDaniel, Henson and Harrell made quite the impression with their cowboy hats and cowboy boots.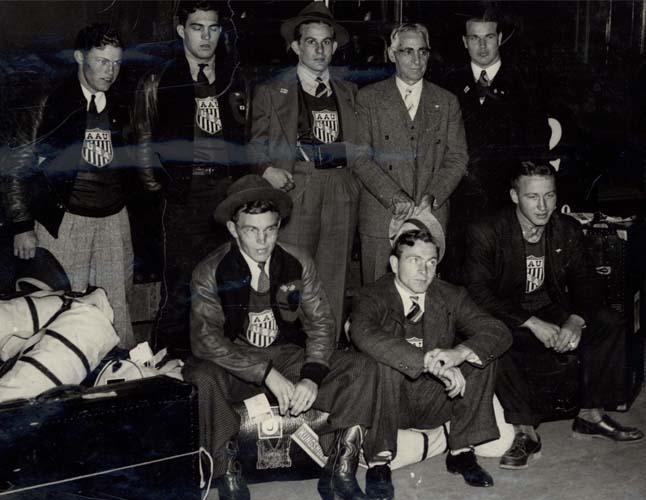 The tournament was a series of dual matches between countries. In the initial dual, the United States faced Hungary. Joe McDaniel easily defeated Odon Zombori, a gold medalist in the 1936 Olympics, in the first match. Henson was also winning without difficulty when he dislocated his shoulder. A Swedish doctor in the audience reset the shoulder, and Henson continued wrestling. He was headed for victory when his shoulder was dislocated a second time, ending his competition in Europe. Harrell pinned a Hungarian wrestler. The USA defeated Hungary with five match wins and two losses before beating Germany with four match victories.
The remaining dual for the U.S. team was against the Swedes. McDaniel started with a victory over two-time Olympian Herman Tuvesson, and Millard completed a second victory for the Americans. The tide turned with Henson's forfeit and two additional losses. Young John Harrell then faced Azel Cadier, 12 years older and considered to be in his wrestling prime. He had won bronze in 1932 and gold in the 1936 Olympics. He was the current European champion in his weight class, and European wrestling enthusiasts referred to him as "the Perfect Wrestler."
Harrell and Cadier were having an excellent match with neither man able take control. Harrell used a move he had learned from Henson known as the "Head and Heel." It involved pulling the opponent's head and neck down with one hand, then quickly grabbing his ankle with your other arm, placing the opposing wrestler in a potential pinning hold. Today, it would be called an ankle pick. In only a few seconds, Harrell pinned Cadier — surprising all, Cadier and Harrell included. The crowd sat in stunned silence while Harrell's teammates swarmed around him. Harrell had tied the dual, and it was up to heavyweight Clifton Gustafson, a Minnesotan of Scandinavian heritage to seal the team victory. The Swedish heavyweight, Knut Fridell, had won the 1934 European Championships and gold at the 1936 Olympics. Gustafson couldn't replicate the Harrell miracle, and Fridell won the final match. The Swedish home team took the victory four matches to three, but the lingering conversations were mostly about the Harrell-Cadier match.
The wrestlers were exhausted after back to back to back duals at the three-day match. The Americans won two out of the three duals, only losing by one match to Sweden.
After a few days of relaxation, the American team toured towns and cities around Stockholm for exhibition duals. At every location, Azel Cadier would be there to wrestle John Harrell — and Harrell kept beating him. After three or four more victories, Cadier finally won a match. Harrell later explained: "Hell, if I hadn't let him beat me, we'd have been there forever."
Another Aggie joins
Immediately after Stanley Henson's injury, a substitute was sought for the rest of the tour. Dale Scriven, the runner-up in the 158-pound class at the 1938 AAU Championship, met up with the team in Germany. The Germans kept the wrestling team on a tight schedule of tours, matches and sightseeing. They also introduced them to German beers and some of the better German wrestlers, many of whom were in the German army and couldn't travel to Sweden for the tournament.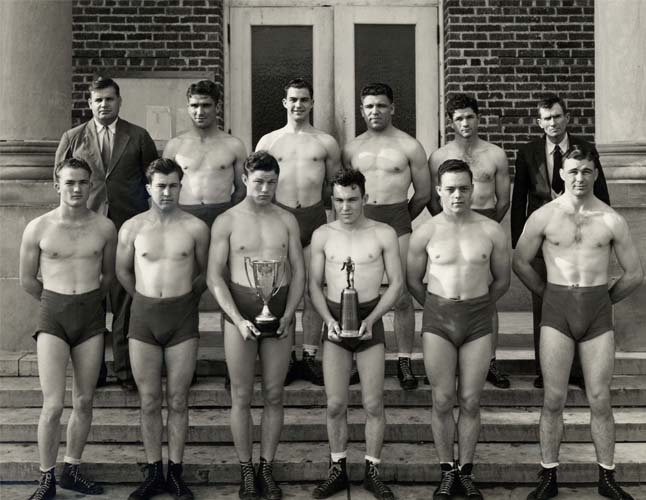 The team was also divided up; individuals went to different towns for exhibitions and stayed overnight with host families. They would ride the train to their designated location without interpreters and hope that someone would meet them at the train station. People in the towns always expected them, crowds would greet them upon arrival and take them on a tour of their communities ending up at the local gymnasium. They'd work out and participate in matches before residents would take them home and feed, entertain and house them. At this point there were no more weigh-ins, and everyone was eating all they wanted.
Not all went completely smoothly on the rest of the trip. The group bought a BB gun in Germany and shot sparrows from their hotel balcony in Frankfurt. Somebody reported that as Americans with a gun, shooting outside the hotel. The Gestapo responded and hauled them off to jail. George Pinneo and the local wrestling arrangements committee intervened, and the wrestlers were freed quickly without incident.
The team continued their tour of Western Europe with stops in Belgium, the Netherlands and England before returning home on the SS Europa. Their escapades continued but these tales will need to be told in another installment later.
Joe McDaniel died Nov. 4, 2011, John Harrell a little over a year later on Dec. 1, 2012, and Stanley Henson died Jan. 30, 2018.
Author's Note: I participated in Oral History Interviews with Joe McDaniel, John Harrell and Stanley Henson, the last known surviving Gallagher wrestlers. They wrestled for Coach Edward Clark Gallagher at the end of his career when he was physically frail due to Parkinson's disease, but he still taught, inspired and motivated the young men he worked with. McDaniel's daughter, Mary Jo, provided scrapbooks that contained artifacts and photographs that were of tremendous assistance in writing this article.