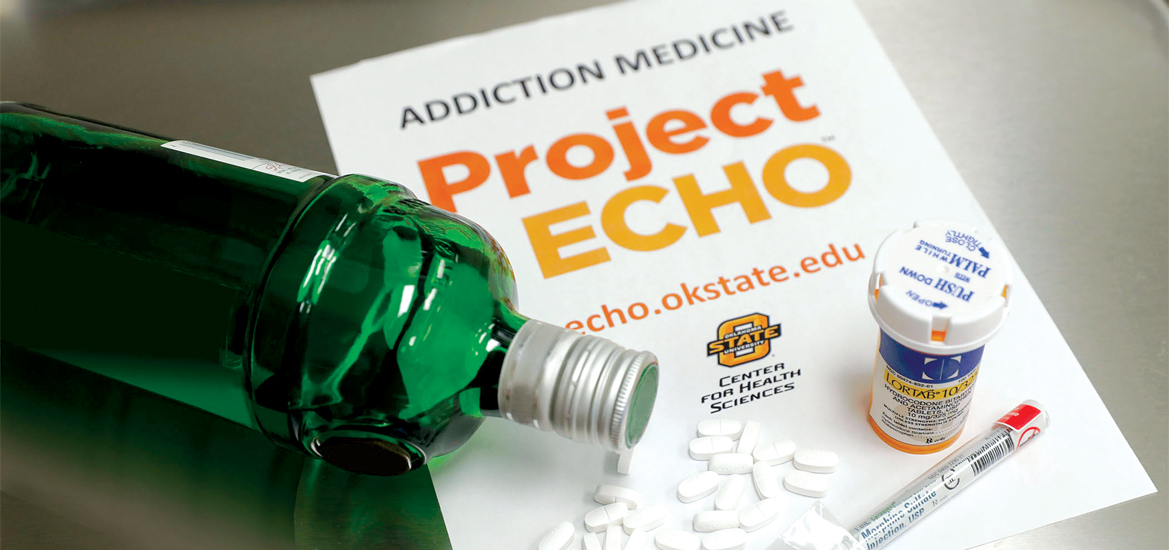 Improving Rural Health Care
Wednesday, August 1, 2018
Shrum's vision leads OSU-CHS to join Project ECHO
By Melani Hamilton
Dr. Kayse Shrum envisioned finding a way to improve health outcomes for Oklahomans in rural communities with limited or zero access to physicians.
Her vision led to establishing OSU Center for Health Sciences as a Project ECHO academic hub. As president of OSU Center for Health Sciences and dean of the College of Osteopathic Medicine, she is responsible for carrying out OSU-CHS's mission to train physicians for rural and underserved areas of Oklahoma.
Using advanced communication technology, OSU Project ECHO (Extension for Community Healthcare Outcomes) is enhancing medical education for rural health care providers and connecting them with specialists at OSU-CHS.
"Project ECHO is a great way for our team of specialists to share their medical knowledge with providers across our state, especially those who take care of patients in rural communities," said Shrum. "Through Project ECHO, rural providers can acquire the knowledge to treat many of their patients in their hometowns without having to refer them to an urban health care facility. Patients get the right care at the right time from the right provider."
Even before this effort began, Shrum knew mental health and addiction services were sorely needed in rural Oklahoma. When Project ECHO launched in 2016, the teleECHOTM clinic began with psychiatry, quickly followed by service lines in obesity and addiction medicine. Today, there are additional clinics in HIV/viral disorders, hepatitis C, pediatric psychiatry and teleED.
There is no charge for rural providers to participate in OSU-CHS Project ECHO programs, thanks to generous support received from The Anne & Henry Zarrow Foundation, Blue Cross and Blue Shield of Oklahoma, and the Telligen Community Initiative.
"We are proud to support these initiatives that are making medical care and medical knowledge more accessible to rural Oklahoma," said Judy Kishner, president of The Anne & Henry Zarrow Foundation.
A total of 206 ECHO clinics have been held with 1,559 participants, affecting the lives of 15,590 patients and equaling a savings of $21,872,770 in health care costs.
Hub and spoke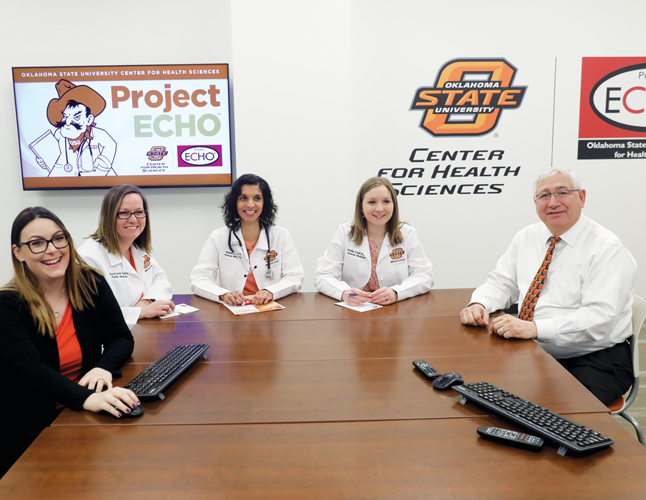 The heart of the model is its hub- and-spoke knowledge-sharing networks. Local clinicians are paired together with specialist teams at academic health centers in weekly virtual clinics.
Project ECHO connects a multidisciplinary team at the OSU Center for Health Sciences with community providers to discuss treatment for chronic and complex medical conditions. Primary care providers throughout Oklahoma develop specialty care knowledge via weekly video teleconferencing sessions that can be accessed via desktop computer, laptop, tablet or cellphone.
"Oklahoma State is filling a void for the state of Oklahoma that is going to be a boon for rural areas," said Douglas Nolan, D.O. and medical director of the Cherokee Nation Diabetes Program in Tahlequah.
"A lot of times what we need in primary care is a curbside consult. We need a backup," Nolan said about the shared knowledge gained through Project ECHO.
Project ECHO builds a community of practice, learning and support, and it saves time, adds convenience and improves treatment adherence for patients.
Project ECHO was developed by the University of New Mexico and Dr. Sanjeev Arora, a liver disease doctor who was frustrated that thousands of New Mexicans with hepatitis C could not get the treatment they needed because no specialists were near them.
Project ECHO operates more than 175 hubs worldwide covering more than 70 complex conditions and problems.
Children's emotional health
In February, OSU-CHS launched one of its most successful lines — Pediatric Behavioral and Emotional Health ECHO: Infancy through Adolescence.
In the United States, 21 percent of children and adolescents meet diagnostic criteria for mental health disorder with impaired functioning. Up to 80 percent of children and youth who need mental health services don't get them. In Oklahoma, the second leading cause of death for children ages 11-18 is suicide. The Pediatric Behavioral and Emotional Health ECHO provides opportunities for prevention, early detection and treatment of such problems.
"My experience is that it is not uncommon for waitlists for child and adolescent psychiatry to be several months long. Typically, these families say that their children have been struggling for years without evaluation or intervention," said D.O. Sara Coffey, assistant clinical professor of psychiatry at OSU-CHS. "Unfortunately, stigma continues to play a role in care of mental illness in Tulsa and across the nation. Yet, suicide is the second leading cause of death among adolescents. It is imperative that we talk about mental illness, so that we can appropriately diagnose and treat our children."
"The Pediatric Behavioral and Emotional Health ECHO is a huge asset for our community as well as a tremendous resource for providers across the state and in rural Oklahoma," said Whitney Downie, chief program officer, Children's Mental Health and Family Support at Family & Children's Services in Tulsa. "I think it is an important initiative, not only to be able to be part of a community clinical team, but also to see the real-life emotional and behavioral health issues that are presented through the lens of different experts. The background and knowledge that the OSU-CHS psychiatry ECHO team brings to the table is unmatched."