Masterpiece Moments: Artists at the Table
Wednesday, August 1, 2018
OSU Museum of Art Advocates support arts exhibits and programs
By Jordan Hays
Masterpiece Moments: Artist at the Table combines artists' talents and the community's commitment to the arts in a fun-filled evening. Hosted by the OSU Museum of Art Advocates, the second Masterpiece Moments event on April 28 raised more than $110,000 to support the museum's exhibitions and educational programs.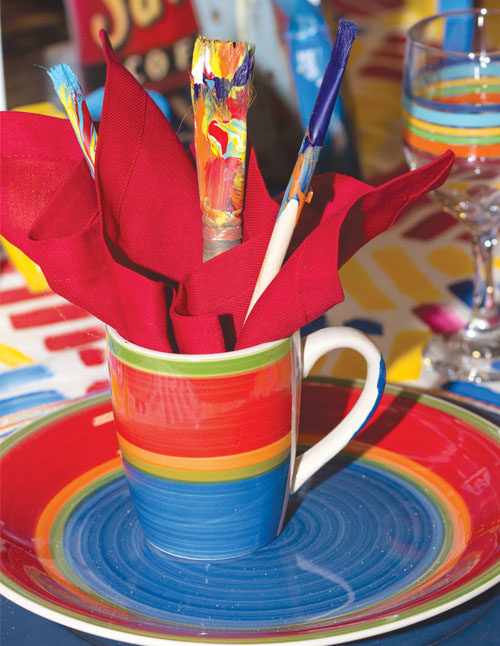 This year's guests were treated to a gallery of 26 elaborate tablescapes. The decorative table settings, acting as interpretive works of art, were constructed by art advocates and supporters. Inspiration came from locally known artists such as OSU alumni Desmond Mason and international icons like Norman Rockwell, Andy Warhol and Frederick Remington.
One table displayed a whimsical creation by Denise Ferrell's third-grade class at Skyline Elementary School in Stillwater, made possible through a recent partnership involving the art advocates, the museum, Prairie Arts Center and Skyline.
"We believe art education is a vital component of one's intellectual development," said Jill Webber, who is co-chair of the Art Advocates with Judi Baker. "It is important to allow a person to be creative and to develop the functions of their right brain hemisphere through personal interaction and exposure to the arts."
The partnership results in hands-on art experiences in the classroom — a powerful encounter that is becoming less common for many students.
"Research shows that exposure to the arts is as important as core curriculum," said Jeri Seefeldt, Masterpiece Moments chairperson and OSU Museum of Art advocate. "Art may be the one thing that will keep a student in the classroom."
Since opening almost five years ago, the OSU Museum of Art has provided art experiences for more than 25,000 visitors and hosted 35 exhibitions with a diverse range of artwork.
The fundraiser's success also allows the Art Advocates to continue pursuing community outreach projects like the one with Skyline Elementary School or the more recent Backpack Buddies, a collaborative project providing school supplies for underserved youth in Payne County. In May, the Art Advocates contributed 1,000 boxes of crayons to Backpack Buddies, which will be supplied to local leaders of tomorrow, thanks to Altrusa International of Stillwater Inc. and Our Daily Bread.