Research Briefs
Wednesday, August 1, 2018
International Space Station welcomes OSU instrument
An instrument developed at Oklahoma State University to measure radiation exposure has arrived on the International Space Station (ISS). The Active Tissue Equivalent Dosimeter (ATED) was launched May 21 on a supply mission and is now one of hundreds of experiments on board the ISS that observe and record the various effects of space travel on astronauts, other life forms and the station itself.
Developed by associate physics professor Eric Benton and doctoral student Oliver Causey, the instrument collects data on the amount and types of radiation the ISS crew is exposed to. According to Benton, to keep the weight of the station as low as possible, ISS has no shielding, which means astronauts are constantly bombarded by radiation.
"We asked (that the ATED) be placed next to where the astronauts spend a lot of time," Benton said. "They ended up putting it next to the toilet."
Women's empowerment takes her around the world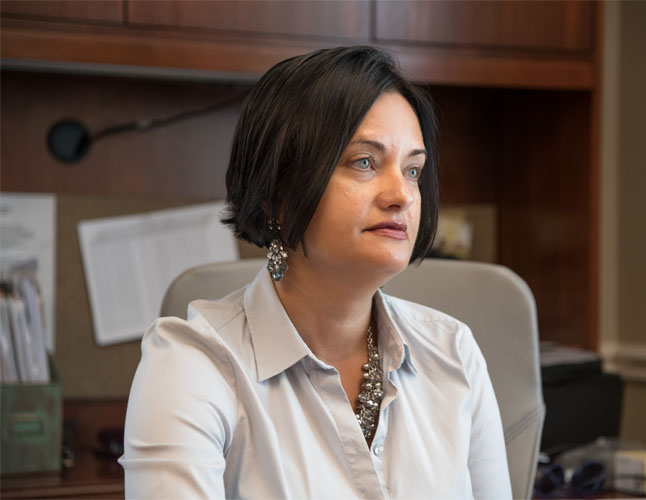 Oklahoma State University political scientist Farida Jalalzai says the #MeToo movement in the United States is important because it shows the empowerment of women. She also noted that similar movements have been going on around the world for some time.
"The U.S. is at a moment in time when different marginalized groups, including women, are being more outspoken and this is something that speaks to people who would not have normally taken on an activist hat," she said.
Jalalzai is the Hannah Atkins Endowed Chair and Professor of Political Science and an internationally known scholar who examines the representation and behavior of women and minorities in politics. She has traveled the world interviewing women in positions of political power including the presidents of Liberia and Costa Rica. She recently co-edited a book of essays with collaborators that explore the political empowerment of women.
'Hearing' tornadoes even before they form
There's an early sound that a tornado is forming, but you can't hear it. Oklahoma State University assistant professor of mechanical and aerospace engineering Brian Elbing and his research team have shown that developing tornadoes emit an "infrasound" that humans can't hear. Elbing has developed a way to use microphones to detect this infrasound before a tornado forms, which could tell where it's forming and even how large it is. Once he and his students further develop the technology, the system could be used to warn people in a tornado's path earlier, he said.
Elbing and his collaborators report that a storm system emits an infrasound up to two hours before a tornado forms. His research has garnered much attention, and he has been interviewed by Wired, National Public Radio and Newsweek.
Center for Pediatric Psychology launches to help children and families
The new Center for Pediatric Psychology at Oklahoma State University serves as a hub for coordinated research and training and a way to use state and national collaborations to make a difference in the health of children and their families.
"There are over 20 million children in the U.S. living with chronic health conditions," says Larry Mullins, center director and the Vaughn Vennerberg II Chair of Psychology. "Through pediatric psychology, we seek to understand the factors that put youths with chronic illnesses and their families at risk."
The center's mission is to engage in cutting-edge scientific discovery related to all aspects of children's health, as well as their families, and to foster integrated research, training and clinical service delivery.
HIBAR research aims to address society's ills
Oklahoma State University will provide more than $1.5 million annually to fund a new research initiative known as Highly Integrative Basic and Responsive (HIBAR) Research. The HIBAR concept will develop multidisciplinary and multi-institutional collaboration to build practical solutions to societal problems.
A research idea competition for faculty is now underway to select major research themes to fund.
"OSU research has been positively impacting Oklahoma and the nation since the very first scientific study was conducted here more than a century ago," said Kenneth Sewell, OSU's vice president for research. "Our investments in the OSU HIBAR Research themes will magnify that legacy of relevance."
High school pitchers face increased risk of injury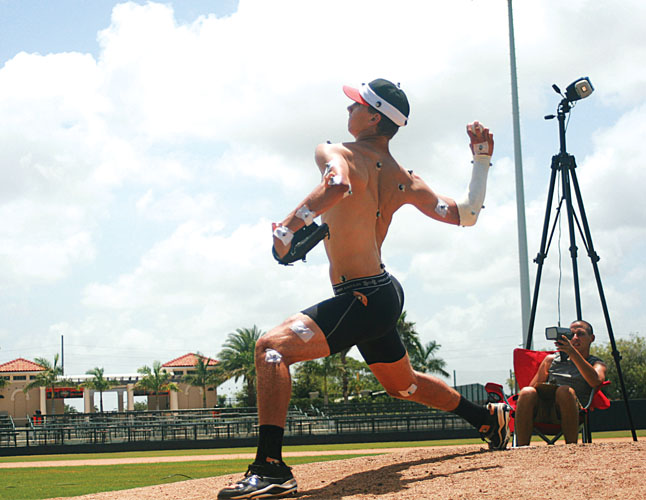 High school baseball pitchers are experiencing dramatic increases in the rate of elbow injuries requiring "Tommy John" reconstructive surgery that now rivals injury rates among Major League Baseball pitchers.
Nathaniel D.M. Jenkins, co-director of the OSU Applied Neuromuscular Physiology Laboratory and associate professor of exercise physiology, studied with his team of students the pitching biomechanics of high school and Major League pitchers and found that the relative physical immaturity of high school pitchers increases their risk for elbow injuries. The amount of pitching done by the young players and how hard they throw also affect their risk factor.
Jenkins used a motion analysis system to record the pitching mechanics of pitchers throwing fastballs. The research suggests that loads placed on a young pitcher's elbow are higher than on pro players and increases injury risk. Jenkins reports that players from 15 to 19 years old suffer the highest number of injuries requiring Tommy John surgeries, which repair torn ligaments in arms.