Setting the Standard
Wednesday, August 1, 2018
OSU's newest scholarship program recognizes Oklahoma's best and brightest students
By Karolyn Bolay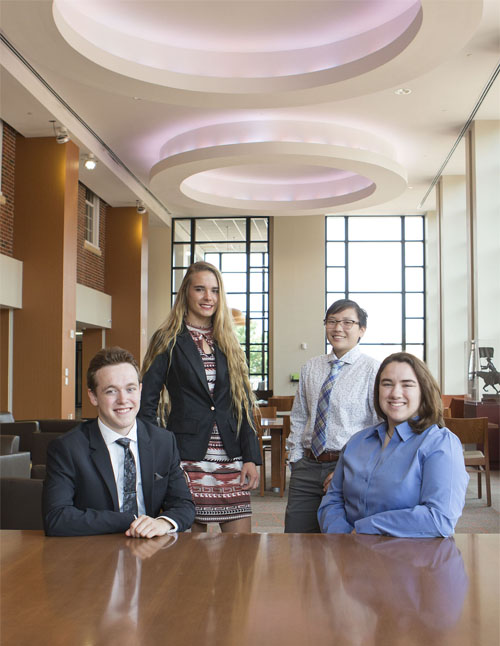 Scholars.
Leaders.
Cowboys.
These words perfectly describe Amanda Bolinger, Abigail Ferrell, Killian Kane and Carter Swallow — the inaugural group of fellows in the new Oklahoma State Scholars Society.
The Oklahoma State Scholars Society is a premier scholar development program that was founded to recognize and reward Oklahoma's own high-achieving undergraduate students.
"The founding members of this society are Oklahoma's next generation of leaders, innovators, and visionaries," said OSU President Burns Hargis. "We are honored to extend this scholarship and have them join the Cowboy Family."
The program recognizes 17 students in total, with four fellows and 13 members of the Oklahoma State Scholars Society. The fellows receive up to $74,500 in scholarship and financial aid support, which is equal to the full cost of attendance for four years. The members also receive financial support up to $28,000 over four years.
"This new program makes OSU a statewide leader in supporting high-potential Oklahoma students with an outstanding scholarship and rich mentoring opportunities," Hargis said.
Those selected for this inaugural group are already making their marks at OSU.
"I am so impressed with this first group of scholars," said Dr. Keith Garbutt, dean of the Honors College. "The fellows and the scholars just amaze me with the quality of what they're doing and their passion."
This unique initiative goes beyond being a financial scholarship and gives students an opportunity to create their own community of scholars and faculty — and they are quickly making connections.
"These other three [fellows] are absolutely fantastic, so to be able to meet them and make connections with this group of people is something really awesome," said Killian Kane, a fellow majoring in chemical engineering. "I'm really lucky to be among a group of people like this."
The OSSS fellows also receive a one-time study abroad stipend, giving each the opportunity to travel and extend their education well beyond the classroom.
"It [study abroad] is a very important part of modern education," Garbutt said. "Those type of experiences make one think about the world in a broader context. But also, it will help you understand yourself and where you come from within that new context. "
An important element of the scholarship is that it upholds the holistic admissions process OSU is known for. With phone interviews, essays and in-person interviews with faculty, these students have proven they are the best and the brightest — and more than a test score. 
"While the scholarship has a large academic component, it isn't only about academics," Garbutt said. "It's about service. It's about leadership. It's about the level of effort the students have put in their high school career."
In fact, Abigail Ferrell, a fellow majoring in psychology, summed up the mission of the scholarship when she encouraged high school students to go after their passions — no matter what that might be.
"Don't just focus on your AP classes or ACT scores," she said. "Those things don't define you. Those things aren't predictors of your success. If you do the things that you're passionate about and you pursue them wholeheartedly, you'll get to where you need to be."
The scholarship recipients must be admitted to the Honors College, which is a nationally recognized program. This is 
an outstanding opportunity for the fellows and scholars as Garbutt serves as their academic adviser and a key mentor.
But Garbutt plans to add a personal touch to their experience.
"One of the things we are going to do relatively early in the year is have them all over for a home-cooked meal and just
 sit around and chat about how things are going," he said. "I want them to feel that the Honors College faculty, and for that matter all faculty, are there if they need anything and they can come talk to us.
"Honestly, I'm going to have a blast with it because I get to work with these amazing students for the next four years."
AMANDA BOLINGER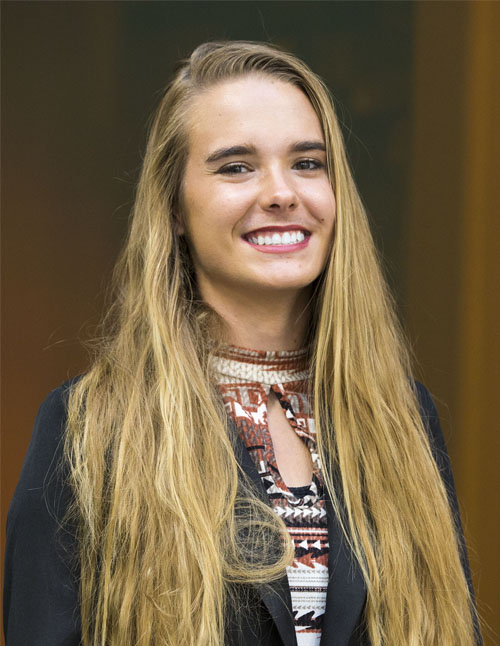 A love for animals and a passion for biological sciences mesh together perfectly for Amanda Bolinger, an inaugural fellow in the Oklahoma State Scholar Society.
"I love the hands-on pressure of investigation and problem solving," she said. "I'm very passionate about using this for the benefits of agricultural communities like my own."
A graduate of Beaver High School and a native of Beaver, Oklahoma, Bolinger had always known that Oklahoma State University was where she wanted to attend college. But the financial aspect was a weight on her shoulders.
"College, especially at OSU, would not be a possibility financially without a full scholarship," she explained. "When I found out I got the scholarship, I was in tears because for the first time I knew I didn't have to worry about paying for college, and that is so incredible to me."
And while OSU has 11 times as many undergraduates as her hometown has people, Bolinger said the friendliness of campus put her at ease.
"OSU's campus has a small-town feel to it," she said. "Everyone I've met has said, 'If you need anything, let me know,' and that is small-town."
Bolinger, a freshman majoring in animal science, is also looking forward to meeting other scholars and challenging herself in the process.
"I'm very excited to see what academic challenges OSU will pose for me," she said. "I'm very excited for opportunities like the Honors College where I will have the chance to excel alongside other talented students."
While a desire to continue learning inspires all of the members of the OSSS, Bolinger's goes beyond an undergraduate degree. She plans to continue on to veterinary school and become an advocate for agriculture.
"Really, my biggest dream, is to be a truly exceptional veterinarian," she said.
But Bolinger's passion for serving others doesn't just include the agricultural industry. She hopes to influence everyone she meets on her journey.
"I see a large sense of apathy overtaking my generation as a whole," she said. "They seem to be under the impression that there is nothing they can do, so why try? I hope to lead by example as I follow my passions and make a difference at the same time."
ABIGAIL FERRELL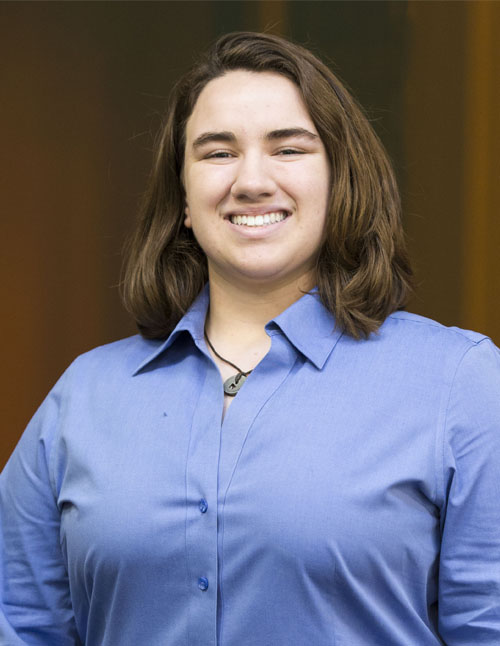 The ability to help others is a quality that Abigail Ferrell prides herself in. The inaugural fellow in the Oklahoma State Scholars Society volunteers to teach English as a second language. The act of service is something she hopes to continue at OSU.
"I am most motivated by the hope that my academic efforts will enable me to interact with the world in such a way that I can improve the quality of life for those within and outside of my immediate community, even if only marginally," she said.
With an interest in academics and extracurriculars, Ferrell will be looking to make connections and a difference in the campus community.
"OSU strikes a really unique balance
 between academic involvement and community involvement," she said. "Having the opportunity to come into a community that not only embraces but encourages involvement will be really exciting in a lot of different ways."
A graduate of Edmond North High School and
 a native of Edmond, Oklahoma, she credits the OSSS scholarship with giving her flexibility when it comes to finding her academic fit.
"Having the academic flexibility to broaden my horizons and explore different pursuits is a benefit," Ferrell said. "I think learning about other things helps you learn what you're doing better.
"There are so many different fields to be explored, and I'm excited to try to explore all of them," she said. "I don't know if at this time I can say there is just one thing I want to learn. I'll learn whatever people are willing to teach me, whether it is a professor or other students."
Ferrell, a freshman majoring in psychology, also said this scholarship allows her the chance to study abroad, which fits right in with one of her hobbies.
"I've always had an interest and an affinity for languages, so I'm excited to explore a lot of different places," she said.
After all, that is one of Ferrell's lifelong goals — enabling and helping other people to be better and happier.
"I think my biggest goal in life is to enable other people," she said. "It's not doing something mind-blowing or world-shattering but it's world-shaking, I hope, making things a little bit better for a few people."
And — staying true to that goal — Ferrell ended with words of wisdom.
"If you do the things that you're passionate about and you pursue them wholeheartedly, you'll get to where you need to be," she said.
KILLIAN KANE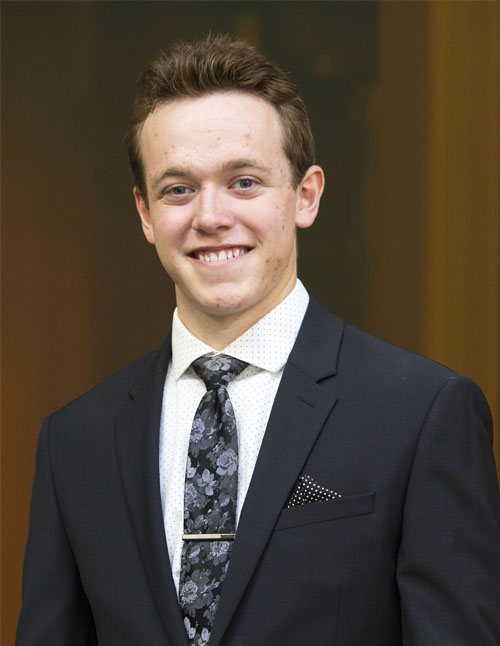 Pushing the boundaries of science is a visionary goal but one that is achievable for Killian Kane, an inaugural fellow in the Oklahoma State Scholars Society.
"I would love to be able to shine a light into the darkness, per se, of where science has been and where science can go," he said.
Kane, a freshman majoring in chemical engineering, is also interested in undergraduate research and hopes to make significant discoveries during his time here.
"I was watching a STEM presentation and the lecturer said something along the lines of, 'The great thing about research is that there will be a moment in time that you know something that no one else knows in the entire world,'" he explained. "I would love to be able to push that boundary and discover something that no one has before."
Kane, a graduate of Union High School in Tulsa, said the OSSS scholarship takes a weight off his shoulders.
"What I think is awesome about this scholarship is it allows me to focus completely and fully on school, which is a real privilege," he said. "That isn't something a lot of people get to experience and I want to make the most of that."
Kane also plans to take his learning outside the classroom by being involved on campus and learning from others.
"I just want to widen my horizons," he said. "I would like to meet people who have different viewpoints and really branch out."
Kane is already taking advantage of the many opportunities available to him through the program.
"These other three [fellows] are absolutely fantastic, so to be able to meet them and make connections with this group of people is something really awesome," he said. "I'm really lucky to be among a group of people like this."
No matter where Kane's journey at OSU takes him, he is sure to make his own way.
"I strongly believe that our biggest failures are within the chances we don't take," he said. "I take advantage of every opportunity, educational or otherwise, to the best of my ability because I always strive to be the best I can be."
CARTER SWALLOW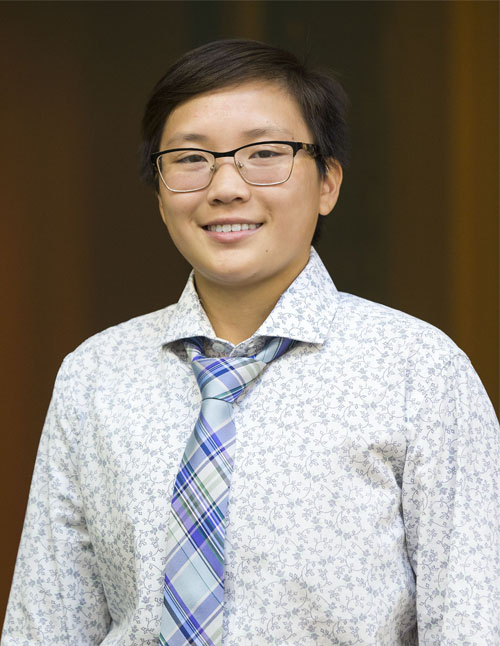 Curiosity fills Carter Swallow's face as he talks about space exploration and the many aspects of it. This inaugural fellow in the Oklahoma State Scholars Society is looking to take on the challenge of discovery and exploration.
"To me, knowledge is unlimited, and I want to spend my life learning more about the world," he said. "I am perfectly content with saying, 'I don't know,' and going out to find the answer."
A native of Oklahoma City and a graduate of Putnam City High School, Swallow has long had an interest in exploring space.
"I've aspired to be an astronaut since I was 
10 years old," he said. "Alongside Elon Musk, I know humanity is destined to touch the stars and colonize the solar system."
This interest in space led to Swallow majoring in aerospace engineering and mechanical engineering. He is looking forward to establishing a solid academic foundation at OSU to prepare him for his future career.
"When you go into engineering, it's not so much about what you learn but it gives you the ability to problem solve," he said. "We use math as a tool for what we actually want to do, whether that is solve the problem or to make something."
While he was considering applying to the Massachusetts Institute for Technology, Swallow knew OSU was the right choice when he saw the competitive history between the two schools.
"I came here on a ... technology field trip, and they showed me around the aerospace department," he said. "They showed me how many times they won first place in the Speedfest competition and beat MIT multiple times."
The OSSS scholarship provides Swallow and his family a sense of relief when it comes to paying for college.
"I knew that I would get the tuition here paid
 for through Oklahoma's Promise, but I wouldn't get my housing, meal plan and more paid for, and that really wasn't an option for me," he said. "My family couldn't pay for college for me, and I'm really glad I got a full scholarship here."
Outside the classroom, Swallow is eager to learn about other people — both on and off campus.
"Whether it is meeting the diverse people around campus or around the world, I am the most excited about the activities available around campus and the study abroad opportunities that will enrich my experience as a person and as an OSU student," he said.