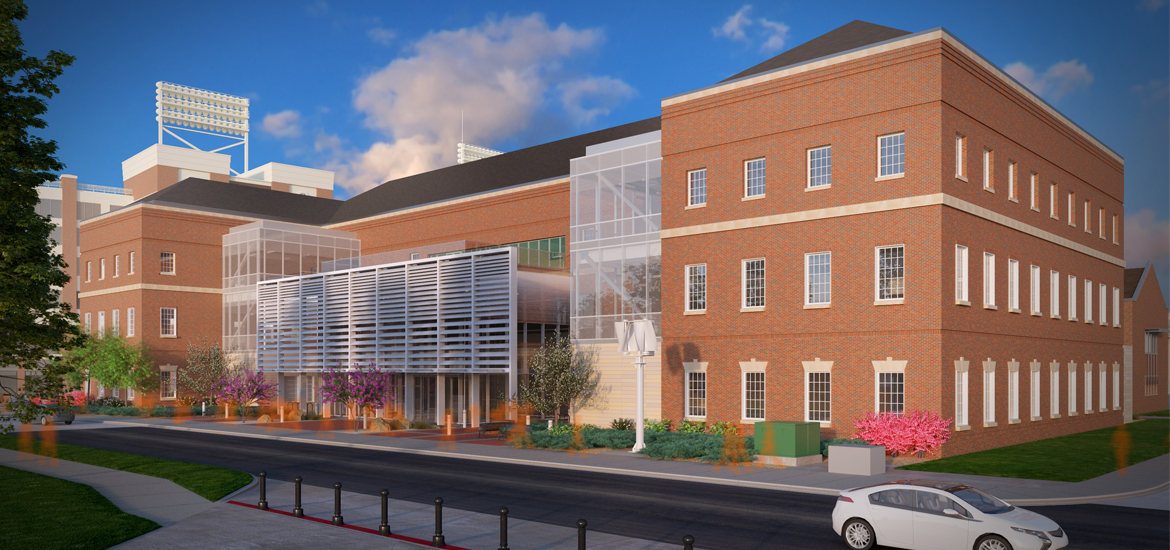 Transforming Education
Wednesday, August 1, 2018
New facility becomes centerpiece for CEAT's paradigm shift
By Jeff Joiner
Walking around the new ENDEAVOR facility at the College of Engineering, Architecture and Technology (CEAT), it's easy to see something's different about Oklahoma State University's newest building. Spacious laboratories, four of them the size of a basketball court, feature high ceilings and large windows that reveal the inner workings of technology and innovation as well as the work spaces with an entrepreneurial focus. Open space and glass dominate.
"This building surrounds you. It's open so you see into everything," said Brad Rowland, safety coordinator of ENDEAVOR and a clinical assistant professor of chemical engineering. "You could call it a cathedral."
A paradigm shift is underway at OSU where ENDEAVOR is the centerpieceof a new, innovative concept to educate engineers, architects and technology undergraduates. The vision of CEAT Dean Paul Tikalsky is expanding instruction beyond the traditional classroom environment to one that increases time for interdisciplinary, hands-on and industry-aligned learning.
"We are launching a new era in engineering education that's turning the whole model to a forward vision of innovation."
- Paul Tikalsky, CEAT Dean
The model, which Tikalsky called the ENDEAVOR Concept, is revolutionary and necessary to prepare a new generation of engineers. Even before coming to OSU, Tikalsky said he recognized the need for change at universities to keep pace with today's fast-evolving industrial workplace. The vision was reinforced in listening to corporate leaders and managers to learn what they're looking for in young engineers.
An observation repeated time and time again is that engineers can no longer work in silos. Universities must tear down the walls between disciplines and bring individual expertise into interdisciplinary teams — mechanical engineers working with chemical engineers working with computer engineers working with the business sector, and so on. That's how growing companies work.
Rowland called it immersive education where students take the theories they learn in the classroom and apply that knowledge through hands-on, student- developed and faculty- mentored projects. "We're increasing the number of touches that students have with technology," he said.
OSU is on the cutting edge of this movement. In fact, CEAT is so far ahead of the curve, it's alone.
"No one else in the country is doing this at this scale," Tikalsky said.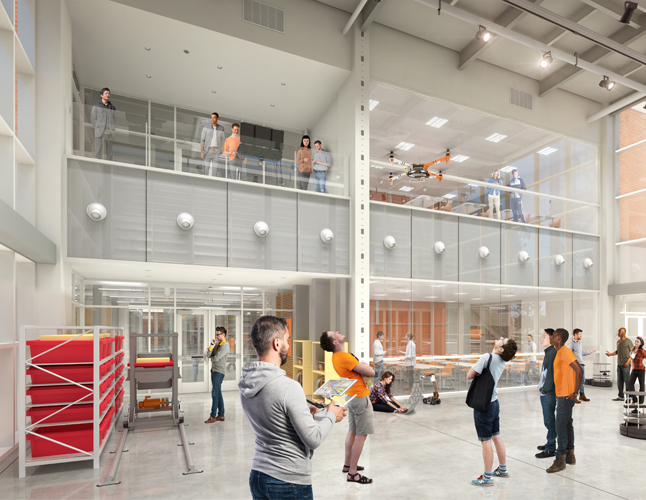 At 72,000 square feet, ENDEAVOR encompasses three floors of labs and maker spaces for innovation, assembly and fabrication. Industry-aligned labs, sponsored by corporations, are home to seniors working on interdisciplinary capstone design projects in collaboration with industry. One of those sponsors is petroleum refiner Valero, which gave $1.25 million to CEAT for the Valero Process and Transport Laboratory. Sponsors fund labs aligned with their businesses and provide company employees to mentor students.
Other industry donors include Chesapeake Energy (currently the largest donor at $1.85 million), ExxonMobil, Devon Energy, National Instruments, Blair Stone, Shimadzu, Williams Cos., McAlpine Energy, Northstar Battery, Mark Brewer and many other individuals.
"More than half the cost of the building is paid for by donors," Tikalsky said.
Along with corporate donors, CEAT students are contributing to the cost of building operations through a $20 per-credit-hour increase in student fees, approved by the college's forward- looking student council.
It was Tikalsky's inspiration that planted the seed, but the ENDEAVOR Concept took shape through input from industry, faculty, alumni and CEAT and university administration. The college's faculty jumped on board once plans began to take shape. In just four years, ENDEAVOR went from concept to the completion of construction.
"There was a flood of great ideas once people realized this could actually happen," Tikalsky said.
Laboratory classes focus on areas like mechatronics, robotics, digital manufacturing, fluid dynamics, thermodynamics, materials, sustainable building concepts, sensors and electronics, energy systems and radio frequency communications.
ENDEAVOR is full of more than $5 million worth of state-of-the-art equipment and instruments available to students who can be trained and certified to use them. No equipment is off limits.
"We don't just bring students in and say, 'Look at this sophisticated thing, but don't touch,'" said Randy Seitsinger, CEAT associate dean for academics. "Use it."
ENDEAVOR features a 35-foot wind tunnel; 3D printers, including one that prints objects made of metal; and composite printers that create objects made of fiber reinforced polymers, such as carbon fiber, Kevlar and fiber glass. Alternative energy systems are being studied using a windmill, solar panels and ground source heat pump systems. Drones and other autonomous systems will be tested in an indoor, three-story- tall test arena surrounded on four sides by glass, providing visibility from the outside and from balconies inside. The building's open design encourages anyone to watch students test and improve their prototypes.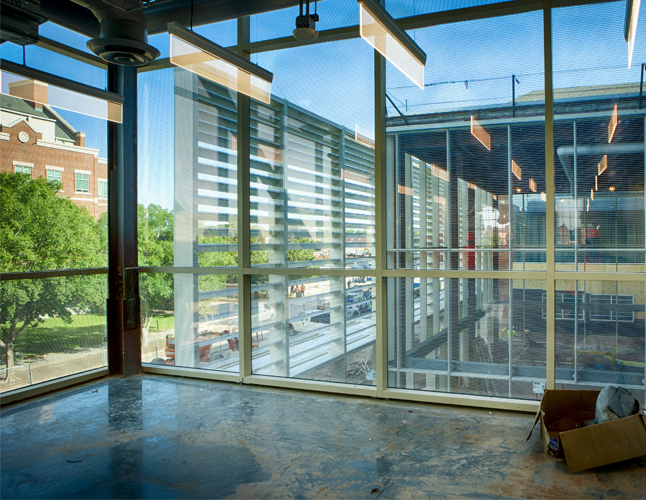 ENDEAVOR is just the latest CEAT facility replacing its aging laboratories, many built before 1970. During that time, the number of CEAT students has more than doubled, making it impossible to accommodate the numbers.
"Sometimes alumni come back and see these aged facilities and say, 'Hey, this looks exactly like it did when I was here in 1975,'" Seitsinger said. "We don't want that."
Engineering, architecture and technology students will also be taught to think about projects as future businesses, something new to many engineers. Working with entrepreneurship programs at Spears School of Business and expertise in the College of Human Sciences and the College of Agricultural Sciences and Natural Resources, CEAT students are learning how inventive products could lead to business startups.
Rowland said more than 2,000 students a week this fall will use ENDEAVOR facilities, which will service 39 courses. That number will grow to more than 3,000 by 2019 and service approximately 56 courses.
"This is a revolutionary process, not an evolutionary one," Tikalsky said.
ENDEAVOR is center stage for experiments in more than material analysis or thermodynamics — it's also part of retooling an education system. On a recent tour, visitors stopped in a lab doorway to study the equation for the Law of Thermal Transport set in stainless steel in the concrete floor. This equation, and others in the entries to all ENDEAVOR labs, reminds people of the theories behind that lab. Through the doorway is where the application of those theories comes to life.