Oklahoma State University's Center for Veterinary Health Sciences joined the effort to help those affected by this spring's wildfires in western Oklahoma
By Derinda Blakeney
Established in 2013, the OSU Animal Relief Fund covers veterinary medical treatment for animal victims of an Oklahoma disaster such as a tornado, flood or wildfire. Thanks to the generosity of many donors, funds were available to treat these latest victims.
"One horse came in from Woodward, Oklahoma, and two horses came from Seiling, Oklahoma," said Dr. Todd Holbrook, equine section chief. "These horses received 24-hour care, seven days a week. Three more horses came in for evaluation and were sent home with instructions for treating very mild injuries."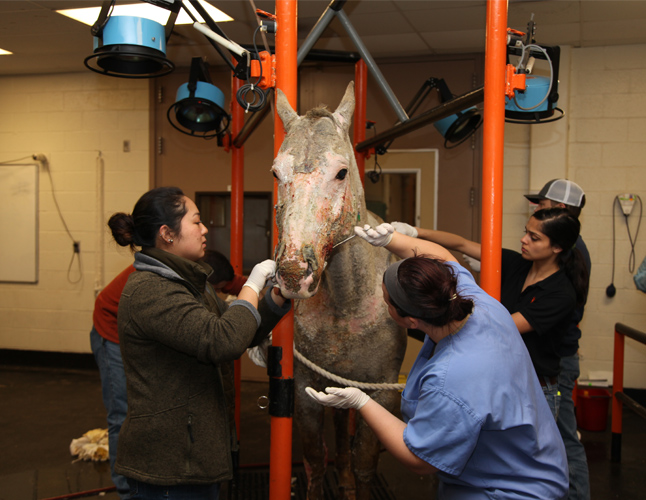 The veterinary care provided by faculty and staff members as well as fourth-year veterinary students included gentle washing daily to remove unhealthy skin, wrapping open wounds, breathing treatments to treat smoke inhalation and managing pain levels.
Medline donated silver antimicrobial wound dressings, and Kinetic Technologies donated several products to help heal burns.
After spending four weeks in the hospital, the Woodward horse went home with very minimal burn wound care required. He was his owner's only horse to survive the fire. Despite valiant efforts by all, the Seiling horses did not survive due to the severity of injuries associated with the fires.
One horse owner also brought in a dog for treatment. The dog's paw pads were badly burned and required surgery to remove the dead skin before they could be wrapped. The dog stayed in the Veterinary Medical Hospital's ICU approximately a week. After he went home, he had to return weekly for wound management.
"When disaster strikes, we are grateful that the OSU Animal Relief Fund is available to cover the cost of veterinary medical treatment for injured animals," said Dr. Carlos Risco, dean of OSU's Center for Veterinary Health Sciences. "These owners have lost so much, sometimes their homes, their barns, everything. We are glad to lessen their burden by caring for their pets and livestock at no cost to them. We encourage people to donate year-round to help ensure that funds are available when something unexpected like this happens."