Words of Support
Wednesday, August 1, 2018
New book assisting memorial construction chronicles painful moments in OSU history
By Will Carr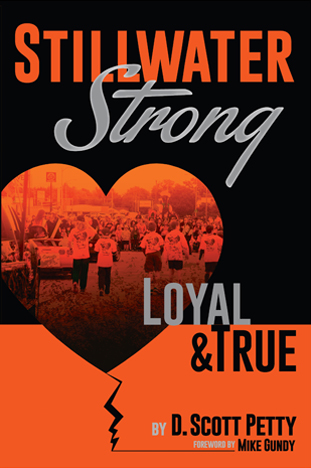 When Scott Petty heard about the tragedy at Homecoming on the morning of Oct. 24, 2015, he went directly to Stillwater Medical Center to help any way he could.
As the chaos subsided, Petty, a 1988 OSU graduate and executive director of the SMC Foundation, began to visit with some of the victims and their families. That's when he realized he could do more.
With Petty's help, the foundation created the Stillwater Strong Fund, which ultimately secured and distributed nearly $500,000 to help offset the medical expenses of those physically affected. At the same
 time, Stillwater Medical Center decided it would not bill any of the patients it treated that day, which was approximately another $250,000 in services.
"I knew there was a book about the history of the (Stillwater) hospital," Petty said. "I thought I had a chapter here for the next book. I just started writing about what our foundation, the hospital and the doctors had done. The next thing I knew, I had interviewed over 50 people."
From there, it evolved into a story much larger than the Homecoming tragedy of 2015. Stillwater Strong also includes history about the 1977 Homecoming deaths of three Alpha Gamma Rho fraternity students, the 2001 and 2011 plane crashes, and the plane crash that killed OAMC President Henry Bennett and his wife in 1951.
"I think these experiences have made us a stronger community and a more understanding university."
- Scott Petty
"I think these experiences have made us a stronger community and a more understanding university," Petty said.
"It's helped us evolve this culture of compassion that is difficult to explain to anyone outside of our world."
Another reason Petty wanted to make sure this story was told was the requests from the victims and their families. Stories of students and alumni who played a major role in helping those in need are included, including a student who led the effort to create one of the five Stillwater Strong T-shirts.
"So many victims, survivors and family members just wanted to tell those people that supported them thank you," Petty said. "They wanted to say a heartfelt thanks and let people know that they appreciate the love and support."
Stillwater Strong can be purchased at Eskimo Joe's Clothes, Hall of Fame Book Trader and the OSU University Store or on any of their online stores. In addition, it can be found on most online bookstores including Amazon and Barnes & Noble. Proceeds will
 go toward the construction of the Stillwater Strong Memorial on the northwest corner of Hall of Fame Avenue and Main Street.