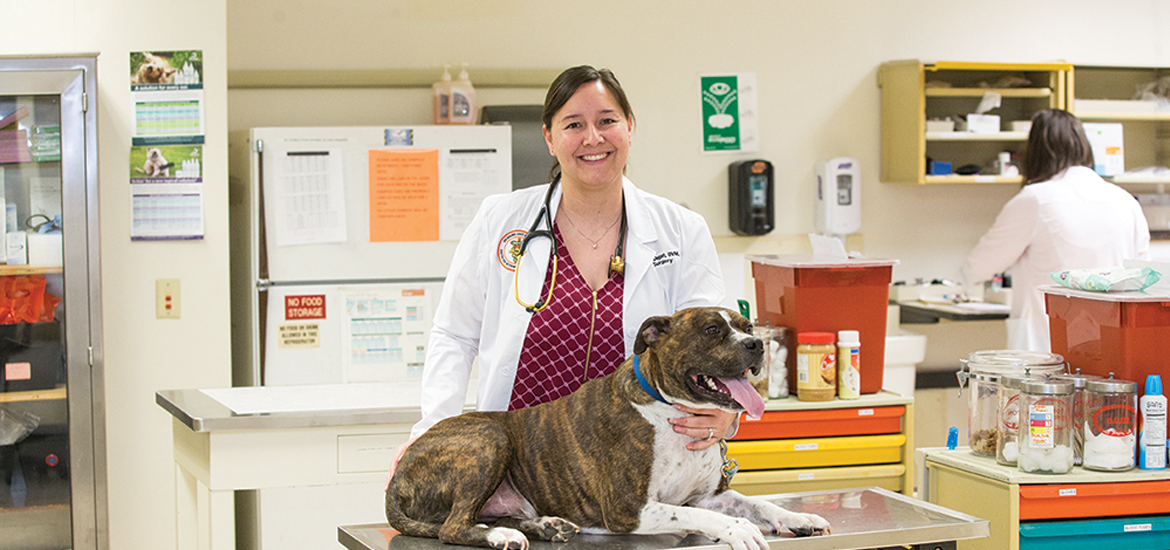 Cohn Family Chair for Small Animals
Tuesday, May 1, 2018
Dr. Danielle Dugat holds the Cohn Family Chair for Small Animals. A board-certified small animal surgeon at Oklahoma State University's Veterinary Medical Hospital, Dugat has been a faculty member since 2011.
"The Cohn Family Chair opens the door to expand research, teaching and educational opportunities in both small animal medicine and surgery," Dugat says. "This chair gives me some flexibility to use funding for collaborative research or to help young interns and residents with their research goals to fulfill their requirements to become specialized.
"It lets me utilize my interests and goals to advance clinical medicine and surgery," she adds. "Having the opportunity to be financially supported through the chair allows me to collaborate with my colleagues and provide a service to the veterinary community thanks to a donor that believes in the work we provide here at the university. I am blessed to be a part of a faculty at the veterinary center that strives to improve medicine daily. Without chairs such as the Cohn Family Chair, some of our research goals cannot become reality."
Originally from Huntington Beach, California, Dugat came to OSU in 2003 to begin pursuing a career in veterinary medicine. Following her undergraduate work, she earned her doctorate of veterinary medicine degree, and completed a small animal surgical residency and master's degree in biomedical sciences, all at OSU. In 2013, she became a board certified surgeon and Diplomate in the American College of Veterinary Surgeons. Dugat is currently an assistant professor in the Department of Veterinary Clinical Sciences.