Herald Your Fame Homecoming 2017
Tuesday, May 1, 2018
Three words in the Oklahoma State University alma mater provided the inspiration for this year's Homecoming theme – 'Herald Your Fame.' Our alma mater has produced many famous people and ideas, all of which were celebrated in October at the annual event that has also brought fame to OSU – "America's Greatest Homecoming Celebration."
Rickie Fowler, one of OSU's most famous alumni, returned home to serve as grand marshal of the Sea of Orange Parade. Known for wearing America's Brightest Orange on Sundays, Fowler received warm, loud Cowboy cheers at every Homecoming event as if he were approaching the 18th green at The Masters.
Warm weather and clear skies greeted OSU alumni and friends for Homecoming's main events Friday and Saturday, capped off by a resounding 59-16 victory over the Baylor Bears. While we were happy to win the game, we were also excited to welcome back three-time OSU graduate Linda Livingstone as Baylor's new president, who is featured on Pages 96-99.
Along with our sponsor Phillips 66, the OSU Alumni Association invites you to relive Homecoming 2017 and some of our favorite moments that help make this event so famous.
2017 Homecoming Awards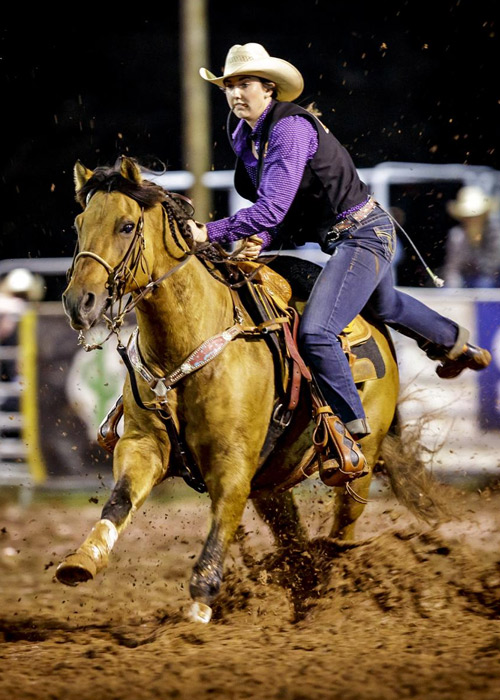 Basketball Bonanza
Greek Bracket
1st — Kappa Sigma/Alpha Chi Omega
2nd — Phi Gamma Delta/Kappa Alpha Theta
3rd — Alpha Gamma Rho/Kappa Kappa Gamma
Female MVP — Hannah Anderson
Male MVP — Garret Maxey
Open Bracket
1st — Sigma Phi Lambda/Phi Kappa Tau
2nd — Patchin/Jones/Drummond
3rd — Omega Phi Alpha/Sigma Tau Gamma
Female MVP — Taylor Price
Male MVP — Noah Luckey
Sign Competition
Student Organizations
1st — Student Wellness Council
2nd — Swine Club
3rd — Theta Tau
Phillips 66 Fan Favorite — CowboyThon
Residential Life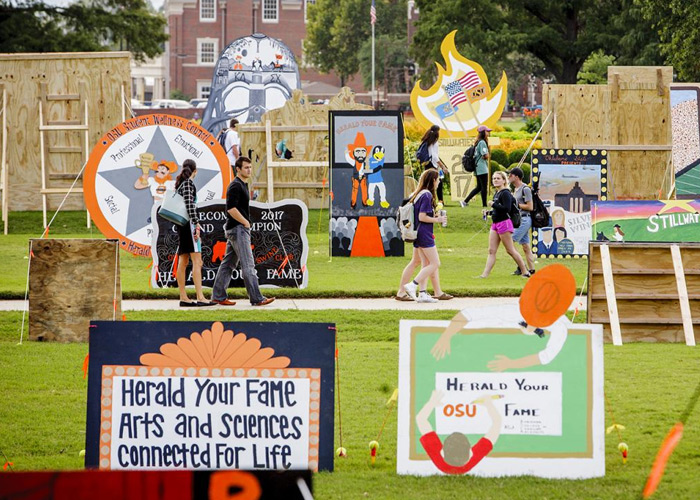 1st — North Monroe
2nd — Zink/Allen
3rd — Wentz/Parker
Phillips 66 Fan Favorite — University Commons
Greek Life
1st — Alpha Tau Omega/Delta Delta Delta
2nd — Phi Gamma Delta/Kappa Alpha Theta
3rd — Pi Kappa Alpha/Alpha Delta Pi
Phillips 66 Fan Favorite — Sigma Chi/Kappa Delta
Harvest Carnival
Student Organizations
1st — Education, Health & Aviation Student Council
2nd — Freshmen in Transition
3rd — National Student Speech Language Hearing Association and Pre-Vet Club (Tie)
Phillips 66 Fan Favorite — Early Childhood Education Club
Residential Life
1st — University Commons
2nd — Wentz/Parker
Phillips 66 Fan Favorite — University Commons
Greek Life
1st — Sigma Phi Epsilon/Alpha Xi Delta
2nd — FarmHouse/Pi Beta Phi
3rd — Sigma Chi/Kappa Delta
Phillips 66 Fan Favorite — Lambda Chi Alpha/Phi Mu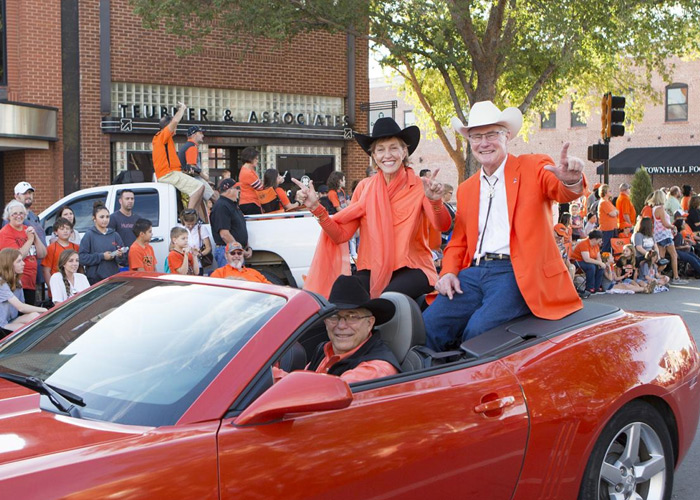 Chili Cook-Off
Phillips 66 Fan Favorite — Agricultural Communicators of Tomorrow
Student Organizations
1st — Block and Bridle
2nd — Oklahoma Collegiate Cattlewomen
3rd — Agricultural Communicators of Tomorrow
Residential Life
1st — Bennett/Kamm/Peterson/Friend
2nd — University Commons
3rd — Stout Hall
Orange Reflection
1st — Stout Hall
2nd — Bennett/Kamm/Peterson/Friend
3rd — Patchin/Jones/Drummond
Phillips 66 Fan Favorite — Patchin/Jones/Drummond
House Decorations
Alumni Association Chairman's Cup
Alpha Gamma Rho/Kappa Kappa Gamma and Sigma Alpha Epsilon/Zeta Tau Alpha (Tie)
2nd — Sigma Nu/Gamma Phi Beta
3rd — FarmHouse/Pi Beta Phi
4th — Phi Gamma Delta/Kappa Alpha Theta
5th — Kappa Sigma/Alpha Chi Omega
Phillips 66 Fan Favorite — Alpha Tau Omega/Delta Delta Delta
Engineering Excellence Award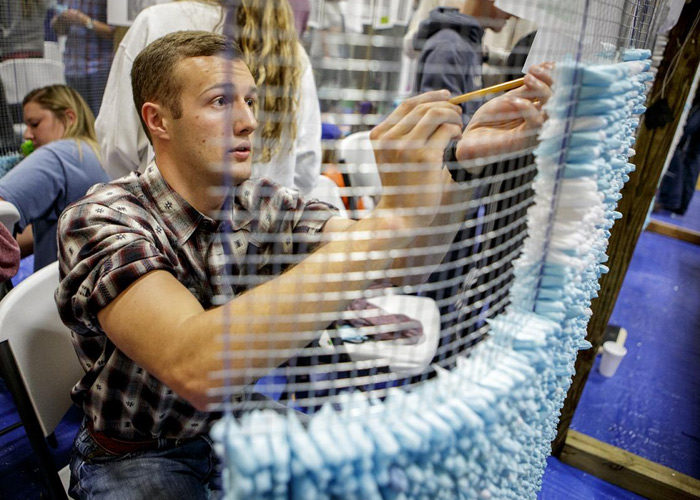 Sigma Alpha Epsilon/Zeta Tau Alpha and Sigma Nu/Gamma Phi Beta (Tie)
Safety Award
Alpha Gamma Rho/Kappa Kappa Gamma
Sea of Orange Parade
Phillips 66 Fan Favorite — Stout Hall
Large Band Competition
1st — Ponca City High School
Community Parade Entry
1st — Bible Baptist Church
2nd — Miniature Horse Brigade
3rd — Perkins Road Pet Clinic
Student Organizations
1st — Dairy Science Club
2nd — Sigma Phi Lambda/Phi Kappa Tau
3rd — Omega Phi Alpha/Sigma Tau Gamma
Residential Life
1st — Stout Hall
2nd — Bennett/Kamm/Peterson/Friend
3rd — University Commons
Grand Marshal's Cup
Bible Baptist Church
Homecoming King & Queen
Gage Calhoon and Brittany Krehbiel
Sweepstakes
Student Organizations
1st — Dairy Science Club
2nd — Sigma Phi Lambda/Phi Kappa Tau
3rd — Oklahoma Collegiate Cattlewomen
Residential Life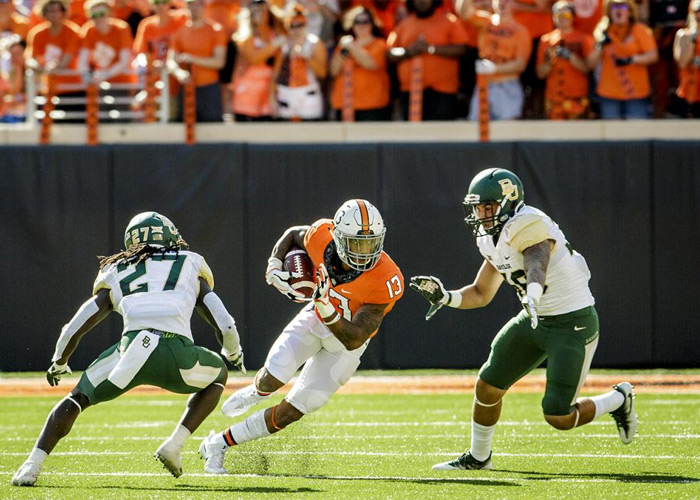 1st — Stout Hall
2nd — Bennett/Kamm/Peterson/Friend
3rd — University Commons
Greek Life
1st — Alpha Gamma Rho/Kappa Kappa Gamma
2nd — FarmHouse/Pi Beta Phi
3rd — Sigma Nu/Gamma Phi Beta
Jerry Gill Spirit Award
Sigma Nu/Gamma Phi Beta
Most Spirited College
College of Agricultural Sciences and Natural Resources