Oklahoma State University-Tulsa and the Brock Community Family Foundation have partnered to create an affordable pathway to leadership for public school teachers.
By Kim Archer
Tamara Danley, a high school English teacher for Tulsa Public Schools, has long wished to become a principal.
Yet, she and other teachers who want to provide fresh leadership and advance professionally often don't have the financial means to earn the required graduate degree.
"Many classroom teachers struggle to pay for an advanced degree even though it may mean an increase in salary once they move into an administrative position," says Dr. Katherine Curry, the John A. and Donnie Brock professor at Oklahoma State University-Tulsa.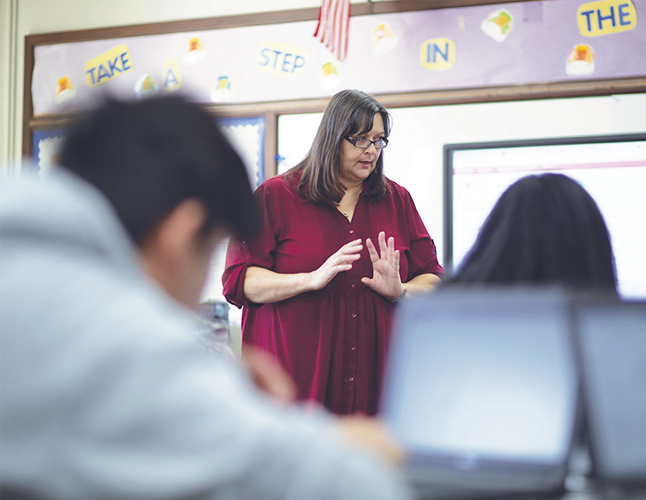 According to the National Education Association, Oklahoma teacher salaries are the third-lowest in the nation, leaving little room in a teacher's budget to pay for tuition.
OSU-Tulsa has partnered with the Brock Community Family Foundation to help local teachers advance and school districts develop leaders.
Established by Tulsa businessman and philanthropist John A. Brock, the foundation believes educating children is society's most important role.
With an $80,000 donation from the foundation, OSU-Tulsa launched the Brock Fellowship in Educational Leadership last year. The first cohort of nine began classes last fall. Each is on track to earn a Master of Science in Educational Leadership Studies in 18 months for a total out-of-pocket cost of less than $5,000.
Danley, who teaches at Tulsa's Webster High School, was among the first group to seize the opportunity.
"I really didn't think I could ever afford to get the graduate degree I need to move into school leadership," she says. "Without this fellowship, I wouldn't be able to do it at all."
Redesigned with the time and financial constraints of teachers and school districts in mind, the program provides hybrid courses that allow students valuable face-to-face mentoring and networking on campus while completing most work online. With embedded clinical experiences, it also enables a teacher's job to serve as a practicum.
"The fellowship at OSU-Tulsa not only saves our teachers money, but it allows them to stay in their workplaces while pursuing a graduate degree and to receive the state-mandated raise for a master's degree much more quickly than many other school leadership programs," says Dr. Ed Harris, an OSU-Tulsa professor who holds the Williams Chair of Educational Leadership.
Because many school systems prefer to recruit and develop leaders from within their ranks, the Brock Fellowship enhances the ability of superintendents to plan and promote leadership throughout their districts, says Curry, the program's director.
According to a study by the Southern Regional Education Board, school districts that have demonstrated the greatest progress in student achievement are those that identify the skills and knowledge they want in their leaders and create pathways for their teachers to move up.
A lack of resources isn't always what holds schools back. In many cases, school districts simply don't have the leadership, expertise or will to use resources effectively, the study says.
"The Brock Fellowship helps to identify leaders within the school district and promotes the development of necessary skills and knowledge to lead effectively," Curry says.
The program curriculum combines entrepreneurship and education in an approach referred to as "edupreneurship." It focuses on using entrepreneurial and business concepts to build a learning environment that is adaptable to constant economic, technological and societal changes. That might mean allowing students to use their smartphones in class to make videos about what they are learning or using the video game Minecraft to teach concepts in new ways.
"As a teacher, this program has enabled me to see things through a different lens. But most of all, this fellowship gives me hope and inspiration."
The philosophy also centers on managing resources more efficiently, which is particularly critical in Oklahoma with its lower education funding.
Oklahoma leads the nation in funding cuts to K-12 education over the past decade, down 28.2 percent since 2008, according to the Center on Budget and Policy Priorities, a nonpartisan national research and policy institute.
School districts are learning to do more with less. The Brock Fellowship provides students strategies to implement in their districts to adjust to the budget climate.
Danley says she is learning to think beyond standard teaching methods and strategies.
"I get so excited when I learn how education is shifting," she says. "We live in a technological age and an instantaneous society, so it stands to reason that we must change our methods of educating students to reflect the changes in our world."
Shelley Holman, principal at Webster High School, says Danley's participation in the Brock Fellowship is already making a positive impact at their school.
"Tamara's decision to continue teaching and learning is not only beneficial to her but to her students and to Webster High," she says. "Tulsa Public Schools is committed to offering opportunities for teachers to develop into leaders, and OSU-Tulsa is helping us do that."
Like many, Danley says teaching is a calling, and she wants to make a difference in her students' lives.
"Education is the great equalizer," she says. "I use what I learn at OSU-Tulsa every day. So when I see a student suddenly understand a new concept because I've used those strategies, it is especially gratifying."