A History of Living and Learning
Thursday, November 1, 2018
From its beginning as an athletics residence, Iba Hall has united students in a variety of ways
By David C. Peters
1965.
Oklahoma State University had eight intercollegiate sports teams: basketball, football, wrestling, baseball, track, golf, tennis and swimming. All the teams were exclusively male.
At the same time, Baby Boomers were crowding college campuses, including OSU's.
In October 1965, the Oklahoma Agricultural and Mechanical College Board of Regents discussed building several new residence halls on campus. Ten- to 14-story residence halls began sprouting west of campus. And the suggestion was made for an athletic dormitory to house all of the athletes on campus at one location. This facility would be part of a multibuilding residence hall complex along Farm Road.
Today, living community groups on campus are often formed around academic majors, culture and interests, but this concept was unknown to most students in the 1960s. Room assignments were often "pot luck" — students didn't know their roommates or neighbors with these random assignments. Students shared rooms and had communal restrooms and lounges on their floor.
A residence hall built exclusively to house athletes would become the first officially sponsored "living community" group at OSU.
A number of undergraduate student residential projects were completed in the mid-1960s and included Scott-Parker-Wentz and Kerr-Drummond complexes. Two additional halls were planned that would become Willham North and South. The only residence hall constructed north of Farm Road would be the new athletic residence hall. Original announcements placed the new facility south of Cordell Hall and just west of Lewis Field, but it was later decided to locate it closer to the new residential complex west of the main campus.
Private financial support came from a variety of donors through the efforts of Virgil Richardson of Oklahoma City and his co-chair, Duke DeBois of Duncan, Oklahoma. Richardson was a member of the OSU Foundation Board of Trustees, and the group's effort raised more than $300,000 for the residence hall and other improvements in the OSU Athletic Department. Donors providing $1,500 would have a room named for them, and any donors giving at least $100 would be eligible for the Orange Blazer Club that would form in 1967.
More financial support arrived on June 11, 1966, when the Board of Regents sold bonds to Halsey Stuart and Co. totaling $4.4 million. This bond package was for two buildings, the first Willham Hall and the athletic residence hall. The interest rate averaged 4.42 percent, and room fees from Murray and North Murray residence halls would assist in paying the bond issue.
The hall for athletes was designed to be five stories. The first floor would provide space for a lounge, cafeteria and dining area; offices; and study rooms. The building would be air-conditioned, a new amenity that was non-existent in campus residence halls constructed before 1960. Some of the coaching staff and student athlete representatives participated in design suggestions, which would "accommodate all of the living needs of the 240 State musclemen who are engaged in sports at OSU. Nothing is too good for our Poke sportsmen, who will see the finest in furnishings inside their living quarters," reported the O'Collegian on Sept. 29, 1967. The facility included carpeting and furnishings not found in other campus residence halls. Another difference (at least according to campus rumors): Steak was served every evening for dinner in the athletic cafeteria.
Construction contracts were awarded in 1966 to the Harmon Construction Co. for both the 14-story Willham South men's hall and the new residence for athletes. The projects were completed during the late summer of 1967 and ready for student occupancy in August.
The athletic hall had 30 double-occupancy rooms on floors two through five. All rooms faced the outside along the perimeter of the building. Bathrooms, elevators, lounges and other services were located along the interior core of each floor and surrounded by hallways. Rooms were 144 square feet, with closets, study desks and twin beds. Smaller lounges on each floor included small kitchens.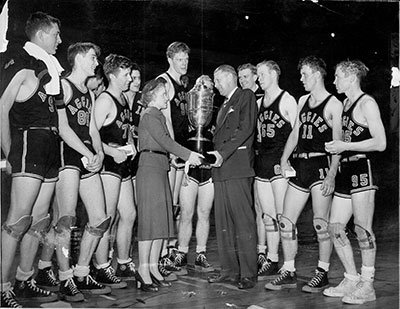 Two hundred and forty OSU athletes moved in to the facility known simply as the Athletic Dormitory in August of 1967. The Student Directory listed their addresses with a room number and the term "Athletic." The second floor included members of the basketball, baseball, swimming and wrestling teams. The third floor housed basketball, tennis, track and two football athletes. The fourth floor had three wrestlers and one basketball player; the rest of the fourth floor and all of the fifth floor were occupied by members of the football team.
Those living in the Athletic Dormitory in 1967 included wrestler Fred Fozzard, the NCAA champion at 177 pounds, in Room 226. Wrestler Dwayne Keller lived in Room 420 and won the 123-pound class at both the 1968 and 1969 NCAA wrestling championships. Freshman Geoff Baum lived in Room 229 and took an NCAA wrestling title in 1970 at 190 pounds. John Ward roomed with Garry Goodwin in 402; he wrestled at heavyweight and was named an All-American after coming in third. But Ward was probably best known for being a first team All-American offensive lineman for the football team in 1969 and going on to play for the Minnesota Vikings for six seasons (including two Super Bowls) before finishing his career with the Chicago Bears and Tampa Bay Buccaneers.
On the fifth floor — the exclusive domain of members of the OSU football team — Room 510 was the home of two All-Americans in 1967. Terry Brown would be named an honorary All-American at safety and drafted by the St. Louis Cardinals. After three years there, he joined Ward with the Vikings from 1972 until 1975. Brown scored the only points by the Vikings on a blocked punt in the 1975 Super Bowl. His roommate was Jon Kolb, an All-American in 1968 at center who would be drafted by the Pittsburg Steelers where he would play for 13 seasons and earn four Super Bowl rings. He also competed in the World's Strongest Man contests where he came in fourth in 1978 and 1979.
Many more OSU athletes living in the Athletic Dormitory would become famous in later years.
In 1970, the facility would be named Iba Hall, honoring Henry Payne Iba, the longtime athletic director and famed basketball coach. Iba arrived on campus in 1934 and would lead his teams over four decades. His 1945 and 1946 teams were NCAA champions. His advocacy of defense, conditioning and discipline led many of his loyal and devoted players to say his middle name should have been spelled "Pain." Coach Iba retired in 1970 and remained in Stillwater until his death in 1993.
In 1983 the Athletic Department began exploring new options for housing team members, and the university transitioned Iba Hall into a home for graduate students on campus during the next year. Residents were required to be 21 years old, but there were no other restrictions. Iba Hall was open year-round, even during the holidays and between academic terms. It also had open visitation 24 hours a day, seven days a week, the first residence hall so designated. It soon became known as "a melting pot of many nationalities," with a quarter of its residents being international students, providing a wonderful diversity of cultural experiences. As computer use became more common, Iba Hall was at the forefront with exceptional computer access in the study areas.
Iba Hall has been a home to many students over the past 50 years. It began as the exclusive home to male athletes at a time when female athletes were provided few, if any, opportunities. (In 1965, it would be another seven years before Title IX would become the law of the land and women's collegiate teams would get the financial support needed to attract women scholarship athletes.) As our awareness, sensitivity and understanding for providing equal opportunities to all students has improved, Iba Hall's current residents reflect these positive changes in our learning environments, culture and society.