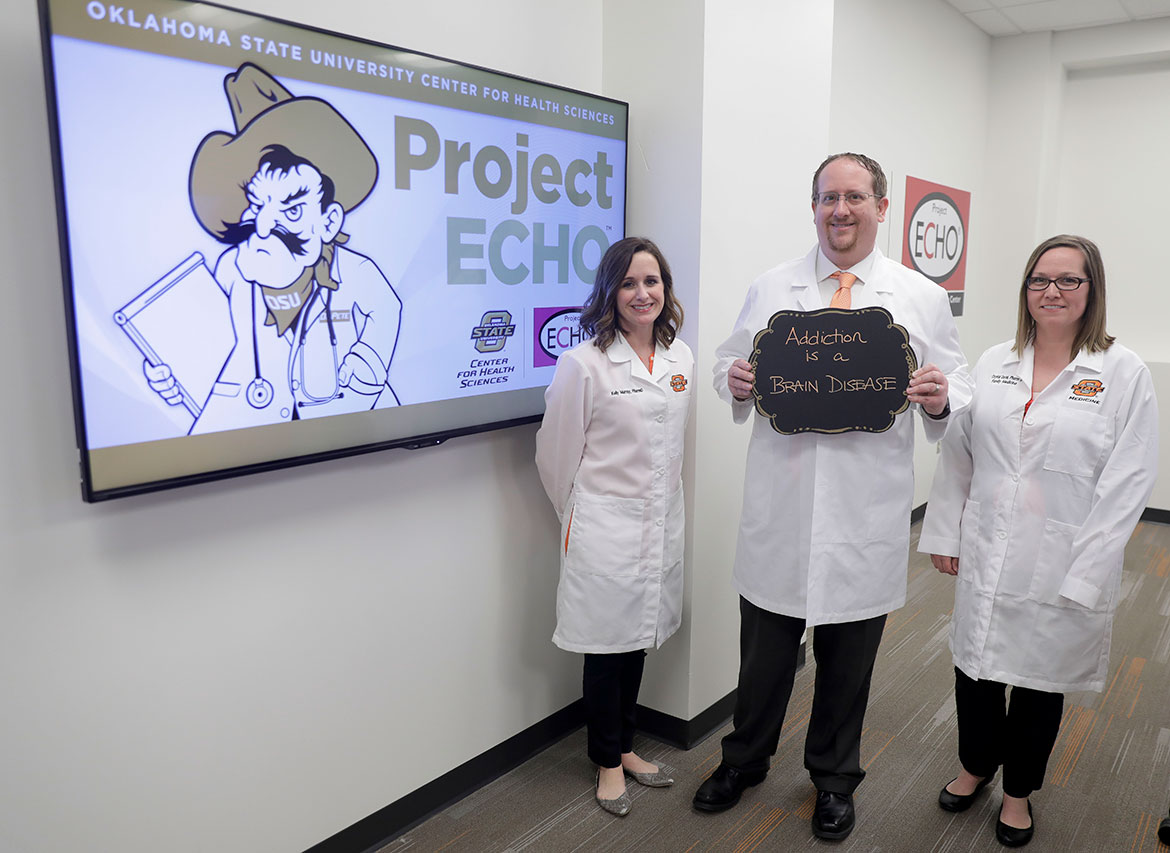 Battling Addiction
Thursday, November 1, 2018
OSU-CHS launches Center for Wellness & Recovery to tackle opioid abuse across Oklahoma
By Anhna Vuong
R
eggie Whitten, a prominent lawyer in Oklahoma City, used to think that addiction was a moral or behavioral problem, a problem caused by an individual's lack of willpower or character flaw. Whitten's perception of addiction changed in 2002 when his oldest son, Brandon, died from injuries he sustained in a car crash. Brandon, 25, had been driving under the influence of prescription drugs. He had been waging a personal battle against opioid addiction for the last three years of his life.
Brandon Whitten is an example of how addiction can happen to anyone. He grew up in an affluent area of Oklahoma City. He was a model child growing up, academically inclined and athletically talented. He was crowned homecoming king at West Moore High School and played football at Southwestern Oklahoma State University. But he became addicted to opioids in college. Whitten and Brandon's mother, Terri, tried to intervene to help their son, enrolling him in several residential rehab programs. Brandon went in and out of sobriety, suffering multiple relapses. Although his heart no longer wanted to be dependent on opioids, Brandon's brain had been altered by overexposure to opioids.
Two decades ago, little was known about the biological basis of addiction. Back then, addiction was widely believed to be a lifestyle choice — addicts chose to take harmful substances detrimental to their health. In recent years, the predominant view among researchers and scientists is that addiction is a chronic brain disorder, caused by a confluence of behavioral, genetic and biological factors. Although the scientific world has made great strides in understanding the science of addiction, more research needs to be done.
OSU Center for Health Sciences is committed to tackling the substance abuse crisis in Oklahoma from every angle through education, research, treatment and public policy.
"Addiction is the greatest public health issue of our time," said Dr. Kayse Shrum, D.O., president of OSU Center for Health Sciences.
"At OSU-CHS, we have some of the best minds in the nation treating patients with substance use disorders and conducting groundbreaking research in the areas of pain and addiction. We created the Center for Wellness & Recovery to improve the lives of Oklahomans affected by pain and substance use disorders."
-
The Center for Wellness & Recovery was born out of an urgent need to provide Oklahomans with expanded access to pain and addiction treatment options, to promote and support pain- and addiction-related research, and to eliminate the stigma associated with addiction.
"As an academic health center endowed with an abundance of human talent and with an extensive rural health network, we are uniquely poised to help solve the addiction epidemic impacting Oklahoma," says Dr. Julie Croff, executive director of the Center for Wellness & Recovery.
One of the leading causes of addiction in Oklahoma is opioid abuse and misuse. According to the Centers for Disease Control's Opioid Overdose 2017 Report, more Oklahoma adults 25-64 died from unintentional prescription opioid overdose than from motor vehicle crashes in 2016. And enough opioids were prescribed in Oklahoma for every adult in the state to have more than 100 pills.
Addictive drugs like opioids can alter the way people think, feel and behave. They disrupt neurotransmission, which affects the way in which neurons (nerve cells) exchange and process information. Opioids attach to proteins called opioid receptors on neurons, blocking pain messages from neuron to neuron and releasing large amounts of dopamine throughout the body. As a result, the user experiences less pain and increased feelings of relaxation and euphoria.
Opioids hijack the pleasure and reward system in the brain by flooding the brain with an influx of dopamine. Dopamine is a chemical in the brain that is released when an individual does something pleasurable.
"Our brains are wired to seek out pleasure, to repeat actions that result in pleasure," said Dr. Jason Beaman, chair of the OSU-CHS Department of Psychiatry and Behavioral Sciences. "For example, when you eat a cheeseburger or a piece of chocolate, your brain releases dopamine. Opioids can release up to 10 times the amount of dopamine that natural rewards like eating a cheeseburger do and they do this in a much shorter amount of time. The opioid user feels really good, really fast."
Over time, the neurons become adapted to the drugs and can only function normally in the presence of the drugs. The combination of tolerance to and dependency on the drugs results in addiction as higher and more frequent doses for the same desired effects.
Since its inception in November 2017, the Center for Wellness & Recovery has tackled the addiction crisis head-on. It opened an addiction medicine clinic in Tulsa, providing patients with medication assisted treatment options to recover from addiction. It also held a public screening of the documentary Killing Pain to raise the awareness of the dangers of prescription pain medicine and reduce the stigma associated with addiction. The center recently received two federal grants to fuel its efforts to heighten awareness and expand capacity of treatment options: a $1.4 million Centers for Disease Control-originated grant awarded to the Oklahoma State Department of Health (and subcontracted to OSU-CHS) and a $450,000 grant from the Substance Abuse and Mental Health Services Administration.
On the research front, clinical and biomedical faculty at OSU-CHS are studying how addiction changes the brains of adolescents and adults. They are delving into research on how the brain processes pain and how inflammation of the spinal cord can augment neural response to pain. They are also looking into the long-lasting impact of addiction on the brain and the brain's ability to regain cognitive functions once in recovery.
"Addiction is a chronic brain disorder, caused by repeated use of addictive substances like opioids. We treat chronic lifestyle illnesses such as diabetes and heart diseases with medication," Beaman said. "And like other chronic diseases, addiction can be managed and treated. With the right medical care and the right support network, patients are able to recover and reclaim their lives."
Whitten, the grieving father, sees the promise ahead in the center's mission.
"My son Brandon wasn't a crackhead, junkie or any other harmful labels we use to stigmatize addiction," he said. "He had a brain disorder. These little pills took over his life and enslaved him.
"The innovative research taking place at OSU-CHS on pain and addiction will save lives. I can't bring Brandon back, but by supporting OSU-CHS, I can make sure that other Oklahoma families won't have to undergo the pain of losing a loved one to addiction."
OSU Center for Health Sciences is proud to lead the charge in implementing innovative methods for the study, treatment and public understanding of substance use disorders and pain management. Addiction is a brain disease. By treating patients and analyzing the brain, researchers at OSU-CHS will unlock the secrets of drug addiction.