Iba Hall more than new paint
Thursday, November 1, 2018
50-year-old residence hall renovations create cultural connections
By Karolyn Moberly
Inspiring.
Bold.
Adventurous.
Painted above an elevator, these encouraging words greet all who walk into the lobby of Iba Hall at Oklahoma State University.
They also describe the students who now live in the one-time athletic residence hall.
The recently renovated Iba Hall houses two different living learning programs on campus. Global Scholars House is a welcoming community for U.S. and international students, while the OKSTATEF1RST program is designed for first-generation college students.
Dr. Leon McClinton Jr., director of Housing and Residential Life, said the living learning programs are designed around such commonalities as culture, academics or special interests, making these students' transition into the new experience of university life much easier.
"Living learning programs are a major component in our housing program," McClinton said. "[They] allow students to get acclimated to their new surroundings quicker."
The students in these programs are the first to experience the many updates and renovations in Iba Hall, originally built in 1968 and named after famed OSU basketball coach Henry Iba.
"As you take a look or go through Iba Hall, you will see that we renovated the basement where we have an entertainment and kitchen area," McClinton said. "We set aside a meditation room. We also renovated each residential room. We think our students are going to be very happy with the updates."
The renovation, versus building new, speaks to the university's stewardship of resources.
"This renovation project was funded through our maintenance reserves. We were able to have enough money set aside to fund this project, which cost us $3 million," McClinton said. "The renovation of Iba Hall was important because it allowed us to not incur any more debt. We were able to take a residence hall that has been here for 50 years and give it a tremendous facelift."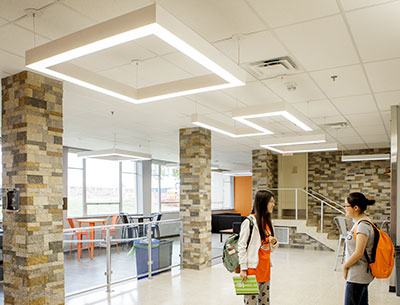 The renovation also meets the needs of many students by providing financial options.
"This project sets OSU apart because we put ourselves in a position to listen to our students," he said. "We go to our Residence Hall Association and listen to what they have to say about living on campus. We listen to our student staff, and they share with us that they want a low-cost option while going to school, and funding this project through our department allowed that."
Individual student living spaces received extensive upgrades including painting, wood floors, resurfaced shelving and tile surfaces and new beds. Common areas got new carpet.
The most dramatic and impressive transformation occurred on the basement level. A new open floor plan brought in an entertainment zone with a community kitchen, large study space and multiple televisions.
"I've been able to meet so many different people in the kitchen at Iba, and I think food brings people together in general but especially when you have different cultures mixing and intermingling," said Gracie Savage, a freshman studying psychology. "We are all cooking and it's a really great opportunity to make friends and learn about other people's lives."
The community kitchen serves as a focal point for many Iba residents. Students regularly gather in the kitchen to cook dishes from their home countries and often share the delicacies with other students, creating a cultural experience unique to this residence hall.
"I love the facilities here," said Huiwen "Ariel" Wang, a freshman from China studying business English. "For example, this new kitchen has helped me a lot. It helped me to make more friends. We can cook together with American students, and I can share my Chinese food with them. It is very interesting."
The building's laundry facilities are also in the basement.
"The laundry room is really nice too, because in my home university when you want to do some laundry, you have to pay," said Chenyi "Liucy" Liu, a freshman from China studying mechanical engineering. "But here I can wash my clothes without having to pay. That is awesome."
The meditation room addresses growing concerns involving students' mental health.
"We recognize that we have many students at OSU who are struggling with their daily lives, so we set aside a room where they can meditate and we are calling it our mindfulness room," McClinton said. "We are in the process of trying to schedule some yoga classes in there as well."
Living learning programs provide a great opportunity to live with others who share interests and a supportive community environment. The programs also provide opportunities for leadership, social interactions and academic success.
"We've already had our vice president of student affairs come in and we had 18 of our 20 first-generation students, who are part of the OKSTATEF1RST Living Learning Program, learn about study habits," McClinton said. "We were really proud to have our top administrators come to Iba Hall and spend time with our students."
Fifty years ago, Iba Hall was home to an exclusive club: male athletes from multiple sports who shared meals and living space in the best residence hall of its kind on campus. Five decades later, it bridges the gap between cultures, offering common space and common ground to forge relationships and create a sense of home among students from around the world.