Life-Saving Research
Thursday, November 1, 2018
OCRID scientists confront devastating diseases that sicken millions
By Jeff Joiner
From early in Dr. Lin Liu's career, he wanted to build a research center to study diseases of the respiratory system. The seed was planted as he studied these diseases as a post-doctoral fellow at the University of Pennsylvania in the early 1990s. When he came to Oklahoma State University in 2010, he said he wasn't ready for the challenge of launching a research center. Three years later, the seed blossomed into the Oklahoma Center for Respiratory and Infectious Diseases (OCRID). The course of his career, and dozens of other scientists, was set.
When OCRID opened its doors on the OSU campus with $11 million in federal funding in 2013, it was a thrilling moment for Lui, the center's director. But the pressure was on to show that this first phase of funding by the National Institutes of Health (NIH) was worth it — and it has been.
"Phase 1 has been transformative to the landscape of respiratory and infectious disease research in Oklahoma," Liu said this summer after learning that OCRID was awarded a Phase 2 grant to continue its research until at least 2023.
NIH awarded $11.1 million to the center to continue the work of more than 60 scientists from three research institutions in the state, including OSU. As it did five years ago, the funding comes from the NIH Centers of Biomedical Research Excellence (CoBRE) program, which supports expanding biomedical research throughout the country by universities and institutions that recruit and train scientists, develop core research facilities and carry out cutting-edge investigations.
The goal is to better understand countless destructive diseases and develop vaccines and drug treatments to prevent infection, limit transmission, treat lung damage and avert related infections.
In Oklahoma, OCRID scientists are leading pioneering research into a multitude of diseases that sicken millions. Infectious respiratory diseases are a worldwide public health epidemic. These diseases run the gamut from the common cold and strep to life-threatening infections such as tuberculosis, influenza, pneumonia (the leading worldwide cause of the death of children under 5), human respiratory syncytial virus (HRSV), infections that aggravate such disorders as cystic fibrosis and many other illnesses. Most of these illnesses have no vaccines or treatments.
"OCRID has put Oklahoma on the map in this critical area of medical research," said Dr. Kenneth Sewell, OSU vice president for research. "Phase 2 funding from the NIH will allow researchers at OSU, OUHSC, OU and OMRF to accelerate their collaborations over the next five years, generating breakthroughs to understanding the causes and potential cures for devastating infectious diseases of the respiratory system."
As a university-level research center, OCRID reports to the division of Vice President for Research. Although focused on human respiratory diseases, the program is housed at the OSU Center for Veterinary Health Sciences.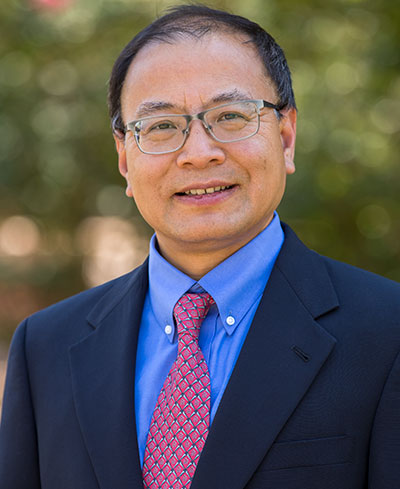 The continuation of funding is a significant milestone, said Liu, Regents Professor and Lundberg-Kienlen Endowed Chair in Biomedical Research at OSU.
"We want to be extraordinary in Phase 2 by continuing to mentor junior faculty, building infrastructure and promoting collaboration, which will develop a sustainable center of research excellence," he said.
Each five-year phase of CoBRE funding supports four core projects that examine significant, well-established areas of infectious disease research with potential for important advances. A Phase 1 core project led by OSU associate professor of virology Dr. Tom Oomens, an associate professor in the Department of Veterinary Pathobiology, is designing and testing an experimental vaccine for human respiratory syncytial virus the leading cause of bronchiolitis and pneumonia among children. His lab's work is critical because of the virus' worldwide magnitude and its stubborn resistance to inoculation.
"It has been extremely difficult to make a vaccine for HRSV and people all over the world are working on it," Oomens said. "Mortality estimates are really staggering. Luckily, few children in the U.S. die from HRSV, but about 150,000 die around the world every year."
Main researchers at OCRID, like Oomens, are advancing long-term studies that will eventually move beyond the center to attract large grants from federal research institutes like the NIH. For the many smaller research pilot projects supported almost solely by OCRID, winning large grants is difficult. In these small projects, scientists must come up with preliminary results to show the potential of the research, and OCRID funding allows scientists to show the legitimacy of their ideas.
"Their research lays the foundation upon which to build future studies," Liu said.
Dr. Véronique Lacombe, an associate professor of physiological sciences at OSU and an OCRID researcher launched a pilot project that this year became one of four OCRID core investigations.
"It's very hard to have support from federal agencies when you're starting a novel, cutting-edge pilot project based around an unproven idea," Lacombe said. "So you have to validate your idea by collecting preliminary data, and only OCRID was able to provide that financial support to start my research as a pilot project."
Lacombe is studying why diabetics are predisposed to respiratory infection. She is studying the metabolism of the lungs and why high levels of sugar in the lungs, which can be toxic, can lead to respiratory infection. The long-term goal for Lacombe's lab is to identify new drugs to treat these patients. The development of treatments – what scientists call "from bench to bedside" – will take years of research and much funding.
That happened this fall when a pair of research projects begun at OCRID were awarded NIH grants. OSU's Dr. Heather Fahlenkamp, a professor in the Department of Chemical Engineering, and Dr. Susan Kovats, an associate member of the arthritis and clinical immunology program at OMRF, were awarded a $2 million NIH grant to continue developing an innovative tissue-engineered lung model to understand the immune system's response to influenza. Dr. Haobo Jiang, a Regents Professor in entomology and plant pathology at OSU, received an $1.8 million NIH award for his research into the immune response of insects fighting pathogens that also cause serious human diseases.
How did OCRID prove to the NIH CoBRE program that it was on its way toward making significant contributions to respiratory disease research in Oklahoma? In Phase 1, OCRID doubled to 60 the number of respiratory disease researchers who secured more than $50 million in additional funding outside CoBRE. The CoBRE grant also expanded biomedical research infrastructure in Oklahoma with three state-of-the-art facilities at OSU.
It also connected scientists from all over the state to collaborate. That critical process focused on senior researchers mentoring early-career scientists. Oomens benefited from one such relationship by working with mentor Dr. Robert Welliver, head of pediatrics at OUHSC. A CoBRE goal is training the next generation of researchers through interdisciplinary collaboration among OCRID's partner institutions.
"An important way to do that is to bring scientists with different expertise together," Oomens said. "That benefited me by allowing me to push my research further."
OCRID regularly brings in world-renowned respiratory disease experts to share the latest findings that can impact research here in Oklahoma. By combining scientific strengths and the top facilities in Oklahoma, OCRID is building a national reputation for its work.
"OCRID was really the key because it brought together scientists and investigators, which we could not have done independently," said Dr. Heloise Anne Pereira, dean of the graduate college and Herbert and Dorothy Langsam Chair in Geriatric Pharmacy at OUHSC. "Bringing together the best investigators from each of these institutions has really been the success of OCRID."
The four main researchers from Phase 1, including Fahlenkamp, have "graduated" from OCRID and now work independently from the center to expand their efforts on their own using training and relationships from the center. A new set of four core projects has been selected for funding in the next phase, including the research from Lacombe, and OSU's Dr. Shitao Li, assistant professor of virology, Dr. Marianna Patrauchan, OSU associate professor in microbiology and molecular genetics, and Dr. William McShan, OUHSC associate professor in pharmaceutical sciences.
"I am extremely pleased that the first OSU CoBRE grant was able to transition to Phase 2 without any disruption, thanks to an incredible collaboration from scientists across the state of Oklahoma," Liu said.