Nourishing Hope
Thursday, November 1, 2018
OSU-Tulsa's Body Image and Disordered Eating Lab tackles an often-hidden epidemic.
By Kim Archer
As a child in a small Texas town, Dr. Tonya Hammer would come home from school every day in anticipation of an after-school snack that often consisted of her great-grandmother's homemade biscuits and gravy.
"That's how my great-grandmother showed me love and cared for me, through food," Hammer said.
Her mother, on the other hand, was frequently trying to lose weight in a variety of ways, including eating caramel- and chocolate-flavored appetite suppressant candies.
"Me? I buried my nose in books," Hammer said. "So here's a combination — no activity for me, my great grandmother feeding me biscuits and gravy after school, and my mom feeding me a message of 'we need to suppress our appetites and eat less.'"
Those early experiences ultimately led Hammer, now an associate professor of counseling and counseling psychology and the master's counseling program coordinator at Oklahoma State University-Tulsa, to the research specialty that speaks to her — body image and eating disorders.
"I am fat, obese, heavyset and overweight — whatever it is you want to call me," Hammer said. "And so when we talk body image, I deal with it every day.
I know what it's like to feel invisible or to try to become invisible."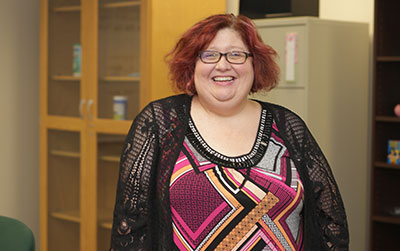 'A silent killer'
Recently, Hammer established the Body Image and Disordered Eating (BIDE) Laboratory at OSU-Tulsa to focus on producing evidence-based research to help curb the number of deaths from what the medical community sometimes refers to as
"a silent killer."
The lab provides space where she and counseling graduate students can collaborate on research projects, plan community outreach programs and host focus groups.
Early in her career, Hammer's research interest centered on women and the influence of the media. But after attending her first professional conference aimed at exploring the influences that lead to eating disorders and body image dissatisfaction,
she knew she had found her "home."
"I always questioned whether or not people would take me seriously speaking about body image when I have my own issues, and I'm overweight," she said. "It's kind of like when you go to a doctor who doesn't look the healthiest, and you question whether they have the right to tell you what to do with your body."
But sometimes, it's that intimate connection that engenders passion.
It is common to find a personal connection among researchers focused on body image and disordered eating.
Doctoral student Ashley Hadwiger said she, too, was drawn to this area of research because eating disorders have touched her life.
"I'm a survivor of a life-threatening illness, and I take pride in my recovery." she said. "Body image and disordered eating will remain a problem as long as it is a systemic issue, so I do research on finding ways to ultimately change that."
Distinctively dangerous
Eating disorders have the highest mortality rate of any mental illness, according to the National Eating Disorders Association (NEDA).
Research shows that most patients with eating disorders also suffer from other conditions such as depression and anxiety. Substance abuse among patients with eating disorders is five times higher than in the general population.
"The national statistics — which most say do not accurately reflect the number of people suffering from some form of eating disorder or disordered eating — are alarming," Hammer said. "The purpose of our lab is to add to the literature concerning treatment, intervention and prevention."
According to NEDA, an estimated 20 million women and 10 million men in America will have an eating disorder at some point in their lives.
Eating disorders are complex conditions, influenced by a range of biological, psychological and sociocultural factors. They affect people regardless of sex, gender, age, size, race, ethnicity or socioeconomic group.
"Our relationship with our body and the food we eat is an inevitable lifelong relationship," Hadwiger said. "It is something we can't avoid."
Anorexia nervosa, binge eating disorder and bulimia nervosa are the most common eating disorders, and typical behaviors associated with them include preoccupation with weight, body dissatisfaction, severe food restriction, binge eating, self-induced vomiting, laxative overuse or excessive exercise.
Hadwiger said that while the causes of eating disorders differ for each individual, one thing is certain: Media messages on television, the internet and in magazines are powerful and significant in the lives of people with eating disorders or body image dissatisfaction.
"Societal messages originated in patriarchal values and they assign worth to how we look and what we eat. But what society considers 'worthy' is constantly changing and
is unobtainable," she said.
Hadwiger calls the fight to end eating disorders "a systemic battle to redefine worth and to find empowerment in the way that our bodies are meant to be appreciated."
From research to action
A fundamental part of Hammer's vision for the BIDE lab is to be proactive.
She is resolute in her desire that the work should not end there.
"We are a research-to-action lab. We want to do outreach. And we want to be about advocacy," she said.
According to Hammer, the best approach to developing better intervention and prevention programs for people with eating disorders is to encourage public discussion, rather than avoid the issue.
"Face it. Talking about size, talking about body image is an uncomfortable conversation that we often avoid, whether it's because it makes us uncomfortable or we think it's going to make someone in the room uncomfortable," Hammer said.
"But we need to have the conversation."
One of the researchers' first prevention efforts was training a group of school counselors to be facilitators within their schools to lead student groups in discussions about body image and eating disorders.
That program is based on the Body Project Collaborative, a national effort to help high school girls and college-age women resist cultural pressures to conform to the ideal appearance standard of female beauty.
Supported by evidence-based research, the Body Project has been proven effective in reducing the onset of eating disorders among young women.
BIDE lab researchers continue to recruit school counselors to participate in future Body Project training sessions.
"This program is an invaluable preventative and educational tool for empowering young women to appreciate their bodies," said Hadwiger, who helped lead the training along with doctoral student Jennie Martin
and OSU-Tulsa visiting professor
Dr. Sarah Johnson.
Other efforts will come out of developing partnerships with local community organizations, including building upon the relationship between OSU-Tulsa Counseling Center and the Dennis R. Neill Equality Center.
Hammer said also she hopes to collaborate with Laureate Psychiatric Clinic and Hospital's eating disorders program and several Tulsa-area school districts to create and deliver research-based intervention, prevention and treatment programming.
In addition, the research team will contribute to the work of advocacy organizations, including the Oklahoma Eating Disorders Association, the National Eating Disorders Association and the International Association
of Eating Disorders Providers.
"We can do all the research in the world on the current state of affairs, but if we don't start doing some things that are geared toward prevention the problem will persist," Hammer said.
As president-elect for the Oklahoma Association for Lesbian, Gay, Bisexual and Transgender Issues in Counseling, Hammer is currently pursuing her own research on how eating disorders impact relationship satisfaction and emotional health within the LGBTQ community.
While not as simple as it sounds, Hammer believes in the power of body positivity, a movement rooted in the belief that all body types should be accepted and appreciated.
"We need to constantly remind ourselves that our 'enoughness' is off the charts, that who we are — no matter our size, our weight, our height, our BMI —
we're enough," Hammer said. "And we need to not let others or ourselves tell
us otherwise."
The research team has planned a broad range of research projects to answer such questions as:
What factors affect the body image
of typically healthy people?
How does the family unit contribute to body dissatisfaction?
What factors contribute to disordered eating in males?
What role does body image or disordered eating play in relationship satisfaction for LGBTQ people?
How does a person's lack of a reliable source of food figure into their body image?
What role does a person's heritage — specifically Latino or Native American — play in body image?
The research will be both quantitative and qualitative — the numbers and the stories behind the numbers, Hammer said.
"Stories are especially important when looking at marginalized or oppressed populations," she said. "A lot of assessment instruments have been focused on majority populations,
not minority populations."