Students Helping Students
Thursday, November 1, 2018
Student philanthropy group marks 10 years
By Aimee Furrie
Ten years ago, a group of enthusiastic philanthropists joined together to change the future of Oklahoma State University — and today, their mission is stronger than ever.
The most impressive detail? These Cowboy-investing, future-building, dream-chasing supporters are students.
The Student Foundation, lovingly known as StuFu, was founded in the 2007 academic year by 36 undergraduates. These ambassadors of the OSU Foundation set out on a mission to educate the student body on the impact of giving at Oklahoma State and communicate their utmost gratitude to the supporters that made their university dreams a reality.
StuFu is undoubtedly leaving its mark.
Wade Witcher and Clara Wenger are student campaigns co-chairs. They both lit up with pride discussing the organization.
"Thanking donors was my initial draw," Wenger said. "I'm affected as a scholarship recipient. I'm extremely grateful to attend OSU, and it's completely because of the donors — that makes me encouraged to give."
About 87 percent of students at Oklahoma State receive some type of financial aid, and many students would not be able to attend school without the help of generous donors.
"I think there's a misconception that to be a donor, you have to be wealthy," Wenger said. "And we want to break down that misconception."
The continued outpouring of care from alumni and friends inspires Witcher. "Our passion for giving comes from how much support we receive," he said. "When alumni give, there's a fire ignited in us. They have taught us that when we see a need, we take care of it."
StuFu continues to expand its strong presence on campus. Members are often found getting to know their peers face to face through tabling and community outreach events. Witcher said he considers it a win when students are willing to stop at a table and talk with him. Often, those conversations are the first steps to discovering another young donor's orange passion.
"The real heart behind what we do is trying to give people an outlet where they want to give."
- Wade Witcher
In his leadership position, Witcher promotes PhilanthoPete, the online crowdfunding platform through which student projects are funded. He said StuFu focuses on living out OSU's culture of giving.
"When it comes to student involvement, they're eager to join. We don't have to sell the PhilanthroPete mindset to students," he said.
During the 1,890-minute Give Orange event last April, the student donor count exceeded 150 — surpassing the goal of 100 students in record time. Goals for Give Orange 2019 include spreading even more orange passion and increasing student involvement.
Throughout this academic year, the members of the Student Foundation will be stretching themselves to grow their goals and increase participation. "We're always trying to set goals that are beyond what we've done in the past," said Wenger. "Our hope as a Student Foundation is that it will continue to grow." With plans to be even more intentional with donor relationships, launch exciting events and better utilize digital platforms, they are well on their way to another year of incredible impact at Oklahoma State.
Cowboy Strong
Four years ago, the group took its dedication to philanthropy one step further. Under the guidance of OSU Foundation staff adviser John Grice, StuFu partnered with Delta Sigma Pi in creating the Cowboy Strong Student Emergency Fund.
The Cowboy Strong Student Emergency Fund provides resources for students who are experiencing financial hardships from natural disasters to personal emergencies. Like many other students, Clara Wenger has a strong passion for this project and is excited to see it making a difference.
"I helped plan the launch of Cowboy Strong — it's a fund for students by students," she said. "Students care about philanthropy — not out of a sense of obligation, but a sense of excitement."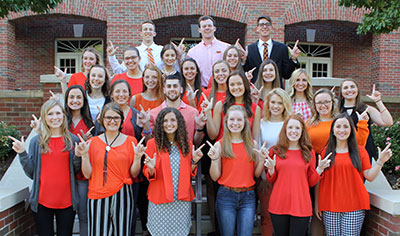 StuFu leads the fundraising efforts for this fund and gets lots of other students involved, too. That increased participation makes a difference, according to Witcher. "We're here to take care of each other. Anytime you have to give up a resource for something, you have a little more ownership in it."
The Cowboy Strong Student Emergency Fund continues to grow and is distributed regularly to students who are in need. In 2017, Cowboy Strong provided life-changing resources for multiple students who were impacted by Hurricane Harvey. More than 350 students were from the Houston area that year, and 232 donors joined the PhilanthroPete efforts to raise $57,849 for those affected by the hurricanes.
Students across campus feel the effect of this program. With a grassroots mentality, StuFu continues to grow and adjust, as the community needs are ever-changing. Oklahoma State University continues to prove itself to be a culture of giving. "The community of philanthropy is already built in," Witcher said. "We just promote that."
Inspired supporters
StuFu builds on the philanthropic passions of thousands of donors that continue to support OSU. "Mike Greenwood talks to us about experiencing the joy of giving," said Wenger. "And we want to make student philanthropy personal. It's really exciting to see when students learn about opportunities that they're passionate about."
Since its founding, Mike and Anne Greenwood have happily been two of StuFu's primary supporters. They have witnessed the impact of this program, and are pleased with the growth and development of the past 10 years. "We cannot wait to see what the future holds for these remarkable and dedicated students," Anne Greenwood said. "We are confident they will carry on in their lives as caring philanthropists — we could not be prouder of StuFu!"
The Student Foundation members are incredibly grateful for the support they have received from alumni and friends within the Cowboy family. "Thank you for seeing our needs," Witcher said. "And thank you for taking care of us so we can take care of others."