America's oracle of oil was also Oklahoma State's giant of generosity
Ever since his birth on May 22, 1928, Thomas Boone Pickens II was breaking barriers and making history. The first baby born via cesarean section in Holdenville, Oklahoma, he would grow up to be a captain of industry and an Oklahoma State University Cowboy legend.
Boone Pickens was one of America's most successful energy entrepreneurs. He founded one of the nation's largest independent oil companies, a highly successful investment fund company and an energy independence campaign.
"When you list unfortunate things you did — Texas A&M allowing Boone Pickens to go to Oklahoma State has to be on the top of their list."
This 1951 Oklahoma A&M geology graduate made Oklahoma State University history as the school's biggest donor. His $165 million gift to his alma mater in 2006 was the largest single donation to college athletics ever. In all, he donated more than $652 million to OSU during his life.
Holdenville Beginnings
Mr. Pickens' foundation came from growing up in Depression-era Holdenville, Oklahoma. His family lived in a modest bungalow, next door to his maternal grandmother and aunt. His lifelong values, morals and even his business ethics reflected the influences and teachings of those women.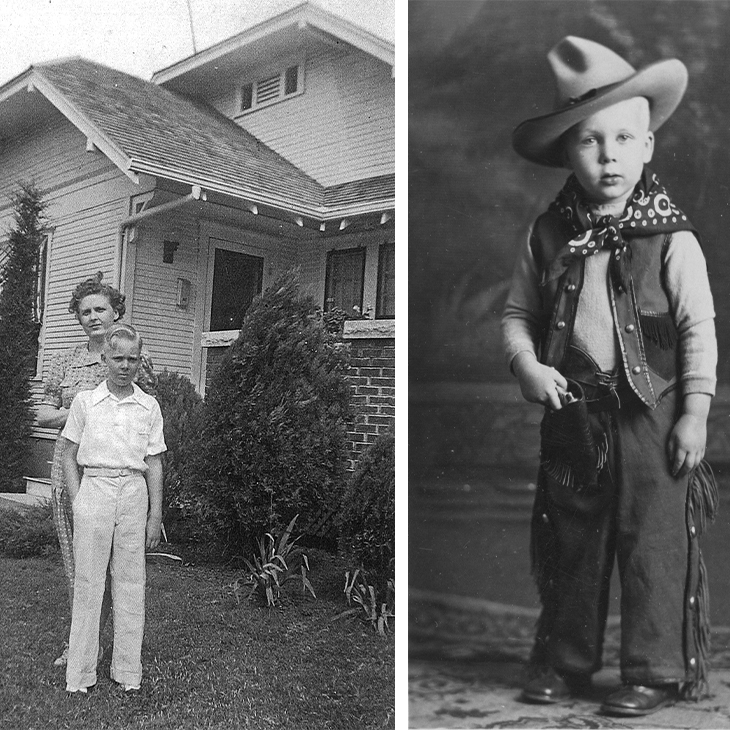 "Boone could keep you mesmerized with stories of Holdenville and small-town America," said longtime friend OSU President Burns Hargis. "The influence of his family in his rural community was profound. The Holdenville life lessons of honesty and hard work set the pace and trajectory of his life."
Mr. Pickens often mentioned the successful newspaper route he had as a boy on his bike. As one story goes, he found an empty wallet during his route and returned it to the owner, receiving a $1 reward. Arriving home, he proudly waved the bill to his mother, aunt and grandmother, all sitting on the front porch. He was immediately reprimanded: "We don't take money for doing the right thing!" The boy had to return the money in a pouring rainstorm. Lesson learned.
Another lesson he learned well: Growing his business through acquisitions. He began that paper route with 28 customers, but added surrounding routes until he was delivering 154 papers a day, six days a week, he told The Dallas Morning News in 2016. The resulting $38 a month: "Let me tell you, when I was 12 years old, that meant real money in my pocket. This was during the Depression."
"A fool and his money are easily parted," his grandmother would repeat every Saturday when Boone went to town. Fiscal responsibility was always part of the family's curriculum. His father, Thomas Boone Pickens, was a successful petroleum landman and taught his son the finer skills of risk-taking in business — a lesson that would serve him well as he entered college and the business world.
Oklahoma A&M
When Boone was in his teens, the Pickens family followed his father's work to Texas oilfields. Boone loved sports and was particularly good at basketball in high school. So good, in fact, that he received a $25-a-month scholarship to play basketball at Texas A&M University in College Station.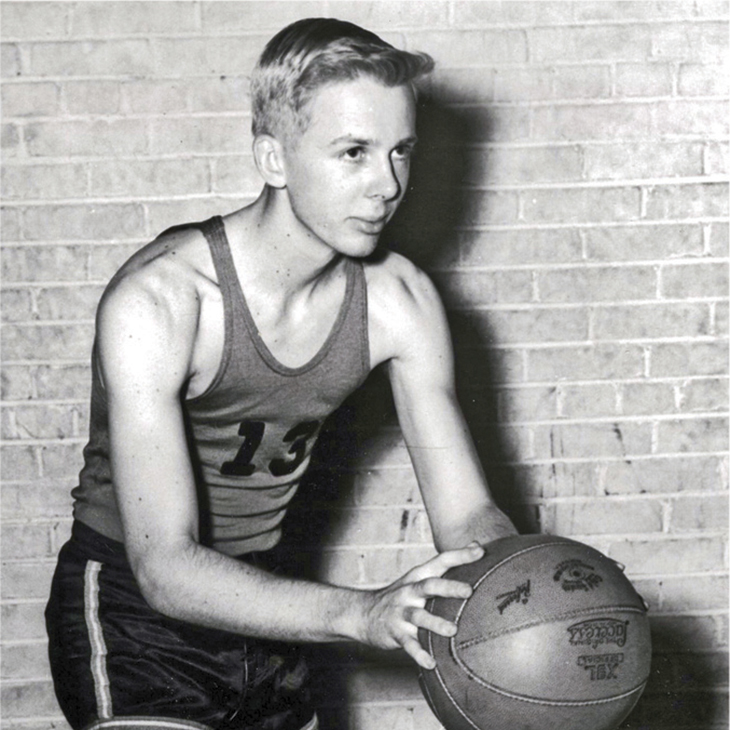 But when his college basketball career faltered, Texas A&M canceled his scholarship. Mr. Pickens cast his eye and his future to Oklahoma A&M College.
"When you list unfortunate things you did — Texas A&M allowing Boone Pickens to go to Oklahoma State has to be on the top of their list," Hargis chuckled. "But lucky for OSU!" "Oklahoma A&M, now Oklahoma State University, caught Boone's eye during the incredible years of the famed basketball coach Henry Iba," said OSU Athletic Director Mike Holder, another of the oilman's longtime friends.
"Boone didn't play basketball at OSU, but he did fall in love with the campus and the culture at Oklahoma State and majored in geology."
Finding Oil
In 1951, with a wife (the first of five), a child (the first of five) and a geology degree, Mr. Pickens entered the oil and gas business with Phillips Petroleum in Texas. His restless entrepreneurial spirit soon had him tramping through the Texas Permian Basin looking for oil on his own, accumulating land and drilling rights. His first Inc., was established in 1954; not far behind came Altair Oil and Gas Co. and an expansion into Canada. In 1964, Mr. Pickens created his beloved Mesa Petroleum, a company that consolidated his holdings and became the nation's largest independent oil company. He was only 35 years old.
"For a long time, he was considered a boy genius for building Mesa Petroleum out of nothing. He was really good at finding oil," Hargis said.
"I believe one of the reasons I was put on this earth was to make money and to be generous with it."
Along the way, Mr. Pickens developed an innovative but controversial way to make millions. He would target a company with weak management, buy a significant stake, take it over, build new management, operational techniques and efficiencies, sell it and make money. In the early 1980s, the so-called hostile takeover was common in the business world but new to the oil and gas industry. Mr. Pickens' opponents labeled him a corporate raider and greenmailer who used the threat of a takeover to obtain a company.
"Boone wasn't a corporate raider; he was a shareholder activist," Holder said. "He understood that companies belong to the shareholders. Sure, he made money on the deals, but so did the shareholders."
Mr. Pickens fought his accusers, and the media jumped into the fray, making him a household name. He became a regular on talk shows, putting the oil and gas business and himself in the national spotlight. Time magazine put him on the cover in 1985, and Mr. Pickens put big companies on his takeover target list: Gulf Oil, UNOCAL, Phillips, Newmont Mining, Diamond Shamrock and Japanese automaker Koito. His mantra was "predictability leads to failure." The Holdenville lessons in risk taking from his father were turning him into a billionaire. In 1997, Mr. Pickens expanded his wealth in a new direction, creating the hedge fund investment company BP Capital.
Along the way there were successes and failures. Mr. Pickens acknowledged the downs:
"I've drilled my fair share of (dry) holes! Mr. Pickens' mother, Grace Marcaline, preached generosity to her son, telling him to never forget where he came from. He listened.
One of Mr. Pickens' most memorable "Booneisms," as his friends like to call his words: "I believe one of the reasons I was put on this earth was to make money and to be generous with it."
"All told, Boone Pickens donated more than $652 million to OSU academics and athletics," Holder said. "His innovative giving/matching program inspired an unprecedented level of OSU alumni and friends to also make charitable gifts. Such innovation created a nearly $2 billion impact on Oklahoma State.
"Boone invested in our faculty and students and transformed the university," Hargis said. "Boone Pickens restored the pride in Oklahoma State."
Later Years
In 2008, Mr. Pickens transitioned from petroleum to alternative energy sources with the Pickens Plan, an energy policy campaign to reduce the nation's dependence on foreign oil in favor of alternative fuels such as wind power and natural gas.
Mr. Pickens wrote two books: Boone in 1987, and The First Billion Is the Hardest: Reflections on a Life of Comebacks and America's Energy Future in 2008, considered a run for Texas governor and was inducted into the Oklahoma Hall of Fame in 2003.
A series of small strokes beginning in late 2016 and a "Texas-size fall" (his words) in 2017 slowly began taking his energy but never diminished his drive and determination.
In 2018, he handed off BP Capital management, put his beloved ranch in the Texas Panhandle up for sale for $250 million and moved his childhood house from Holdenville to OSU, near the Karsten Creek golf course, where he was buried Sept. 26. On Sept. 11, 2019, Thomas Boone Pickens II died at age 91 in his Dallas home. He leaves behind three daughters and two sons, 11 grandchildren and three great-grandchildren.
His family lost a patriarch.
His friends lost a loyal friend.
His university lost a benevolent humanitarian.
And America lost a giant.