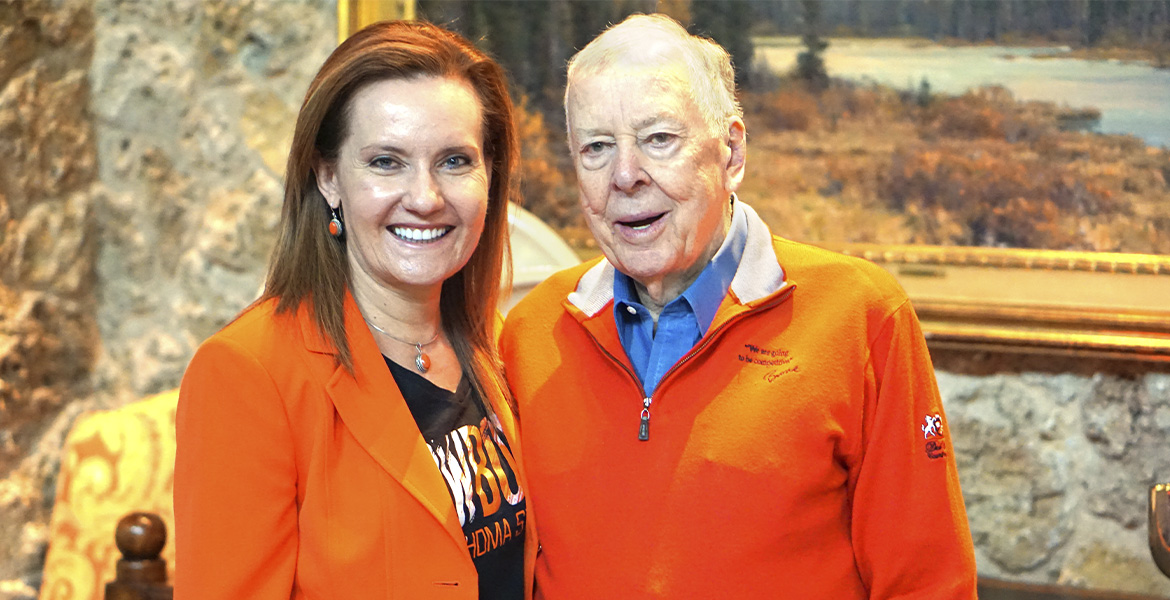 Building on Geology
Friday, November 15, 2019
Pickens led his school to strategic plans — and success
Boone Pickens was known for being a man with a plan. But as a 20-year- old student at Oklahoma A&M in 1948, Pickens was a typical sophomore, enjoying college life and his time in a fraternity. He had transferred from Texas A&M after one year when his $25-a-month basketball scholarship was cut.
Emeritus faculty member Dr. Gary Stewart — who earned his bachelor's in geology in 1957 and began teaching at OSU in 1971 — picks up the story from there.
"I think Boone rather enjoyed being a student until the end of his sophomore year," Stewart said. "He invited his parents to come up to a party and at the end of that party, he went with his father and mother to the car. His dad told him that, 'Son, we had a four-year plan, and two years are gone. Seems you don't have much of a plan.' In other words, you've got two more years. His father had his full attention."
During a 2018 interview for the geology department, Pickens confirmed the story. "My dad told me, 'A fool with a plan can beat a genius with no plan,'" he said.
Pickens decided to buckle down and get serious. He sat down with Dr. V. Brown Monett, the new department head of geology, and planned a way to get through the coursework in two years.
"Just think what might have not happened had Dr. Monett not taken that hour to work with a student," Stewart said. "I contend that there was never an hour in the history of OSU that was more from Dr. Monett, and I'm satisfied that he never forgot it and that he was grateful always."
From there, Pickens' path forward was clear, and he graduated with solid grades in 1951.
"Mr. Pickens will always be our Forever Cowboy, his torch will live forever with our school and beyond."
- Dr. Camelia Knapp, Head, Boone Pickens School of Geology
The 1982 Gift
In 1982, he gave $1 million to OSU to help build a new $4 million geology building. Today, that building is the southeast wing of the Noble Research Center.
Dr. Jay Gregg, who earned a master's in geology at OSU in 1976, was recruited to head the Boone Pickens School of Geology in 2005 and tasked with raising money to help grow the program.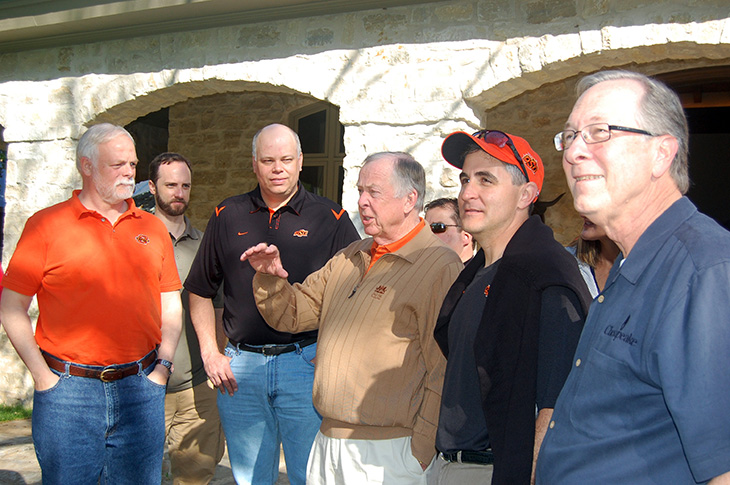 "I did not make the decision to come here until after I drove to Dallas and talked with Mr. Pickens," Gregg said. "He did not want to interfere with the natural progression of the department but he wanted to see a plan, see growth and be better than OU and Texas. Boone made it very clear that he did not want to be the sole support for the geology program, but that he would help in every way he could. He didn't just give money away; he used his donations as leverage to bring in more money.
He helped the School of Geology quite a bit in the eight years I was head. We raised something north of $25 million, and only part of that was from Boone." Herb Davis, who passed away this geology program.
"Boone wanted to see students do well and would pay for all the grad students to come to Oklahoma City for geological society meetings," Gregg said. "He was really big on networking and getting students started on their career path. He was beloved by students."
In 2007, Pickens offered his Mesa Vista Ranch in the Texas panhandle for retreats. The first retreat was in the spring of 2008, and the latest retreat was in the fall of 2018.
"As a faculty retreat, the ranch provided the opportunity to plan, and it was at the ranch that Boone told the faculty and alumni guests that the school needed a plan," said Dr. Jim Puckette, associate professor of geology. "This was years ahead of similar requests by the university that departments develop strategic plans."
School History
The geology program awarded its first bachelor's degree in 1946 and separated from chemistry to become its own department in 1947. Undergraduate enrollment has varied greatly depending on how the oil and gas industry is performing. A Ph.D. program was added in 2007.
Between 2005 and 2013, Gregg — who is retiring after this academic year — secured funding and increased the prominence of the program. Funding for graduate students, a growing research budget and a larger faculty are now in place.
Two endowed chair positions carry Pickens' name: the Boone Pickens Distinguished Chair of Geosciences and the Boone Pickens Chair of Applied Geophysics.
Dr. Camelia Knapp took over as head of the program in June 2018.
"Of the 15 tenure-track faculty, there are seven endowed professorships," Knapp said. "It is unbelievable. At the University of South Carolina, where I was before, we had a faculty of 20-25 with no endowed professorships. In OSU's case, I think it has a lot to do with Boone and his feeling so invested in OSU. Dr. Gregg also worked really hard with the OSU Foundation to establish endowed chairs. That work has brought additional high-caliber faculty to the university."
When Knapp asked Mr. Pickens for words of wisdom for the department, he simply said, "Up," which is now the school's motto.
Pickens and Davis were recognized with the Boone Pickens School of Geology Super Cowboy Award last spring.
"Mr. Pickens will always be our Forever Cowboy," Knapp said. "His torch will live forever with our school and beyond."