Celebrating Presence
Thursday, August 29, 2019
Women for OSU names Peggy Helmerich as Philanthropist of the Year
For the past 11 years, Women for OSU has built a presence that inspires leadership and provides financial support to OSU. This tradition continued when more than 500 individuals came together for the Women for OSU Symposium in Gallagher-Iba Arena on April 25 to recognize 10 outstanding student scholars and the 2019 Philanthropist of the Year, Tulsa benefactress Peggy Helmerich.
The Symposium celebrated the philanthropy and contributions of the influential Women for OSU community. Over the past 11 years, the cumulative giving from the attendees has totaled more than $200 million to Oklahoma State, including $300,000 in scholarships to 71 Women for OSU student scholars.
First Cowgirl Ann Hargis was blown away by the impact and philanthropy Women for OSU has shown since its inception. "The results of your generosity and commitment are evident all around us with growing enrollment, world-class facilities and new, dynamic programs," she said.
The theme of presence was seen throughout the symposium, and world-renowned social psychologist and keynote speaker Amy Cuddy solidified that feeling with her address. Cuddy's message resonated with what Women for OSU stands for and served as worthwhile advice for attendees.
Spears School of Business adjunct professor Abbey Davis arranged for 150 of her students to attend. Davis, who teaches in the Eastin Center for Career Readiness, incorporates Cuddy's book, Presence: Bringing Your Boldest Self to Your Biggest Challenges, in her curriculum to help students prepare for successful job interviews. She interviewed Cuddy before the Symposium and will use the video
in her classes this fall.
Part of Cuddy's research focuses on the physical space someone takes up when they feel successful. She showed several clips of athletes with their arms raised in the air following a victory — power pose, in her words. The crowd responded with cheers and laughter when each of this year's 10 Women for OSU scholars struck a power pose as they crossed the stage to accept their awards.
"The results of your generosity and commitment are evident all around us with growing enrollment, world-class facilities and new dynamic programs."
- Ann Hargis
The group also announced next year's keynote speaker — OSU alumna and humanitarian Dr. Tererai Trent.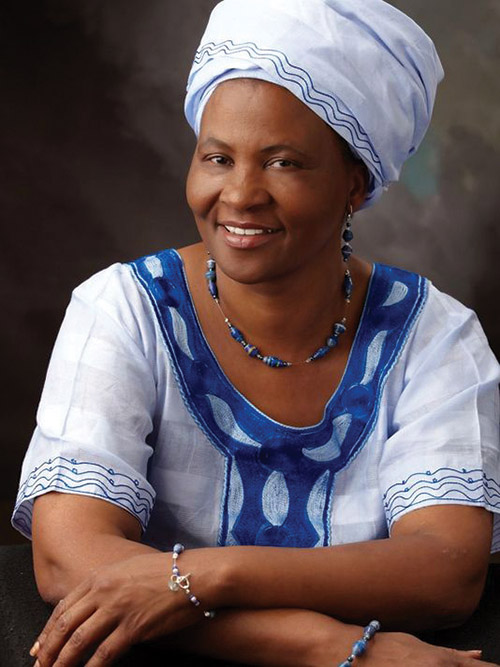 Oprah Winfrey named Trent, recognized as one of the world's most acclaimed voices for women's empowerment and quality education, as her "favorite guest of all time." Rooted in humble beginnings, Trent grew up in a cattle-herding family in rural Zimbabwe and was forced to marry at age 11. In 1998, the couple and their five children moved to Oklahoma so she could pursue an education at OSU. Through the help of Oklahoma State professors, she escaped her abusive marriage and earned a bachelor's degree in agricultural education and master's degree in plant pathology. She met her current husband while studying at Oklahoma State.
Trent is an educator, motivational speaker and an award-winning author for her book, The Awakened Woman — Remembering & Reigniting Our Sacred Dreams. Trent also serves as a United Nations Global Ambassador of Education and Peace and continues to lead the global charge in the fight for quality education for all children and for women's rights.
Trent will speak at the 2020 Women for OSU Symposium, scheduled for April 23 at Gallagher-Iba Arena. To learn more about sponsorship opportunities for the 2020 Symposium, contact Michal Shaw at mshaw@osugiving.com or 405-385-5147. Individual tickets
will be available this winter at OSUgiving.com/Women.
2019 Philanthropist of the Year
Honoring the Philanthropist of the Year has become a rich tradition of the Women for OSU Symposium. This year was no exception with the recognition of Peggy Helmerich.
Years before Peggy was a household name and civic leader in Tulsa, she thrived in Hollywood, co-starring in eight movies for Universal-International. After three years on the big screen, Peggy (whose last name was Dow then) fell in love with Tulsa oilman Walter H. Helmerich III and retired from show business when the two married. Together, they would lay the foundation for both Peggy's and the Helmerich family's philanthropic spirit and become influential leaders within their communities.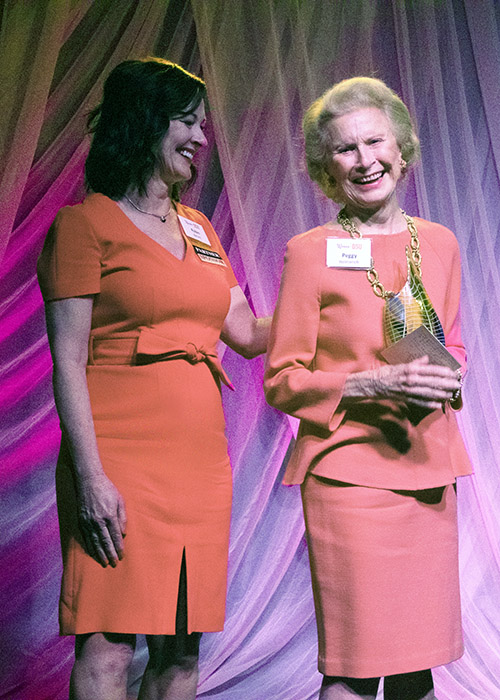 Peggy had a passion for charity work that developed in the 1970s and 80s when she began serving on the Tulsa City-County Library Commission and the Tulsa Library Trust. Peggy held leadership roles with both organizations, and her contributions to the libraries in Tulsa led to the Peggy V. Helmerich Library in south Tulsa being named in her honor. Peggy and Walt also led the way on the Helmerich Research Center in Tulsa with their family foundation's $9 million gift.
Decades of Peggy's life have been devoted to serving her community by improving health care, education, arts, libraries and other charitable endeavors in Tulsa, at Oklahoma State University and other colleges throughout the state. "I credit my strong foundation in family, faith and love of OSU for my passion to influence my community," she said.
In the mid 90s, Peggy co-chaired Edmon Low Library's fundraising campaign at OSU, resulting in several million dollars in gifts. The Helmerichs were also leaders in the campaign to renovate historic basketball and wrestling venue Gallagher-Iba Arena. They've given to dozens of causes at OSU, and the two were jointly awarded OSU's Henry G. Bennett Distinguished Service Award in 2001.
"Peggy has been especially exemplary and inspirational in positively shaping the future of our university through philanthropy and engagement with our library, along with many other academic and athletic facilities and programs
on multiple OSU campuses," said Sheila Johnson, OSU's dean of libraries and Clerico Family Chair for Library Excellence.
"I hope Walt and I, throughout our lives, have encouraged people to get involved in causes they are passionate about. We served on boards, worked on fundraising committees, volunteered in numerous ways; the work we did, no matter the task, was important," Helmerich said.
Peggy has continued to volunteer with numerous organizations, including the Tulsa Ballet, Tulsa Symphony, Tulsa Garden Center and Friends of the OSU Library. She hopes her work will inspire others to connect to their communities and make a difference.