Driving Future Success
Thursday, August 29, 2019
Alumni Association chapters provide scholarships to young Cowboys
Trent Gibbs never thought he'd be able to go to college.
"College was always considered out of the realm of possibility for me," said Gibbs, a native of Duncan, Oklahoma, who was the oldest of eight kids. "It wasn't really a possibility. I had always considered it to be much too expensive."
Gibbs' dream started to become a reality when he met Kathy Snider and Linda Hutson, both members of the Stephens County OSU Alumni Chapter. The two helped him earn an OSU scholarship from the chapter.
"They really wanted to make sure that I had the opportunity to pursue a college education," Gibbs said. "They understood what it could mean not only for me, but for my kids one day."
Gibbs is one of 527 OSU students who have received a scholarship from the OSU Alumni Association and its chapters over the past three years. More than $1 million has been distributed to incoming freshmen, with half of those funds coming from OSU car tags.
For thousands of Cowboys across Oklahoma and Texas, giving back to OSU is as easy as driving around town.
The OSU car tag program began in Oklahoma in 1997 and expanded with a Texas plate in 2010. A portion of proceeds from each tag sold goes into an Alumni Association fund earmarked for scholarships.
OSU alumni chapters raise scholarship dollars through a variety of events each year, and those dollars are matched by the Alumni Association with the funds from the car tags.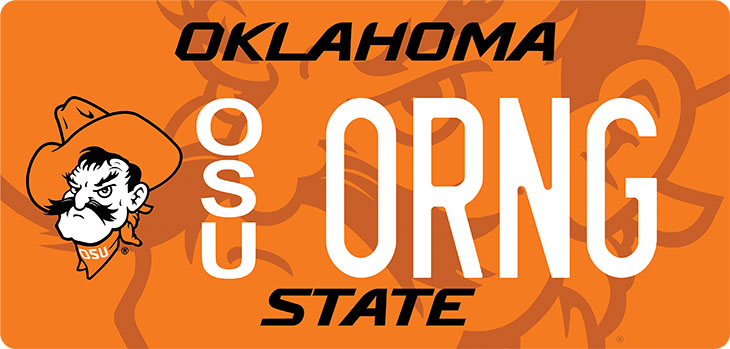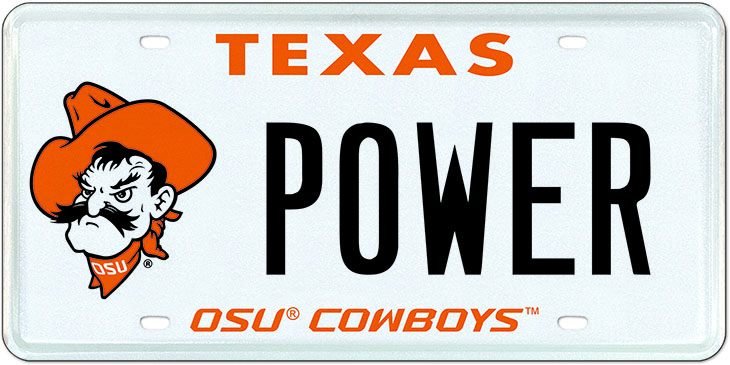 "The OSU car tags are one of the easiest ways to support OSU students while also showing off your Cowboy pride around town," said Blaire Atkinson, OSU Alumni Association president. "The more OSU car tags we can put on vehicles, the more OSU students we can help each year."
Gibbs' dream is now a reality: He is a freshman at OSU, planning to study the music industry with a pre-law option. His main focus in life is finding ways to help others, whether through music or another path.
The feeling that someone believed in him has already helped drive Gibbs toward his academic success. The support from Snider, Hutson and the rest of the Cowboy family is something he said he could always feel.
"Hundreds or even thousands of people have donated to those funds," Gibbs said. "They believe in me and my dreams enough to invest in me. That responsibility has really driven me to be my best in everything I do and to make myself worthy of that belief."
Ashleigh Evans, a recent OSU graduate with a degree in animal science, also benefited from a scholarship provided by the North Texas OSU Alumni Chapter and matched with car tag funds. Evans is the daughter of Dustin and Shonja Evans of Farmersville, Texas, both OSU alumni and teachers in Texas. Attending her parents' alma mater was always Evans' dream.
"OSU has definitely been a big part of my life since the day I was born," Evans said. "I have always been a loyal and true fan of OSU. Always been a Cowboy."
OSU's out-of-state tuition worried Evans, but the scholarship from the North Texas Chapter helped make her OSU dreams come true.
"The scholarship took a huge financial burden off of my family," she said. "That money helped with buying textbooks as well as the different fees from the College of Agricultural Sciences and Natural Resources."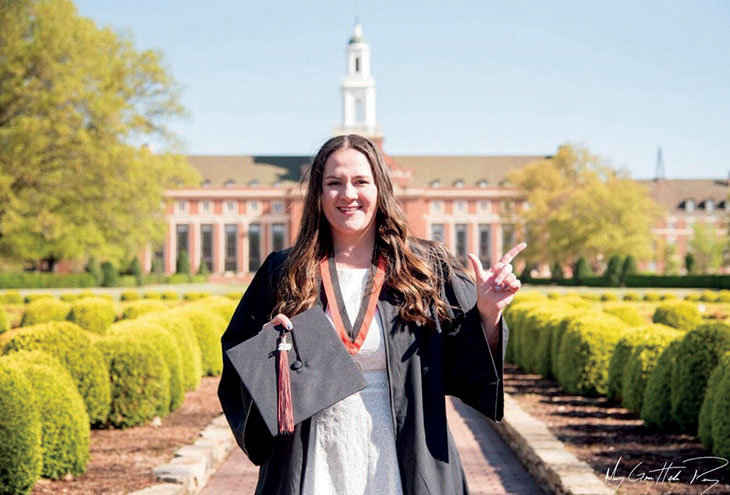 Evans is set to attend veterinary school at the University of Missouri and hopes to go into a mixed animal practice.
Both Gibbs and Evans said they've been inspired to give back to future OSU students and show the support they felt from current alumni.
"I admire anyone who gives up what could have been used for their personal enjoyment," Gibbs said. "I want to be like that when I grow up. I want to help others who deserve a college education, but may not have the means to get it."
"Someone made the decision to help younger people like me," Evans said. "Someday, I would love to give back."
To purchase an OSU car tag in Oklahoma or Texas, visit ORANGECONNECTION.org/cartags.
Panel
Menu Title
CHAPTER SUPPORT
Menu Icon (optional)
Links

The following OSU alumni chapters offer scholarships to incoming OSU freshmen:

Beckham/Roger Mills/Dewey Counties
Caddo County
Cherokee Strip
Cleveland/McClain Counties
Comanche County

Denver

Grady County
Houston Area
Jackson/Harmon Counties
North Texas
Northwest Arkansas
Northwest Oklahoma
Oklahoma City Metro
Pittsburg County
Pottawatomie County
Southeast Virginia
Stephens County
Tulsa Area
Washington County
Scholarships are also offered by the New York City Chapter and the Black Alumni Society to nonfreshmen.