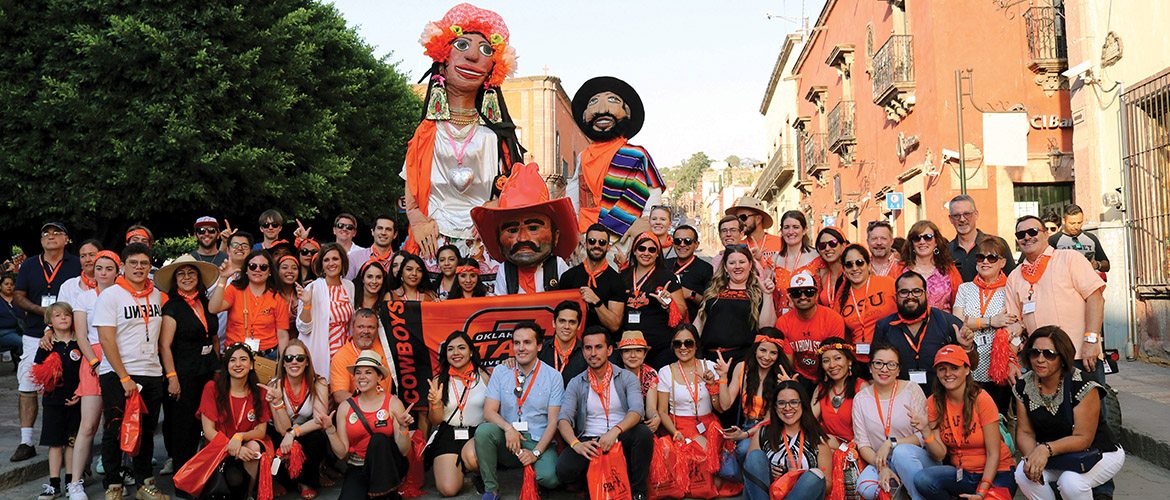 Going Global
Thursday, August 29, 2019
OSU International Alumni Weekend draws 70 to Mexico
More than 70 Oklahoma State University alumni, partners and friends participated in the first International Alumni Weekend, hosted by the OSU School of Global Studies and Partnerships (SGSP) and the OSU Alumni Association May 18-19 in San Miguel de Allende, Guanajuato, Mexico.
The weekend kicked off with photos at the famous Parish Church of San Miguel Arcangel with Pistol Pete followed by a cocktail hour in the garden of the Hotel Casa Blanca 7. Guests partook in a traditional Mexicancallejoneada, a celebratory street parade, through downtown Saturday evening. The Board of Tourism for San Miguel de Allende sponsored the parade and provided the mojigangas, or mascots, mariachi band and a donkey.
OSU was well represented with several of the administration, faculty and staff who made the trip, including: Dr. Thomas Coon, vice president of the Division of Agricultural Sciences and Natural Resources and dean of the College of Agricultural Sciences and Natural Resources; Dr. Jeanette Mendez, then-interim dean of the College of Arts & Sciences; Dr. Randy Kluver, dean of the SGSP; Dr. Jeff Simpson, director of the Study Abroad and National Student Exchange Office; Rodrigo Tello, manager of SGSP international programs; Sarah Bildstein, SGSP communications specialist; Blaire Atkinson, president of the OSU Alumni Association; Pam Davis, vice president of the OSU Alumni Association; and Steven Vekony as Pistol Pete.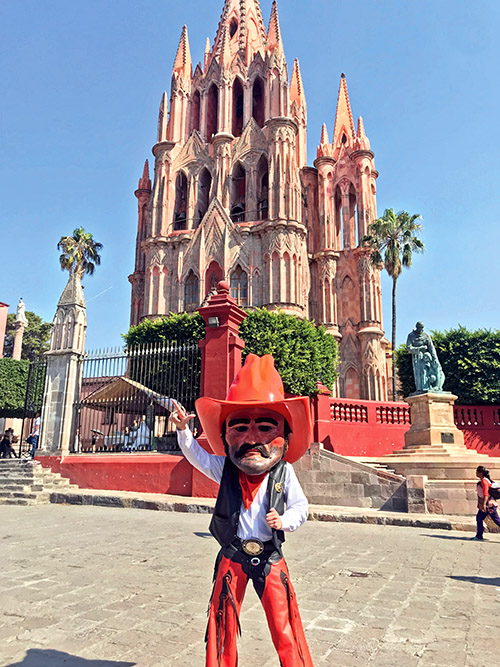 Guests were treated to brunch Sunday morning on the rooftop patio of the Hotel Casa Blanca 7 along with a short program with administration and alumni. Coon provided an update on OSU initiatives and campus construction. Atkinson moderated a panel with Kluver, Coon and Mendez, who provided a more in-depth look at their colleges. Additionally, four alumni participated in a panel, moderated by Tello, to share the impact OSU has had on their lives.
Following brunch, a group of about 10 alumni established a Mexico alumni chapter with Davis and Tello. The chapter has planned to have a few events in various cities around Mexico this fall.
"OSU alumni have a truly global reach, and it's important now more than ever to keep them connected with what's happening at their alma mater," Atkinson said. "Together with our on-campus partners, we are excited about the opportunities to engage alumni around the globe and continue to foster their connection to the Cowboy family."
OSU has a rich history of engagement with Mexico. The university boasts 43 partnerships with Mexican institutions. One of OSU's most prominent relationships is with the Universidad Popular Autónoma del Estado de Puebla (UPAEP). Through this partnership, several dual-degree programs have been established, which allow students from both universities to earn two master's degrees in two years and requires them to study for one year at OSU and one year at UPAEP.
For alumna Ana Mendez Torres de la Vega, the dual-degree MBA program between the Spears School of Business and UPAEP prepared her well for her career as a leader in Walmart Mexico.
"The program changed my life," Mendez said during the alumni panel. "There are very few people who have a master's degree, let alone a master's degree abroad, which is probably one of the top reasons I had a chance to move into a managerial position so quickly in my career. Through the program, I matured and gained a greater perspective on how the world works."
Students from Mexico are consistently one of the Top 10 international student populations on the Stillwater campus each semester, with about 450 studying at OSU in the past decade. Furthermore, almost 200 OSU students have studied abroad in Mexico since 2015.
Through strategic partnerships, stakeholders and alumni, SGSP's Kluver hopes to expand opportunities for OSU students to study abroad in Mexico. He'd like to meet a goal that at least 1 percent of OSU students, or about 250, travel to the country each year.
"Mexico is our nearest neighbor and an important strategic partner to the U.S.," Kluver said. "Our economies, governments and environmental issues are all linked. We want to encourage more OSU students to take advantage of the incredible opportunity to learn about a key culture."