Hard Work Pays Off
Thursday, August 29, 2019
Five freshmen receive Oklahoma State Scholars Society honors — and full scholarships — for their academic success
Five Oklahoma State University first-year students are breathing a little easier after learning their undergraduate education is paid for.
Now in its second year, the Oklahoma State Scholars Society — the university's prestigious scholar development program that offers major financial support and scholarly mentorship to top- performing in-state high school students — has named Mary Erdmann, Rio Bonham, Carinna Marling, Landon Bakhsh and Karley White as this year's fellows.
Each fellow receives up to $74,500 in scholarship support — the full cost of attending four years — including a study-abroad stipend.
Twelve semifinalists were recognized as Oklahoma State Scholars Society members and will receive up to $20,000 in academic support over four years.
"Members of this society are some of Oklahoma's best and brightest students," said OSU President Burns Hargis. "They are Oklahoma's next generation of leaders, innovators and visionaries. We are honored to extend this offer and have them join our university."
FIVE NEW FELLOWS
MARY ERDMANN wants to become a doctor, providing compassionate and impactful care to Oklahomans.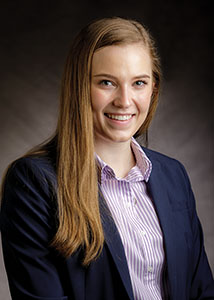 After graduating from Cascia Hall Preparatory School in Tulsa last spring, Erdmann is excited to be diving into her microbiology/pre-medical professional coursework.
"I hope to not only find fulfillment of my love for science, but to discover new passions," Erdmann said.
She credits the OSSS scholarship with giving her the time and opportunity to pursue her interests.
"This scholarship is a prestigious honor, an incredible gift and a once-in-a- lifetime opportunity," Erdmann said. "It paves the way for me to reach my long- term academic aspirations as well as career goals. To me, this award means that OSU believes in my potential to meaningfully contribute to the Cowboy family and to Oklahoma. I will have the flexibility to seek out internships, research, service and experiences to further my own development."
Erdmann studied Spanish in grade school and high school and plans to study abroad.
"One day, I hope to communicate and serve others in their own language," she said. "As Nelson Mandela said, 'If you talk to a man in a language he understands, that goes to his head. If you talk to him in his language, that goes to his heart.'"
Growing up on a farm near Tishomingo, RIO BONHAM understood there was always work to be done.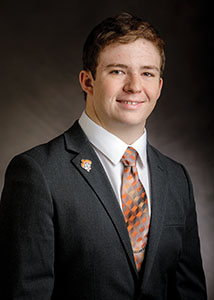 But the Madill High School graduate made sure to fit schoolwork and extracurriculars in with his daily chores, and that work ethic paid off with a major scholarship.
"I am honored to be part of the group that receives this award," he said. "For me, this scholarship means I am not forced to just take work as I can get it. With the financial support from this program, I can choose the internship or job that best aligns with my educational goals and fits what I want to be doing in the future."
Bonham is majoring in biosystems and agricultural engineering and is looking forward to research opportunities that he feels passionate about.
"I am hoping to leave OSU with a better idea of what I want to be doing in my career as well as a network of friends and industry leaders who will help me find a job where I can make a real impact," he said. "My career goal is to help agriculturists be more environmentally sustainable by helping develop new production technologies and techniques."
Tears of relief rolled down CARINNA MARLING'S cheeks when she learned her undergraduate education at Oklahoma State University would be fully covered.
Years of dedication and hard work for the first-generation college student had paid off.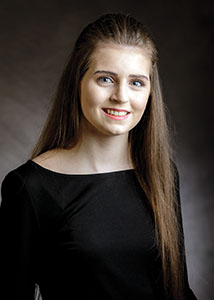 "I have spent the last four years wondering how I was going to afford to go to college, and this scholarship was an answered prayer," Marling said.
The recent Bartlesville High School graduate is studying mechanical and aerospace engineering.
"I have no idea what to expect as I take this next step into my life, but I am embracing the surprise and excitement," Marling said over the summer. "I hope that my endeavors will help motivate my younger siblings and help them realize everything that is possible if they work hard for what they want in life.
"For me, this scholarship is the key to unlocking endless potential both during and after my time at Oklahoma State University. This is a life-changing opportunity for me and I cannot wait to utilize the opportunities that this scholarship has opened up."
For her career, Marling hopes to design engines that use less fuel, run on alternative fuels and are more affordable.
"I hope to address the environmental issues caused by burning fossil fuels so that I can hopefully improve the lives of those all throughout the world."
LANDON BAKHSH dreams of being a tinkerer, inventor and innovator.
The recent Thomas A. Edison Preparatory School graduate is majoring in mechanical engineering at Oklahoma State University and hopes to start a business in his hometown of Tulsa.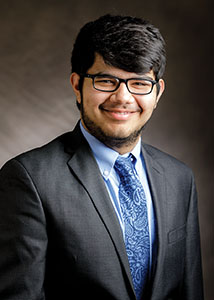 "I want to own and grow my own business centered around the development of the community, which has always supported me, using innovation and creation to pave the way to success," Bakhsh said.
But first up are four transformative years at OSU.
"I am so excited to be a Cowboy," he said. "I am looking forward to the sheer amount of new people I will be able to interact with, giving me the ability to learn of new thoughts, ideas, and stories I would've never been able to conjure on my own. Becoming an Oklahoma State Scholar Society Fellow means so much to me. It has revealed to me that my hard work and dedication throughout high school hasn't gone unnoticed, reinforcing within myself the thought that I have a promising future ahead of me. I absolutely cannot wait to make the most of the opportunities this scholarship will provide for me."
He hopes to study abroad in South Korea.
"I am interested in South Korea because of their intriguing culture, emphasis on educational success and desire to remain on the forefront of technological development," he said. "I would love to experience what life is like there firsthand, using my experiences there to better both myself and my community back home."
KARLEY WHITE has always had her eyes on the prize.
The recent Mannford High School graduate wants to become a physician specializing in neurology.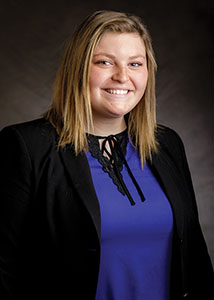 "Majoring in chemical engineering provides a wide variety of career paths, but I am confident in my desire to change lives through a career in the medical field," White said.
She is looking forward to her time at Oklahoma State University, which she described as an energetic campus with a family-like atmosphere.
"I plan to be involved in clubs and community service organizations while also being involved in freshmen research and academic organizations within the College of Engineering, Architecture and Technology," she said.
White said coming from a military family — her father serves in the U.S. Air Force — presented a struggle but it also molded her into the person she is. She's planning to be the first person in her family to earn a bachelor's degree.
White is humbled that she received such a major scholarship.
"After meeting the caliber of students nominated for the Oklahoma State Scholars Society, I am very honored to have received this scholarship," she said. "I feel as though all of my hard work and commitment while in high school is being recognized by this scholarship."
LAST YEAR'S FELLOWS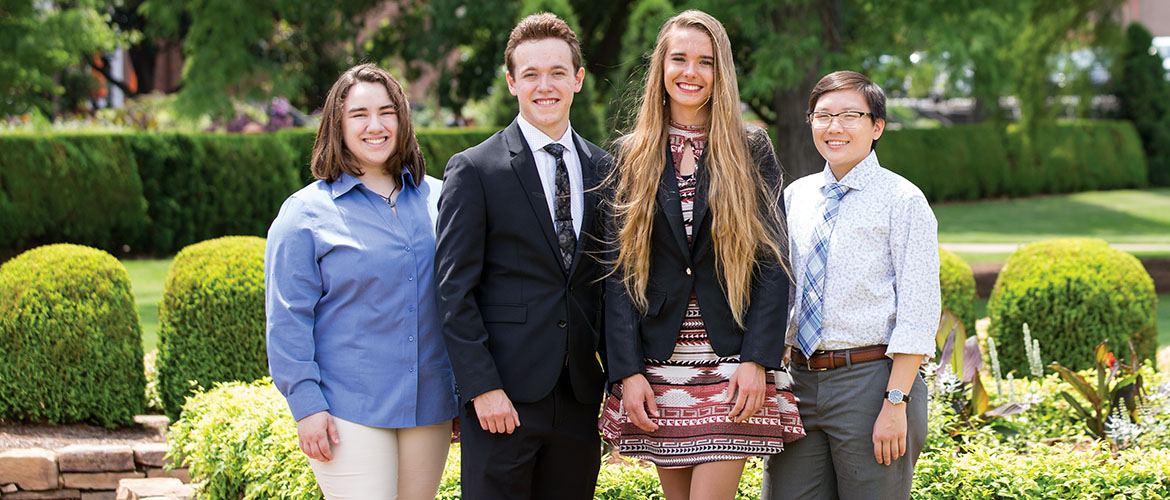 Fellows from the inaugural OSSS class reflect on what they learned, how they have grown in their first year at Oklahoma State University or what the future may hold.
ABIGAIL FERRELL
Hometown: Edmond
Major: Psychology
"One of the most important lessons that I learned over the past year is that, as much as I love my field, I need to do things outside of it to help keep me balanced, such as playing the guitar. Switching my focus to these extracurriculars rather than dedicating every moment to my studies has given me greater insight into both topics more directly related to my broad interests and into the world at large."
KILLIAN KANE
Hometown: Tulsa
Major: Mechanical and aerospace engineering
"OSU has taught me a lot of skills outside of class on how to operate without the safety net I had in high school. I've become more self-reliant, but also more reliant on the resources I have in others (study groups, etc.). I'm most excited about the opportunities I have to make a difference within the college, whether it be through the fellows/scholars program, student council or any of the other groups I'm involved with. Obviously, I'm excited about my major as well, but growing is more fun when you grow with a community."
AMANDA BOLINGER
Hometown: Beaver
Major: Animal science with a pre-veterinary option
"CASNR's curriculum has expanded my horizons and impressed upon me the great importance of agriculture as a whole. I want to use my expertise for the benefit of the agriculture community. These are the people I've grown up with, who have helped me. They are neighbors and family, and they are the hard- working individuals feeding the world. I want to do my part to help them. My classes this year have really helped to reinforce that passion."
CARTER SWALLOW
Hometown: Oklahoma City
Major: Aerospace and mechanical engineering
"I love going to classes every day for engineering- related courses, alongside the honors courses I am interested in taking. I took the intro coding class as part of my major and found out I actually like to code. I've added the computer science minor to my degree. I'm excited to take intro to computer security and artificial intelligence I. After getting my bachelor's, I plan on applying to either Boeing, SpaceX or NASA."
Panel
Menu Title
OSSS CRITERIA
Menu Icon (optional)
Students met the following criteria for membership in the society:
Links

Minimum 3.8 high school unweighted GPA
Minimul ACT score of 30 or equivalent
Admitted to OSU and the Honors College
Demonstrated maturity and potential through outstanding résumés and essay responses
In-person interview with faculty committees on a variety of topics