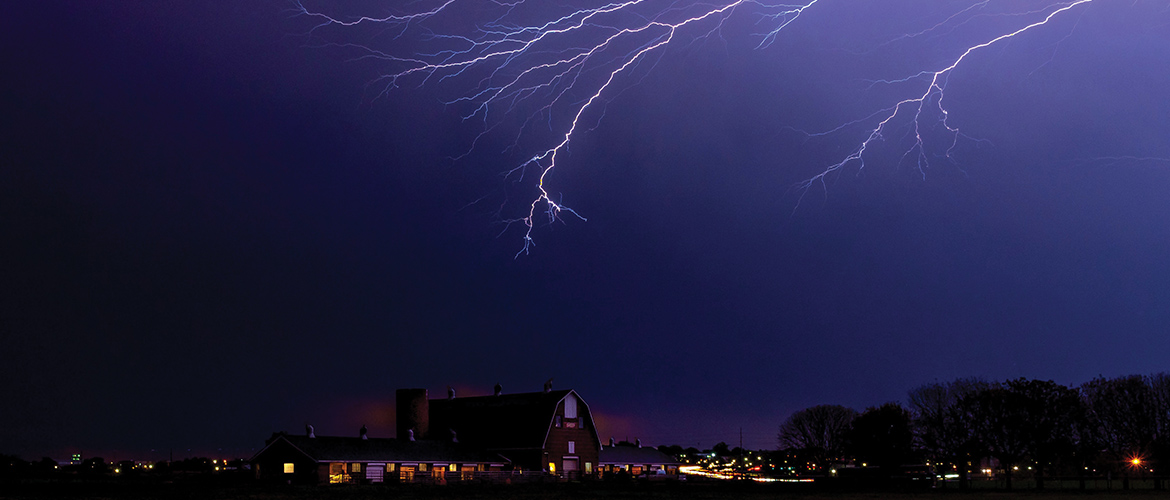 'Nation's Gold Standard'
Thursday, August 29, 2019
Oklahoma Mesonet celebrates 25 years of monitoring the weather and the environment
Oklahomans may think every state has a weather monitoring system like Oklahoma Mesonet.
They don't.
That's one of many reasons why News 9 meteorologist Lacey Swope calls it a blessing — one that's easy to overlook by Oklahomans who might think every state has a similar system of weather and environmental monitoring.
"The value of having accurate, needed and updated real-time data cannot be overstated," Swope said. "It's not just weather forecasting. It's now-casting."
"The Oklahoma Mesonet literally helps us save lives"
- Lacey Swope
The Oklahoma Mesonet, a world-class network of environmental monitoring stations that provide updated information every five to 10 minutes, is celebrating its 25th anniversary in 2019. A system of 120 stations with at least one in every county, the network was designed and implemented by scientists working together from Oklahoma State University and the University of Oklahoma, with the two universities continuing to provide valuable expertise to this day.
Swope said other states might have only 10 to 20 monitoring stations, and even those typically do not provide the breadth of information available through the Oklahoma Mesonet sites. They also do not provide the frequency of updates Swope feels are key to knowing what is going on in real time.
"The constant flow of in-depth above-ground and below-ground data allows state meteorologists to more easily and accurately determine where the dry line is and how fast a weather front is moving and similar factors that are important to reporting on tornadoes, thunderstorms, floods and wildfires," she said. "We've also got 25 years of accumulated historical data to assist in weather predictions, letting us better project the severity of events from certain environmental factors. That is a forecaster's dream."
DATA-DRIVEN AGRICULTURE
For fifth-generation rancher Chuck Coffey of Double C Cattle Co. near Davis, Oklahoma, Mesonet data is crucial. He analyzes the accumulated historical information and uses it to create his own agricultural-based forecasts.
Important and widely used aspects of the Mesonet's agricultural toolset include the general farm monitor; the cattle comfort adviser, providing environmental factors that can affect an animal's well-being; drift risk analysis detailing when to spray pesticides, herbicides and insecticides; degree day heat units, which can affect crops, pastures and livestock; irrigation planning assistance; a drought monitor; and more.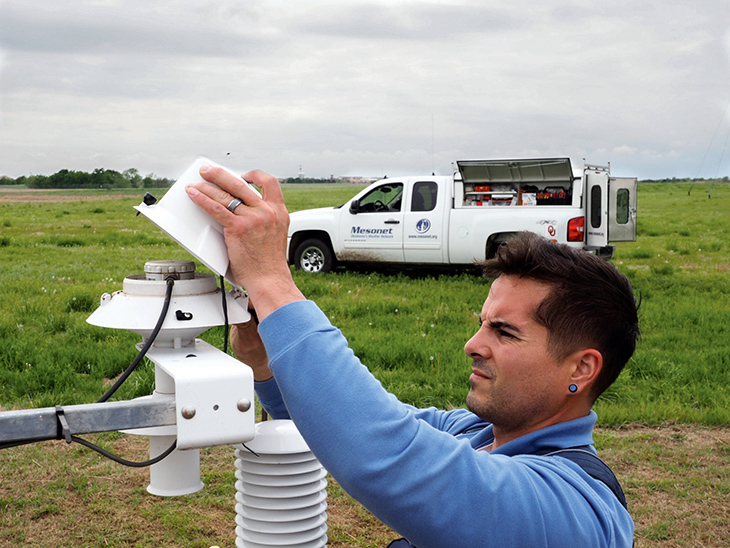 "The Double C is pretty much the highest elevation in Murray County," Coffey said. "When I look at the Mesonet data from the Ardmore or Sulphur stations and the wind speed is 12 miles per hour, I have learned to add five to eight miles per hour on top of that. If the data tells me the relative humidity is going to drop to 30 percent, I subtract an additional 5 percent. Mesonet data is not only extremely useful, the more experience you have with the data, the better you can adapt the information to your specific operation."
A Texas A&M University alumnus with three kids who have attended Oklahoma State, Coffey is proud of how OSU and OU work together to support agriculture with the Oklahoma Mesonet.
"It doesn't have to be Bedlam all the time," he said. "Agriculture is a big deal in Oklahoma, and we're all working for the same purpose."
Improving the quality of life for agribusiness operators and agricultural producers, their families and the communities where they live is a key part of OSU's state and federally mandated land-grant teaching, research and Extension mission, said Tom Coon, OSU vice president and dean of the Division of Agricultural Sciences and Natural Resources.
"Oklahoma produces more than $8 billion in new crops and livestock annually, making agriculture an important driver of the state's economic well- being," Coon said. "This affects everyone in Oklahoma, even those who are not directly involved in agriculture."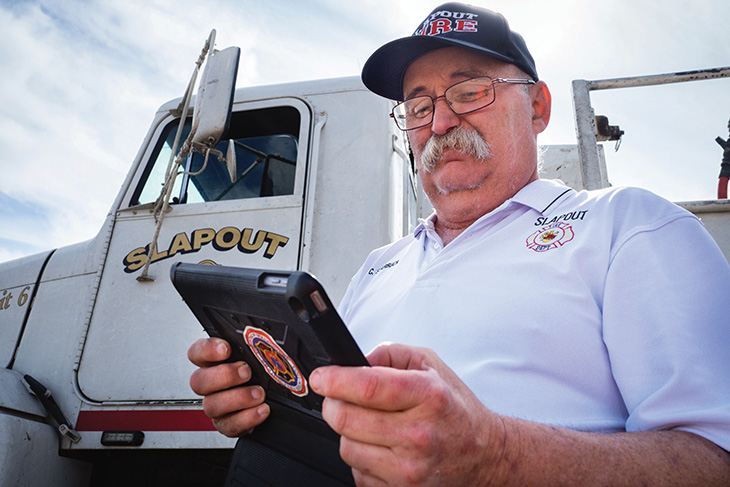 HOTTEST THING GOING
Fire Chief Charlie Starbuck, of Slapout, Oklahoma, originally used the Mesonet for storm spotting, but wildland fire management has become a major focus in recent years.
"The Oklahoma Mesonet has a section called OK-FIRE, which has proven to be invaluable," he said.
"I can get all the information I need on one page, be it on my computer, tablet or phone."
OK-FIRE provides a comprehensive set of products for fire weather, fire danger and smoke dispersion that incorporates an 84-hour forecast, the OK-FIRE wildland fire management website, and regional training and support for users. Applications include wildfire, prescribed burning and smoke management. Since 2006, more than 1,600 wildland fire managers have been trained through the OK-FIRE program.
The morning of March 6, 2017. Starbuck's pager went off at 10:53 a.m., informing him that a grass fire was burning in a Beaver County oil field. He led the trek to the fire with eight crew members and three fire trucks. Thanks to OK-FIRE data, he saw the fires had already expanded. He was on the phone immediately, calling for aid from other area fire departments.
The blaze was part of a wildfire outbreak that burned 781,000 acres in Oklahoma.
The outbreak officially would be dubbed "the Northwest Complex Fire," but many still refer to it by the name initially used by Mark Goeller, director of Oklahoma Forestry Services — Starbuck's. Charlie's sister in Virginia even called him to ask about the "Starbuck fire" she had seen on the national news. His sudden fame caught the Slapout fire chief by surprise.
TIMELY AND RELEVANT
"Oklahoma experiences a lot of hazards, so we need to be as precise as possible to effectively respond to emergency situations," said Albert Ashwood, the now retired director of the Oklahoma Department of Emergency Management for 21 years. "The value of being able to use the Oklahoma Mesonet to look at any county in the state and determine local conditions can't be stressed enough."
Derrell McBee, OSU Cooperative Extension agricultural educator and Harper County Extension Office director, was at the center of recovery efforts from that 2017 wildfire outbreak.
"Believe it when people talk about the importance of the information provided through the Oklahoma Mesonet, and as the agriculture section and other sections show, it goes beyond emergencies and disasters," McBee said.
"Truthfully, getting on the Mesonet is not a bad way to start your day, whether you're a wildland fire manager, agricultural producer, community event planner or are just going to be outside."
Oklahoma Climatological Survey Director Kevin Kloesel believes the Mesonet should be counted among the state's true treasures. He said it stands as a testament of public service to those who played pivotal roles in its creation and continued relevance to all of Oklahoma.
"Weather never stops: It is a 24-hours-a-day, seven-days-a-week, 365-days-a-year operation to get information into the hands of those who need it, and there is always someone, somewhere who needs timely, accurate and relevant weather and environmental information," he said.
Kloesel, who is also an associate professor in OU's College of Atmospheric and Geographic Sciences, is quick to laud the hundreds of people behind the scenes who have been vital to the Oklahoma Mesonet's operation.
"There are so many people who deserve recognition, historically and those who work
with the Mesonet today," he said. "The Oklahoma Mesonet has been called the nation's premier 'gold standard' when it comes to mesoscale observations and the way the system makes the data gathered available to those who need it, when they need it. It really is something special."
Well
Well Content
The Oklahoma Mesonet is a publicly available resource. Find it online at mesonet.org or visit the App Store at Google Play or iTunes. The Oklahoma Mesonet is funded by state partnerships with federal agencies, private-sector user fees, and grants and contracts.
Well
Well Content
See more about the Mesonet's 25 years at okla.st/meso.