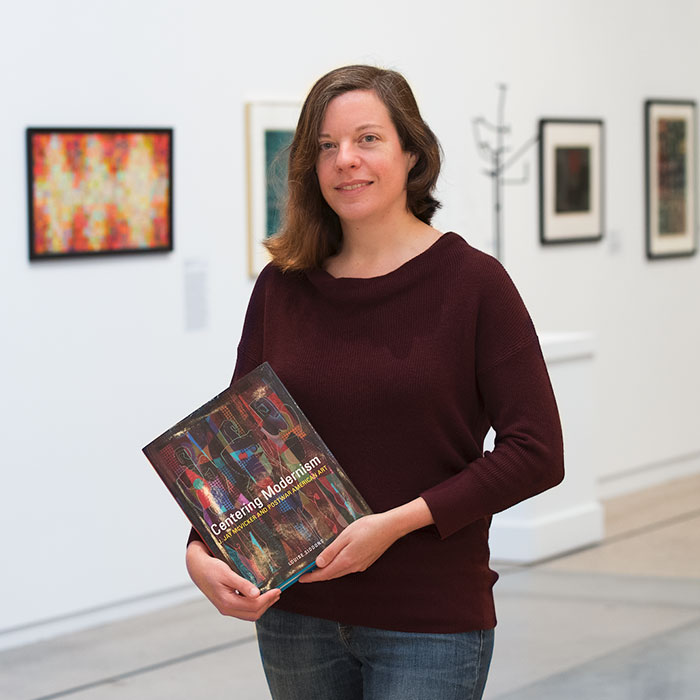 A Connection Across Decades
Wednesday, May 1, 2019
Professor Siddons found tons of inspiration in McVicker's work
Artist J. Jay McVicker died five years before Louise Siddons ever stepped foot on campus — but he still deserves much of the credit for bringing the art historian and professor to Oklahoma State University.
McVicker, a 1940/41 graduate (bachelor's and master's degrees) of Oklahoma A&M College, spent his career in Stillwater, including as head of the Art Department from 1959 until his retirement in 1977. He mastered several art media and became an internationally known artist during those years.
Dr. Siddons' desire to preserve and display his artistic legacy would eventually become a driving force behind the creation of the OSU Museum of Art.
She had a background in curating and academic art history, but Siddons had never heard of McVicker before visiting OSU for a job interview in 2009. As faculty members shared their pieces of McVicker's art, Siddons found a treasure.
His unique, avant-garde combination of paintings, prints and sculptures intrigued her. The collection became a deciding factor in her joining OSU's faculty. She believed using the collection would be a unique opportunity to educate undergraduate students.
"McVicker was a standout to me. He was an artist who clearly was working internationally and was really well-known during his lifetime, particularly as a young artist," Siddons said.
Layout Grid - Three Columns (thirds)

| Left Column | Middle Column | Right Column |
| --- | --- | --- |
| | | |
Once she began lecturing at OSU in the fall of 2009, she realized the collection deserved more exposure than merely in art classes.
"I started trying to figure out how to work with the collection," Siddons said. "I discovered that the collection didn't have a permanent home, so with the support of President Burns Hargis, several key alumni and the College of Arts and Sciences, we started to build the OSU Museum of Art."
In 2010, Siddons became co-director and founding curator of the OSU Museum of Art, shepherding it until it opened its doors in 2014. At that point, Siddons chose to return primarily to teaching but continues to use the museum to open her students' eyes.
While she was leading the museum, she found that OSU's few pieces by McVicker weren't enough for an entire exhibition. Siddons began discovering more artworks and information about McVicker from all over the United States. Many pieces came from a gallery in Tulsa and other parts of Oklahoma, but she traveled as far as New York and California to learn more about the successful Oklahoma artist and his work.
The exhibition, "Centering Modernism: J. Jay McVicker and Postwar American Art," ended its run in January. While planning the show, Siddons had begun creating a catalogue to accompany it, but she realized there was much more to tell. Her book Centering Modernism: J. Jay McVicker and Postwar American Art was published in 2018.
Siddons hopes that both the book and the exhibition brought the history of Oklahoma art forward and gave it a place in American art history. She is also optimistic that more institutions will curate McVicker exhibitions in the future.
"There is certainly scope to show. The museum exhibition only went up to 1965 or so, and he lived until 2004. There are whole decades of his career still to be explored."
- Siddons
Today, Siddons is working on other projects. Her latest is about American photographer Laura Gilpin and Navajo sovereignty. Although some people believe her new project is vastly different from McVicker, Siddons thinks an interest in overlooked art history from the area links them.
The connection between McVicker and Siddons began with a common love of art and a shared tie with OSU — and although they were decades apart, the two have influenced the story of American art history and the OSU art program. One became an accomplished artist. The other has brought that art to the 21st century.