Chester Doel Reed: The Early Years (1894-1924)
Wednesday, May 1, 2019
Doel Reed, best-known today as a southwestern painter and printmaker, spent 35 years teaching art, mentoring students, and heading the Art Department at Oklahoma A&M College.
The Reed family, including Doel, his wife Jane and daughter Martha, moved to Stillwater in 1924. Drawing classes were required for all A&M students, but Reed's arrival brought about the foundation of the Art Department. It was a period of transition at the college. Bradford Knapp became president in the fall of 1923, providing administrative stability. Prior to Knapp's arrival, there had been considerable turnover among college employees, and Reed arrived with a new crop of faculty in the School of Science and Literature. Reed established a strong foundation for the Art Department, expanding its programming and building an impressive legacy that continues to this day. But the road he followed to Stillwater was not an easy one.
Chester Doel Reed, the eldest child of William and Anna Reed, was born near Logansport in rural Fulton County, Indiana, on May 21, 1894. Reed's ancestors had come to America from Ireland and eventually settled in Indiana. William was a salesman and mother Anna Anderson Reed had grown up on a small farm nearby.
In the 1900 U.S. Census, the family listed two children, Chester D. and Dorothy, but shortly thereafter, Reed abandoned his first name in favor of his middle name Doel. Reed started elementary school at the turn of the century and remembered, "You might say that it was in the first grade of school that I became interested in art. My first interest was in landscapes. I remember that I did a landscape with watercolors. I think it's still in the family someplace." Landscape would remain an important subject for Reed throughout his artistic career.
After his family relocated to Indianapolis, Reed enrolled in Saturday morning drawing classes at the John Herron Museum and Art Institute (now Newfields), which opened in 1902. At the museum, Reed encountered the work of leading Indianapolis artists, including T.C. Steele and William Merritt Chase. During one of his early visits, Reed admired a painting of a shipwreck with a voluptuous nude mermaid assisting a drowning sailor, telling his teacher he liked the water cascading off her shoulders. His response apparently stunned and embarrassed the teacher, who quickly moved the class along. Like landscape, the female nude would also become a primary subject matter for Reed.
After Reed graduated from high school in 1912, he worked as an architect's apprentice for several years. Although he later changed his career path, Reed felt that architecture formed a strong foundation for art. By the fall of 1915, he was attending the Art Academy of Cincinnati in Ohio, explaining years later: "One of those things you can't help. I started out in architecture and decided I wanted to go into painting."
Reed's interactions with artists L.H. Meakin and Frank Duveneck, academy director from 1903-1919, were particularly influential. Duveneck enjoyed an international reputation as a skilled teacher and practitioner of Munich-school realism. Like many artists of the period, Duveneck created etchings during his European travels, and his etching plates were eventually donated to the Academy. Meakin used these plates to demonstrate the process. In Reed's words, "I still recall Meakin's studio on the top floor of the Art Museum, the great press, stacks of dampened paper, the pungent odor of acids and etching ink, and an atmosphere of strangeness one associates with an adventure that may change his entire life." During Reed's second year in Cincinnati, world events created a significant detour in his life.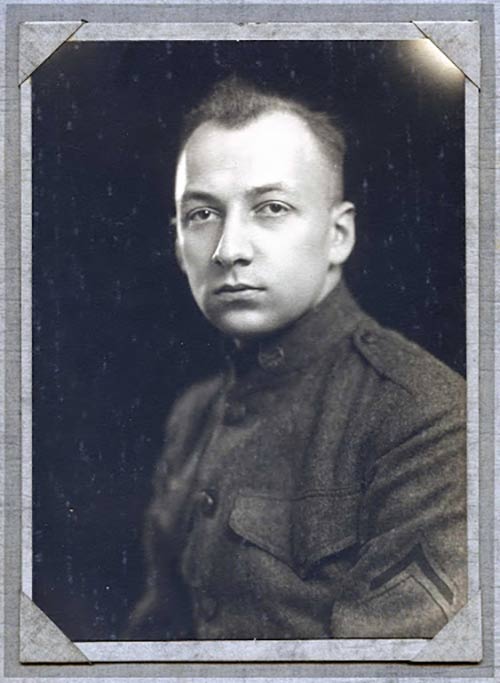 The United States entered World War I on April 6, 1917. Reed registered for military service on June 5, 1917. He requested — and briefly won — a draft exemption to continue his studies at the Art Academy. Reed enlisted on March 30, 1918, and went to basic training before joining the 47th Infantry Regiment. In April 1918, he began recording his experiences at first in his sketchbook and later in a diary. He was assigned to Company D, and his unit traveled by train to New York City in early May. In his diary, Reed described the mountains as well as the cities, finding inspiration in the New York City skyline. He sketched scenes along the journey.
On May 10, 1918, his unit headed to France on the ship Princess Matoika. His 24th birthday occurred two days before they reached France. Reed continued to describe and sketch towns, farms and landscapes, which led his superiors to reassign him to the Intelligence Department. Maps were needed, and so Reed was relocated to Rosay, a village west of Paris. His work was invaluable for troop movements in the area. Reed also taught others how to improve their drawing. "Have been teaching the department in sketching. I certainly like this part of the work better than any I have found in the army," he noted in his diary on July 4, 1918.
The idyllic scenes of the French countryside were soon replaced by the horrors of trench warfare during the Second Battle of the Marne, which began July 15. The Americans suffered 30,000 casualties in two months, and Reed described the death and destruction around him: "Nothing can describe the shell fire. A long wail or scream is heard first and then the explosion and flying shrapnel and pieces of shell … men are killed beside you and others torn to pieces or lay wounded, but still you can't help them if they cry for you to come to them as they flounce around in their agony." (July 29-30, 1918)
In September, Reed was promoted to sergeant. His sketches described the distinct characteristics of German and Allied aircraft, and he made images of battle sites and town maps. Reed's active duty ended when he was blinded and his lungs severely damaged during a mustard gas attack on the night of Oct. 12-13, 1918. His eyesight returned after several weeks, but he suffered from weakened lungs for the rest of his life. After spending nearly eight weeks in a military hospital, Reed left France on Dec. 16, 1918, aboard the infirmary ship La France. His last diary entry was written on Dec. 18: "The sea is quite rough today although a boat this size does not rock a great deal. A good many are sea sick, but it does not bother me in the least."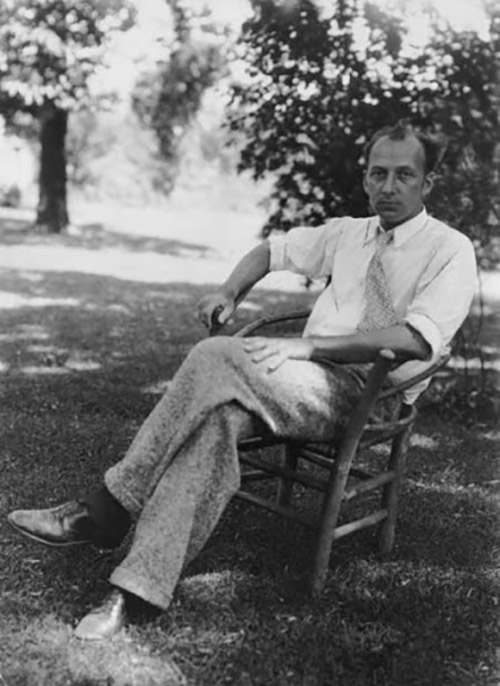 Reed arrived at the New York City harbor on Christmas Eve and was discharged on Jan. 28, 1919. Reed returned to the Art Academy of Cincinnati to complete his academic work in the fall of 1920, focusing on painting, although his primary mentor Duveneck had died in his absence.
During his last year at the academy, Reed met and married fellow art student (Elizabeth) Jane Sparks. Their first and only child, Martha Jane, was born in Cincinnati on April 23, 1922. Her birth announcement is Reed's earliest surviving etching. Between 1920 and 1924, Reed was a rising star in the artistic communities of both Cincinnati and Indianapolis. He exhibited widely and spent time in the Brown County Artist Colony, where he created light-filled Impressionist paintings and etchings inspired by the area's legendary natural beauty. Given his strong exhibition record and experience teaching drawing at the Cincinnati Art Academy, it was not surprising that he was selected for a new faculty position at Oklahoma A&M. The fact that Oklahoma had a drier climate may have made the move additionally attractive because of Reed's damaged lungs.
Among Reed's earliest Oklahoma images is an etching of the oil field at Three Sands. He received support from the college to return to France for continued artistic study in both 1926 and in 1930. Reed also spent time in Nova Scotia and Mexico in the early 1930s, but in the 1940s, he discovered New Mexico, a popular destination for many Oklahoma and Kansas artists. By 1950, Reed had developed his signature form of conservative modernism that would remain his favored style for the rest of his career.
After 35 years as a faculty member, Reed moved to New Mexico permanently in 1959, living the rest of his life outside Taos. The rugged beauty of the mountains and high desert topography inspired his work for the rest of his career. He died in Taos in 1985 at the age of 91.