Dreaming Big Early
Wednesday, May 1, 2019
New governor's time at OSU laid the foundation for his success today
The drive, ambition and entrepreneurial spirit Kevin Stitt brought with him to OSU as a freshman in 1990 had been with him since childhood. His years at OSU provided the formal education to expand his knowledge, create lifelong friendships and build a solid foundation for his mortgage company, Gateway. Now the husband, father of six and businessman has taken his leadership and vision from Jenks, Oklahoma all the way to the governor's office. We sat down with a very busy Stitt just a couple of weeks after his inauguration to talk about his college days in Stillwater — a topic largely undiscovered along the campaign trail. A lightly edited transcript of the chat follows.
Gov. Stitt, thank you so much for making time for us today, we really appreciate it. We know you have a busy schedule.
You're welcome! It's great to be with you guys.
Throughout the campaign and since you took office, so much was written about your political views, your family and your business. But today, we're excited to explore a different part of your life that many people may not know about, and that's your time as a student at Oklahoma State University. During your campaign you encouraged Oklahomans to "dream big." And from everything I've read about you, it sounds like you started dreaming big as a very young boy. Even before college, you'd lie awake in bed wondering what type of college degree you'd need to be a successful businessman someday. That's pretty unusual!
Yes! (Laughs)
Tell us more about a young man who thinks that way.
You know, I guess the Lord puts different desires on everybody's hearts, and from a little boy I always dreamed about being a businessman, and my heroes were successful business people. T. Boone Pickens; back when I was in college, Bill Gates was rising then. They were my heroes, and I was always entrepreneurial, always wanted to have my own business, and that's why I got an accounting degree because I thought that was the best business degree I could get. I knew I wasn't going to do accounting — maybe I should have done it for a couple of years out of college — but I thought it was a great degree to help me in my future business.
And when you came to Oklahoma State, you pledged a fraternity — Beta Theta Pi. … How did being involved in Beta shape you?
A kid from high school, Todd Lechtenberger, was a year older than me and we'd played football together at Norman High (and he) kept calling me saying, "You gotta come be in Beta!" I didn't know anything about fraternities, just knew him and some other guys from Norman who had pledged Beta. … It was a great experience, a lot are lifelong friends, I still work with some, and it was just a great bonding experience. I was young, and they forced me to study and learn from the older ones — a great experience to meet people across the Greek system and across the university.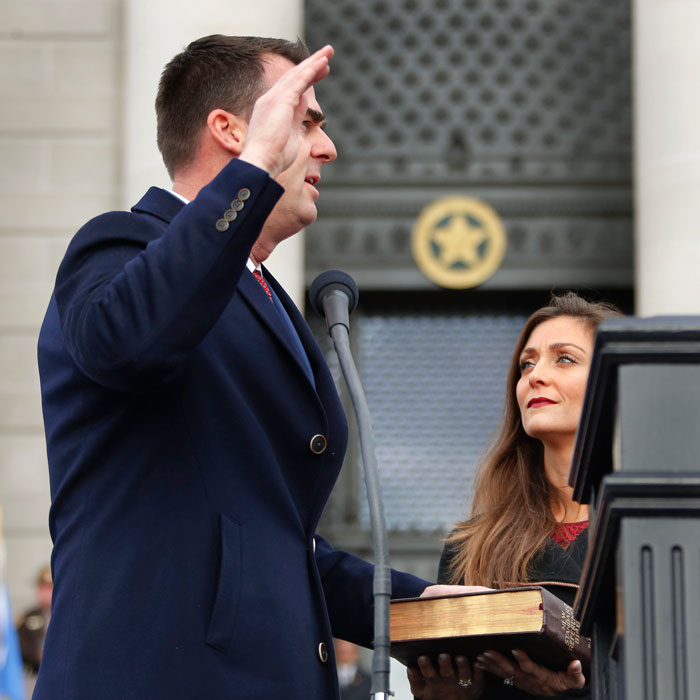 So your former pledge brother, Hobie Higgins, told me … that after your freshman year, you were offered a pretty plum assignment by the fraternity. Some type of recruiting director job?
Yes, rush chairman! (Laughs)
Right — for the summer, with all sorts of amazing perks for a young man. But you turned that assignment down to sell books door to door. Tell me more about that decision.
Well, I was supposed to be the rush chairman that summer, which was the best job to have in the Greek system. You got an apartment for the summer and a $10,000 budget for recruiting events. But I just felt like for my future career, selling books for the Southwestern Company was going to be more beneficial to me, I was going to learn more. My friends at the time didn't understand that. They said, "You're crazy!"
But it turned out to be the right decision for me. I ended up learning a lot about sales and about self-discipline and knocking on doors, running a little business that summer. I ended up doing that for four summers, came back and recruited all my college buddies. By the time I graduated, I had 50 college kids working for me! It was a great experience for me and sort of shaped my life and belief that I could do anything I set my mind to. Taught me a lot about leadership, working with my friends, setting goals … and so it was the right decision for me.
So on the academic side of your time at OSU, you majored in accounting. Was there a professor or adviser, anyone in particular who was a big influence on you?
(Dr. Lanny) Chastain was the head of the accounting department at the time, and I really looked up to him. There were just tons of professors — my (business) law professor was great, my stat professor — I loved statistics in school … all those folks were fantastic. I can't remember all of my professors' names, of course, but a couple of them did come to some of my campaign events last year. At the time, it was one of the top 10 accounting programs in the country and very rigorous, very tough.
Have you had a chance to visit the new Spears School of Business building on campus?
Yes, I have seen it. It's fantastic! Very much an upgrade from the old business building I went to.
If you could share one of your fondest college memories with us from all your time at OSU, what would that be?
Probably would be 1995 when I was a senior in college, and for those who can remember, you know we made it to the Final Four that year. It was in Seattle that year and you know, I'm a pilot. At the time I was a private pilot, I didn't have my instrument rating yet — my dad to this day promises I never told him — but he was out of town, and I went to Norman and got our little Cessna 210. I was going to figure out a way to get to Seattle. I didn't have much money and airline tickets at that time were $1,000, so I recruited one of my buddies who was an instrument(-rated) pilot to fly us and I sold the back two seats for fuel and we took off and headed to Seattle — it was a great trip! Unfortunately, OSU lost in the semifinals, but it was a great experience. A great memory of college!
What's a little-known fact about Kevin Stitt, the college student?
I got my pilot's license the first two weeks after starting at OSU. And in the library, I did have a specific study spot. I had a little tucked-in corner where I would always get away to study.
So you were a serious student?
I would not say that! (Laughs) I was looking forward to getting my degree, so I could start a business I guess.
Since leaving OSU, in what ways have you managed to stay connected to the university?
I am a big supporter of OSU football and basketball. It is a great way to stay connected to the university and re-connect with old friends. I have also participated in mentorship programs on campus through Cru and the business school, and I look forward to staying involved with OSU in the years to come.
Throughout the campaign early on and now as governor, you've talked a lot about the importance of education in Oklahoma. We'd like to hear from you about your vision for higher education.
Obviously, education is a core function of state government, and it's something we've got to do a better job of. We're ranking near the bottom in a lot of categories, and education is one of them. I'm challenging Oklahoma to be a top 10 state — really look at other states because I don't think we have issues that aren't anywhere else.
For higher ed, becoming more of a research institution is something I'm focused on. I actually had lunch with (OSU President) Burns (Hargis) today and talked about what they need to move the needle, what we can do to work closely with some of our two-year schools and career techs. The research side could really put Oklahoma on the map, working with business incubators that can flow out of that — it's economic development with help from the grant dollars. We have to go out and find those homegrown professors who are really good at research and grants or we've got to go recruit them to our state and find the resources to pay them market (salary).
It's just like any other business — let's find out what moves the needle in our state and go get that and do it better than the states around us.
Thank you so much for your time today.
Oh, you're welcome! Thank you!
Go Pokes!
Go Pokes!