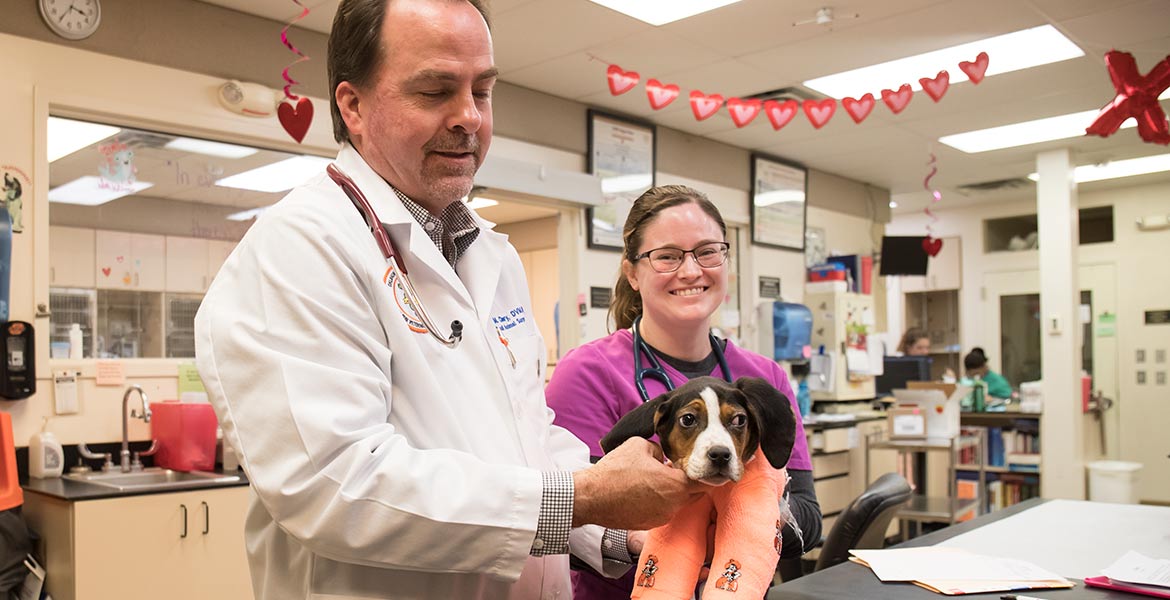 Going Strong
Wednesday, May 1, 2019
OSU veterinarian repairs puppy's backward paws
His upside-down paws turned right-side up, Milo the Coonhound puppy is back home in Luther, Oklahoma.
At just 7 weeks, Milo came to Oklahoma State University's Veterinary Medical Hospital with a congenital dislocation of his elbow joints.
Associate professor of surgery and bioethics Dr. Erik Clary and his team realigned Milo's front elbows, placing pins across each joint for temporary stability and putting the pup in a front body splint for 2.5 weeks.
His story — and especially his photos — went viral.
"He has become quite the celebrity," Clary noted. Media outlets around the world have spread Milo's story.
The splints came off recently, and the pins were removed. With his elbow alignment holding steady, Milo began working with a rehabilitative therapy team led by Dr. Cara Blake to improve his joint function, strengthen his limbs and teach him how to walk correctly.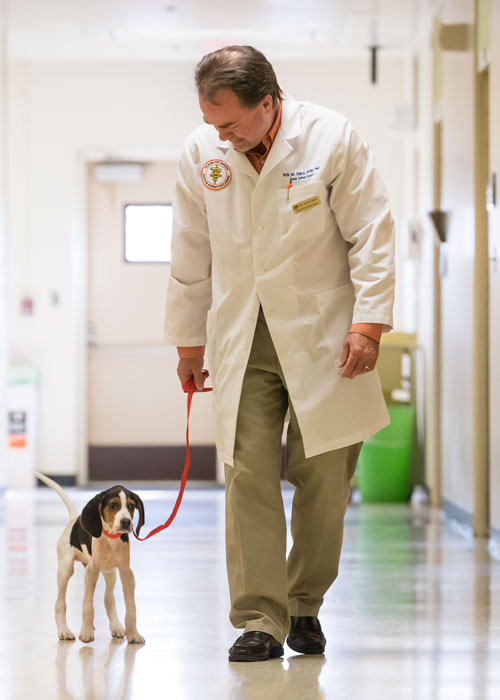 "With this next phase of treatment, there is much work to do and the outcome is still uncertain," Clary said. "Likely, it will be months before we can judge the final result. For now, it is only stilted 'baby steps' with assistance. For a dog that couldn't walk, that's certainly progress, but we hope for more in the weeks ahead."
Milo's condition is very rare. In his 27 years of doing surgery, Clary said he has seen only three patients like this.
"It has been a privilege to serve Milo and his caretaker, Jennie Hays of Oliver and Friends Farm Rescue and Sanctuary," Clary said. "Milo is a wonderful creature who has touched many lives. He has also helped us educate a wide audience on the condition and its treatment possibilities."
Hospital Director Dr. Jeff Studer noted, "Milo's care offers a great example of the level of care available to our pets today. The collaborative effort of Milo's family veterinarian and our team of board-certified specialists and nurses in veterinary surgery, radiology, anesthesia and rehabilitative therapy is shaping the future, not only for Milo, but for all of veterinary medicine."
Oliver and Friends thanked OSU in a Facebook post: "We are SO grateful for everything this team of doctors have done for Milo and for our organization. … Thanks to them, our super puppy has a chance — THE BEST CHANCE! Thank you, Dr. Clary and Dr. Blake, and thank you to all of the students and technicians who helped make Milo's paws right side up, and enabled him to have a life. You went above and beyond, and we are so grateful."
If helping animals is your passion, consider giving to the Pay It Forward Fund that supports treatment and procedures for owned and stray animals visiting the OSU Veterinary Medical Hospital. Donations to this fund are tax-deductible: okla.st/cvhsgive.
Check out Milo's latest update