Growing Awareness
Wednesday, May 1, 2019
Five things to know about the Greenhouse Learning Center

Oklahoma State University soon will be home to a new state-of-the-art learning facility that will help provide students and faculty with cutting-edge educational and research opportunities. Set to open in 2019, the Greenhouse Learning Center is not only a great opportunity for current and incoming students, but it also adds value to the university.
The Greenleaf Nursery Head House was named in recognition of the Oklahoma-based company, which gave a $1 million gift to the project. The nursery's president and CEO, Randy Davis, is an OSU alumnus, along with Austin Kenyon, chairman of the board.
"Agriculture and the horticulture industry in Oklahoma, and nationally, have been greatly enhanced by the graduates from Oklahoma State University," Davis said. "They are well-educated, diverse students who can think, make decisions, and make our companies and industry more successful."
Here are five things to know about one of Oklahoma State's newest projects.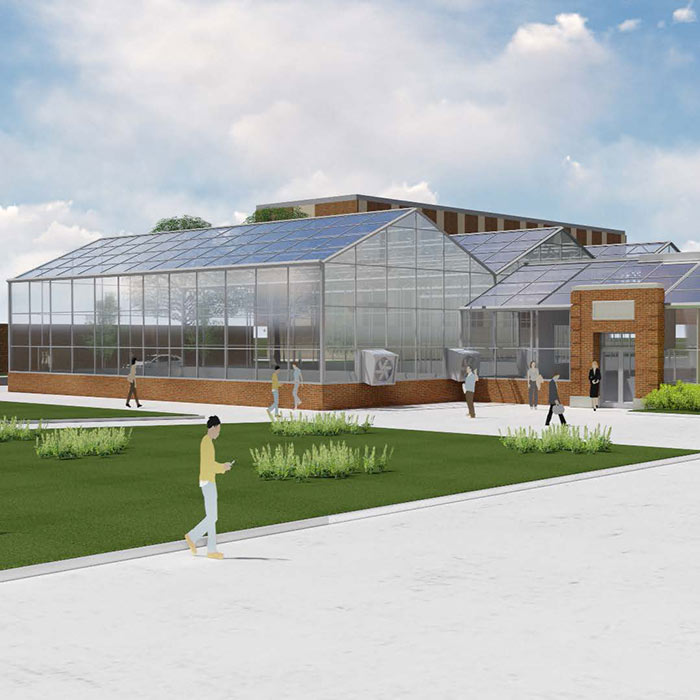 The Learning Center is more than just a single greenhouse. In total, there will be six new greenhouses with the Learning Center, including a separate house for entomology studies and research. The facility also will feature a new modern classroom, office, plant prep area, storage area for soil and chemicals, and a large foyer for club meetings and student gatherings. The project is expansive and will be of great benefit to students and professors.
Cutting-edge technology will prepare students for their future careers. The Greenhouse Learning Center will feature front-line technology that is standard for commercial horticulturalists. Some of these features are new irrigation systems, intense climate and humidity control components, and new ways to use hydroponics. Hydroponics is the practice of growing plants in sand, gravel or liquid, and uses 90 percent less water. Students and researchers will be able to produce more using fewer resources.
The Greenhouse Learning Center will affect generations of students on campus. While the new space will mainly be used by horticulture and landscape architecture students, many other fields of study will utilize the Learning Center. For example, students studying agricultural education, natural resource ecology and management, entomology and plant pathology, and plant and soil sciences will use the Greenhouse Learning Center.
Stillwater and Oklahoma will feel the benefits of these new state-of-the-art greenhouses. The Learning Center also will aid in community development. Students will be able to cultivate higher-quality produce and plants for fundraising opportunities. Additionally, children will be able to come to the greenhouses and watch their own plants grow during special camp sessions.
Lastly, the Greenhouse Learning Center will beautify campus and attract students. The new facility will match OSU's architecture better than the existing greenhouses, initially built for cotton research more than 50 years ago. In the 1980s, they were transferred to the horticulture and landscape architecture department for teaching purposes. New greenhouses will help OSU recruit and retain students interested in studying plants and agriculture.
---
Going Up
Watch the construction of the new greenhouses at okla.st/ghouses.