Honoring His Heritage
Wednesday, May 1, 2019
Harvey Pratt blends his experiences from many worlds into an artistic whole
In 2013, Congress commissioned the National Museum of the American Indian, one of 19 Smithsonian Institution museums, to oversee the process of creating the National Native American Veterans Memorial.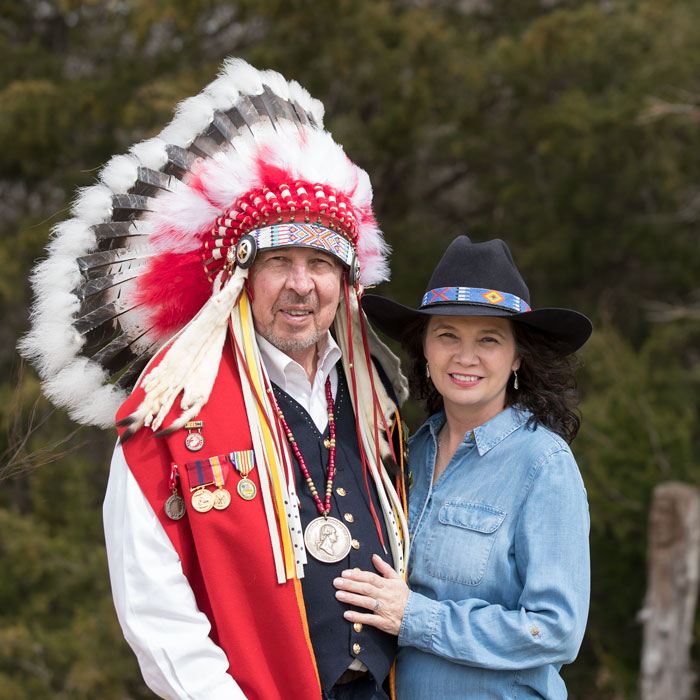 Following extensive outreach to Native veterans, tribal leaders and community members that led to a shared vision and set of design principles, a juried international design competition for the memorial opened on Veterans Day 2017. A year later, Harvey Pratt, a Marine and Vietnam veteran, Southern Cheyenne peace chief and Oklahoma State University-Oklahoma City (OSU-OKC) graduate, won the competition unanimously.
A forensic artist and retired investigator for the Oklahoma State Bureau of Investigation with more than 50 years of law enforcement experience, he brought his fascinating experiences and a range of perspectives as an American Indian, artist, law officer and veteran to his design, Warriors' Circle of Honor.
From his birth in 1941 into a close-knit, traditional Cheyenne Tribe family in El Reno, Oklahoma, Pratt seemed destined for prominence. He was born a veil baby, a term for the membranes that surround the fetus in the womb that sometimes remain wrapped around the baby after birth. Pratt's family considered the birth significant.
"I was born in a little house in El Reno, and the women who were caring for my mother were her aunts," Pratt said. "When they saw me with that cloak on me, they said, 'Oh, look at him. He's going to be a chief.' And before I was Harvey Pratt, they gave me the name Vehunkis, which means he's going to be a chief."
Pratt was the sixth of seven children, growing up with a deep connection to his rich heritage and culture as a member of both the Southern Cheyenne and Arapaho Tribes. He was raised primarily as a Cheyenne by his mother, Anna Guerrier Pratt, who had Cheyenne, Sioux, French and English heritage. His father, Oscar Noble Pratt, who was Arapaho, died when Pratt was 9. The boy's maternal grandfather and his mother's aunt played significant roles in his traditional upbringing. Pratt learned the importance of protecting and defending home, family, tribe and land, and his grandfather schooled him and his siblings in such skills as hunting and gathering food in the wild.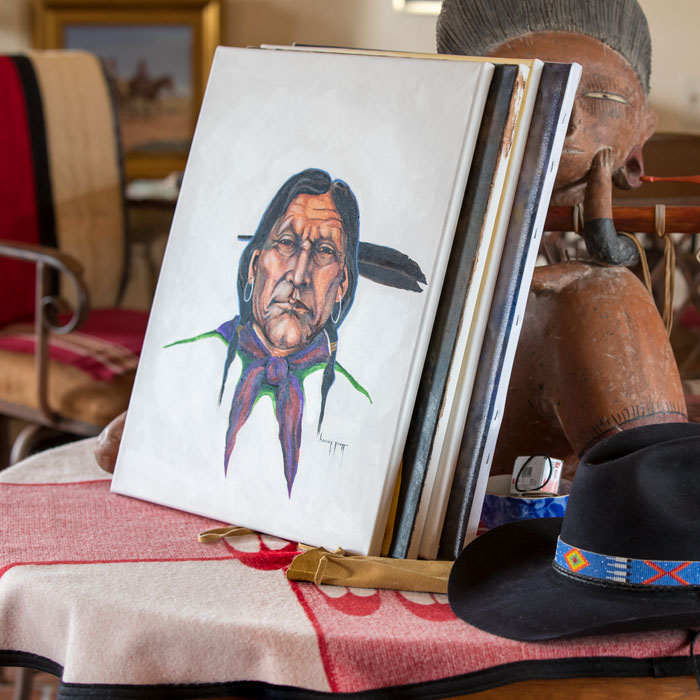 Art played an early and defining role in Pratt's life. With little money for toys, Pratt and his siblings made their own toys out of clay given to them by their grandfather. He also found encouragement from several teachers who praised his artistic creations and inspiration from his older brother, Charlie Pratt, who went on to become an award-winning Native American sculptor and metalsmith.
In the late 1950s when Pratt entered high school, prejudice against American Indians was rampant, and he ended up on the receiving end of racial epithets, threats to cut his braids and other humiliating treatment.
"People would say, 'They're just Indians.' A lot of the people would … say 'You're not going to amount to anything,'" Pratt said.
Seeing her son suffer from such treatment, Pratt's mother sent him to St. Patrick's Mission and Boarding School in Anadarko, Oklahoma, where he was encouraged to live according to his culture. Pratt found a measure of serenity at the Catholic high school and graduated in 1961.
The pain of racism is still visceral when Pratt reflects on how it affected him.
"It always just pissed me off," he said. "I thought, 'You know what, I'm never gonna let that stop me. I'm going to try to be the best I can at whatever I do. I'm not gonna let someone stop me.'"
The 1960s brought a host of challenges and changes for Pratt, with stints at Central State University (now the University of Central Oklahoma), in Edmond, and a three-year tour with the Marines from 1962-65. During his time with the Marines, Pratt served in the Third Marine Division military police in Okinawa, Japan, and in security and air rescue with Charlie Company Third Recon Battalion at Da Nang Air Base in Vietnam.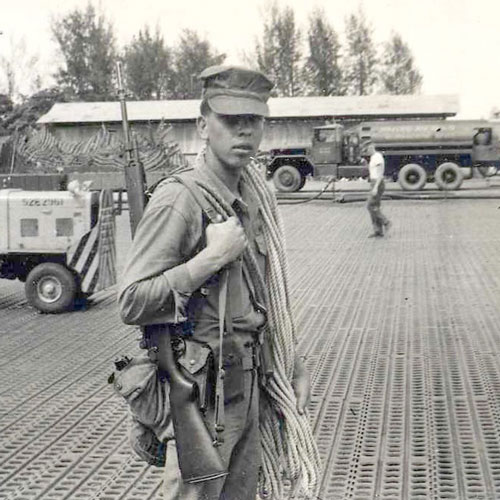 Although the first U.S. combat troops did not officially arrive in Vietnam until March 1965, Pratt and his battalion saw plenty of action. At home, the Cheyenne Tribe honored Pratt for his service with a traditional ceremony for warriors.
"That's what Indians do. We tell our war stories. We expect our veterans to tell us what they did to defend our family, our village, our country," Pratt said. "It's therapy. Indians have been treating PTSD for hundreds of years. We do a ceremony to clean and purify them so that they feel better."
During Pratt's brief second stint at Central State as an art major, a commercial art professor derided his artwork, so he left the school and in 1965 joined the Midwest City Police Department, where he excelled. With law enforcement becoming more professional in terms of certifications, processes and record-keeping, Pratt saw an opportunity to further his career and enrolled in OSU-OKC's police program.
"I really wanted to work in a broader horizon," he said. "I had just started doing some forensic art, and I was getting calls from other police departments asking for help with witness description drawings and then I heard about this degree at OSU-OKC."
Pratt credits the associate degree he obtained from OSU-OKC in 1972 with paving the way to numerous opportunities.
"The associate degree gave me the concept of communications, the importance of sharing information, and gave me a background on systems, and that had a great impact on me. It opened a lot of doors."
-
Armed with his associate degree, Pratt joined the OSBI in 1972, went on to develop a special technique for soft tissue reconstruction and honed his talents as a forensic artist. That led to work on some of the most famous criminal investigations of the last 50 years, such as the 1977 Oklahoma Girl Scout murders, the 1978 Oklahoma City Sirloin Stockade slayings, and the I-5 Killer in Washington, Oregon and California in 1980-81. He also worked on the investigations of the 1993 World Trade Center Bombing in New York City and the 1995 bombing of the Alfred P. Murrah Federal Building in Oklahoma City.
In the early 1980s, Pratt attended the FBI Academy in Quantico, Virginia. Jim Horn was in the Behavioral Science Unit at the academy and was interested in Pratt due to his groundbreaking work in victim identification. Horn, who is also an OSU graduate, Marine and Vietnam veteran and is now retired from the FBI, said he and Pratt bonded over their shared interests and experiences and became close friends.
"We were profiling unsolved vicious, violent crime," Horn said. "To lose a loved one to a violent crime is an unimaginable horror and trauma, but to have them disappear, never to be found, is a never-ending nightmare. You just can't overstate the value of the contribution of helping to identify a victim."
For his many achievements, Pratt was inducted into the Oklahoma Law Enforcement Hall of Fame in 2012. Although he retired in 2017, he is still considered one of the leading experts in a variety of techniques and is called on for assistance in solving crimes. He helps whenever he can.
"Harvey truly understands that we live in a world where there is good and there is evil, and I think that evil bothers him, like it does a lot of us," Horn said. "His generosity is a big factor here. He's a 100 percent giver."
Pratt's achievements weren't isolated to law enforcement. He was recognized by the Cheyenne people as an Outstanding Southern Cheyenne and, in 1997, Pratt was chosen to become a Southern Cheyenne Peace Chief. He took an ancestral name, White Thunder, as his chief name.
Pratt has worked as a visual artist expressing the stories, art and religion of Native American people throughout his life, winning accolades and numerous awards for his artwork. When Pratt decided to enter the design competition for the memorial, he knew he would need a team of architects, engineers and contractors.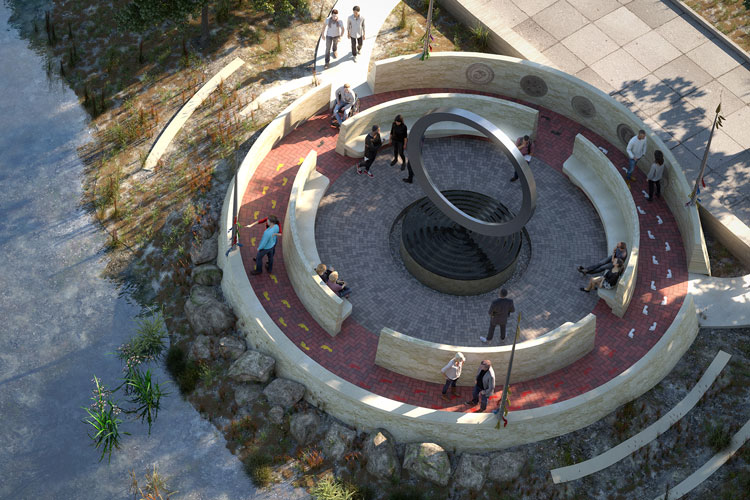 "A memorial is not a one-man deal," Pratt said. "It's a group of people who work together in helping to develop and grow a concept."
Although he didn't know them well, Pratt recruited Hans and Torrey Butzer, of Butzer Architects and Urbanism, who are well-known for their internationally acclaimed work on the Oklahoma City National Memorial and Museum. Along with others on the team, Pratt also included Gina, his wife of 24 years, and Nathan Pratt, his son.
"Inclusiveness is a priority for Harvey. He is a listener," Hans Butzer wrote in an email. "He is very focused on the central elements of the design and how these connect to as many native cultures as possible."
Pratt's design incorporates symbols and elements common to many native traditions: fire, water, wind, drums and the cardinal points. It creates an interactive yet intimate space for American Indian veterans.
The overall focus is on healing. Native Americans have the distinction of serving at a higher rate per capita than any other demographic group, despite their history of harassment, mistreatment and removal by the federal government.
"This is what I tell people: This will always be our land. This is Indian country. I don't care who owns it. This will always be our land, and that's why we fight,"
- Harvey Pratt
With groundbreaking for the memorial slated for September, Harvey and Gina Pratt are navigating the whirlwind of work by staying focused on the purpose of the memorial.
"I want the Indian people to walk into the memorial, to touch the water and fire, tie prayer cloths and sit down and do a ceremony, to be comforted," Pratt said.
His wife: "My hope is when they become a part of the memorial, they feel a sense of belonging, they feel peace, balance and healing. That is what we are focused on. The memorial is for them."
From Horn's perspective, the boy who was once told he would never amount to anything ended up spending a lifetime serving his country and people, and has now added yet another remarkable achievement to his long list of accomplishments.
"Harvey is a true survivor. He was tested when he was young, he refused to be defeated," Horn said. "He's proud of his heritage, he's also a Marine and in law enforcement. It all blends for him. To call this a rare accomplishment is an understatement."
By Shauna Lawyer Struby
---