The McKnight Center Inaugural Season
Wednesday, May 1, 2019
OSU's new performing arts center to present a variety of productions in 2019-2020
Showtimes and ticketing information available at McKnightCenter.org New York PhilharmonicOct. 12 | Featuring Kelli O'Hara, Oct. 13 Jonathan Biss, Beethoven Piano SonatasOct. 25; Oct. 27; Nov. 15; Feb. 20-21; March 27-28 The Phantom of the OperaSilent film with live organ performance | Oct. 31 Chamber Music FestivalAnne-Marie McDermott, Edgar Meyer, Joshua Roman and the St. Lawrence Quartet | Nov. 7-10 Cirque Mechanics: 42Ft — A Menagerie of Mechanical Marvels | Nov. 22-23 Rudolph the Red-Nosed Reindeer: The Musical | Dec. 12 Preservation Hall Jazz Band | Jan. 30, 2020 1964: The Tribute, Beatles tribute band | Feb. 14 The Academy of St. Martin in the Fields with Joshua Bell | Feb. 26-27 An American in Paris | March 5 The Buddy Holly Story | April 2 Sarah Coburn | April 4 André Watts | April 17 André Watts with the OSU Symphony OrchestraDirected and conducted under the baton of Thomas Dickey | April 19 Additional performances may be announced throughout the season.
Popular Broadway touring productions, the Preservation Hall Jazz Band, operatic soprano Sarah Coburn and violinist Joshua Bell are among the performers joining the New York Philharmonic during the Inaugural Season for The McKnight Center for the Performing Arts at Oklahoma State University.
At a special event in March at the Starlight Lounge in the Student Union, the center's Marilynn and Carl Thoma Executive Director Mark Blakeman unveiled the lineup and announced curated ticket packages.
"This is an exciting day," OSU President Burns Hargis told donors at the event and viewers watching on social media. "We're pleased to give the public the opportunity to purchase ticket packages to The McKnight Center's diverse range of programming. The McKnight Center will be a beacon of art and culture for this region and will provide a space for families and community members to engage with and experience some truly exceptional performances."
The Inaugural Season offers an array of programming opportunities in the cutting-edge performance facility and outdoor plaza. Broadway's An American in Paris and The Buddy Holly Story are on tap, as is violinist Joshua Bell performing with the London-based chamber orchestra The Academy of St. Martin in the Fields. Tony Award-winner and Oklahoma native Kelli O'Hara will kick off the season during the Opening Night Gala and Concert, lending her luminous talent to a performance with the New York Philharmonic.
"It's not a coincidence that we opened with an exceptionally talented Oklahoma native and the New York Philharmonic. Like the performance, our center will marry international quality with a regional flair, creating something that is truly spectacular."
- Mark Blakeman
During its opening week, The McKnight Center will host a weeklong residency of the New York Philharmonic, where audiences can see the symphony perform in Oklahoma for the first time in over 30 years. Additionally, the Philharmonic's ongoing partnership with OSU will provide valuable educational opportunities for Greenwood School of Music students, including master classes with musicians and management.
"The McKnight Center will provide many opportunities for students and those in the community to experience world-class programming from some of our nation's finest performers in a state-of-the-art performance space," Blakeman said.
"Our vision is that the center will become a hub for varied and vibrant performances that will make a lasting impact on everyone who experiences them," said Ross McKnight, OSU alumnus and philanthropist. "We believe that The McKnight Center will be truly transformational for our community, our university and our state, and we're beyond excited to see this cultural legacy come to life this fall."
McKnight, along with his wife, Billie, made a transformational $25 million gift to create the one-of-a-kind program endowment. Since that time, 21 families, friends, alumni and others have provided gifts of at least $1 million to support the endowment as Patron donors.
Many of those donors attended the March 2 event, where Blakeman shared messages from artists and performers who will visit Stillwater during the 2019-2020 season.
"I'm so thrilled and honored to be a part of The McKnight Center's Inaugural Season," said soprano artist Sarah Coburn, a 1999 Oklahoma State music education graduate. "This is such an exciting time for OSU and really the whole state of Oklahoma. It is so exciting to think about the impact the amazing performances will have on the generations to come."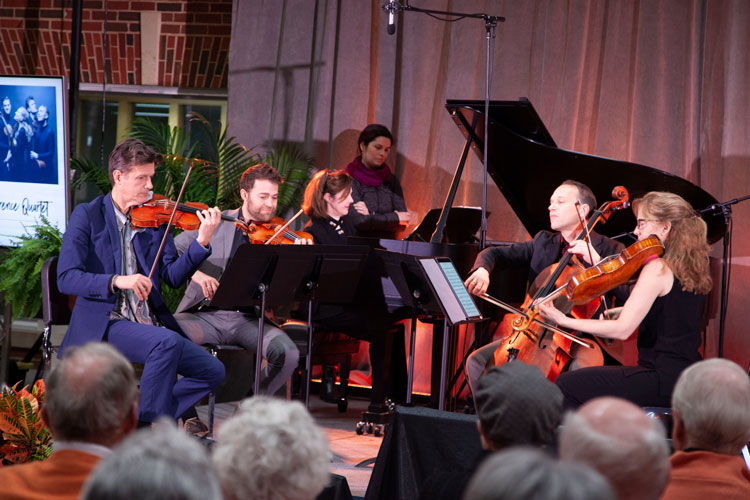 The announcement helped culminate The McKnight Center's second annual Chamber Music Festival and featured a live performance by the St. Lawrence String Quartet and famed pianist Anne-Marie McDermott. McDermott, who has served as the artistic director of The McKnight Center's Chamber Music Festival and will return for the third installment in November, talked about how she has fallen in love with the mission of The McKnight Center.
"This is one of the greatest honors for me to be asked to bring chamber music to this community and to be a part of this Inaugural Season," she said. "It's just been a great discovery to meet so many people with so much passion for chamber music."
Curated ticket packages were released for sale at the event and online, and donors were later invited to The McKnight Center's main performance hall to "meet their seat" and select where they would be enjoying performances beginning this fall.
"I am just in awe of who will be coming to Stillwater," said 1979 alumna Helen Hodges, a McKnight Center Patron donor who was visiting from San Diego for the week's events. "I get the chills thinking about what will be available here at OSU. It's incredible."
The McKnight Center's first performance will take place at 7:30 p.m. Oct. 12.
To learn more:
about the Inaugural Season, including sponsorship opportunities and ticketing information, call 405-744-9999 or visit McKnightCenter.org/tickets.