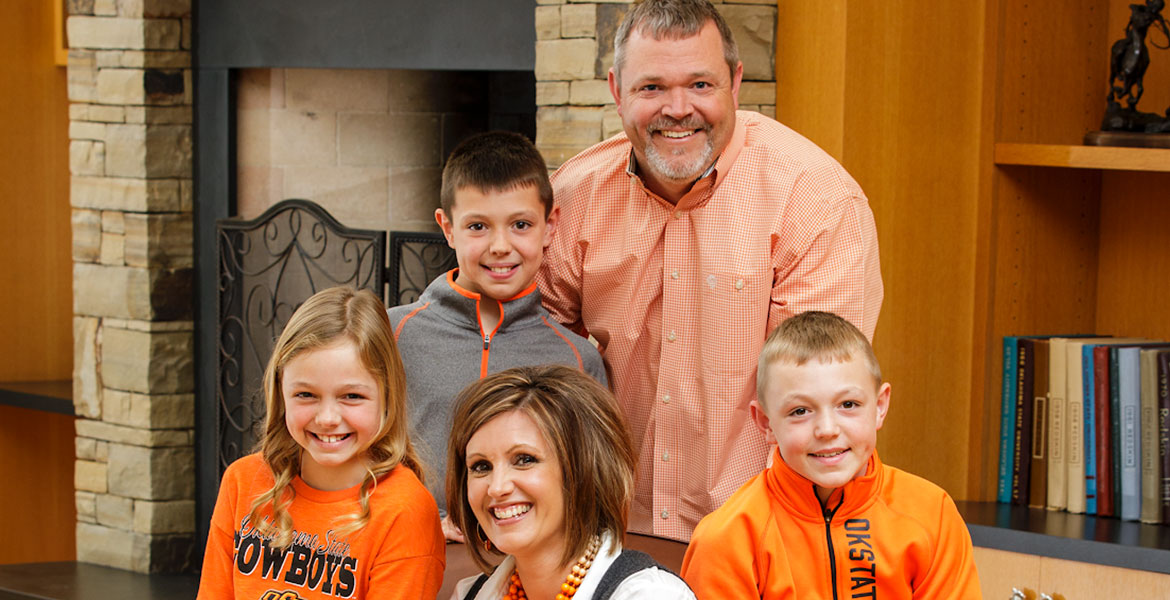 Taking the Reins
Wednesday, May 1, 2019
Blaire Atkinson becomes first female president of the OSU Alumni Association
In September 2018, the OSU Alumni Association Board of Directors named Blaire Atkinson as the organization's 14th president and first female leader. Atkinson is a business administration graduate who previously served as the senior associate vice president of development services at the OSU Foundation. She is a lifelong Cowgirl and sat down for a Q&A for STATE magazine readers.
Where did you grow up as a child?
I grew up on a farm in Vici, Oklahoma. I graduated (high school) with approximately 34 kids, and I am still connected with most of them today. Vici is a very supportive and family-oriented community. I am so grateful for my upbringing there and for the large family support system I have in western Oklahoma.
Where did you get your love for OSU?
I am a legacy, as both my parents attended OSU. My dad graduated from the School of Veterinary Medicine and still works as a veterinarian in Vici. I can remember driving around in western Oklahoma with my dad, listening to Cowboy football on the AM radio and fell in love with OSU. It's hard not to love a university that feels like the same supportive community I left in Vici.
What makes OSU stand out in your mind?
Being a Cowboy means you are part of a special family, and it's not just about what you accomplish but how you accomplish it. For me, it aligns with my personal family upbringing as well.
Can you talk about your time as a student at OSU?
As a student, I attended many sporting events and was active in a couple of student clubs. But I tried to work as many hours as I could while I was in school. I enjoyed working and wanted to be completely self-sufficient. I did change my major a few times, as I had always thought I wanted to be a math teacher/coach, but landed in business instead.
You met your husband at OSU as well, right?
Yes, I met my husband, Matt, when I was a junior. We had mutual friends who connected us. It's funny – one of my criteria for who I wanted to date was that he needed to love OSU. He is passionate about OSU, which was nice because he is someone I can share this experience with. We just passed 14 years of being married.
Where did life take you after you graduated?
I started at Bank SNB as an intern my senior year and was offered a full-time position after graduation. A few years later, Matt was working in OKC, and we were getting ready to have our first baby. We wanted to be in the same city, so I accepted a job with Dobson Communications. When it was bought by AT&T, I got a job at an O'Reilly Auto Parts as the HR and safety manager.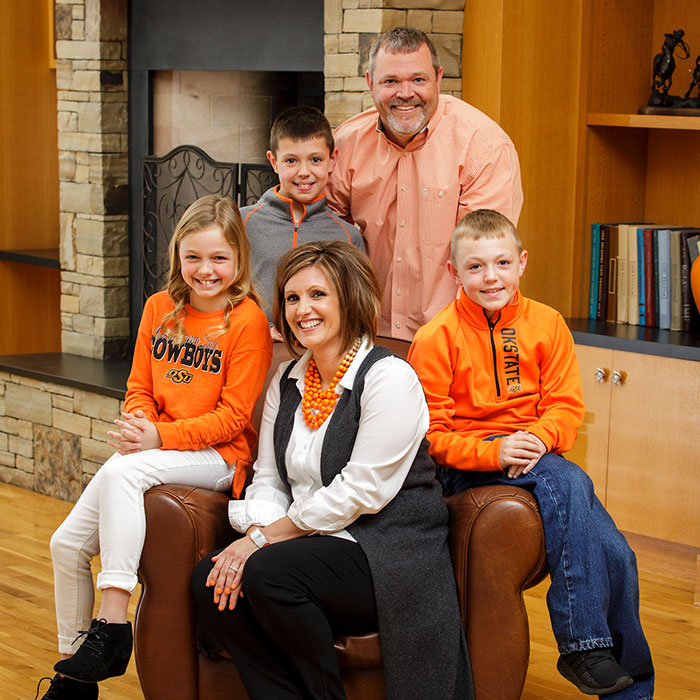 How did your family end up back in the Stillwater area?
The reason we moved back was because we were expecting our third child, and Matt had been transferred to Stillwater. We definitely wanted to raise our kids in a small-town environment near orange country. I ended up getting an HR position at the OSU Foundation and later transferred into development services.
What is your favorite aspect of your new position?
The people and the mission! The Alumni Association staff are some of the most hard-working and orange-loving people you will ever meet. The more time I am here, the more I understand the true heart of what the Alumni Association is to OSU, and it's that tireless commitment to promoting and preserving the traditions and values that sets us apart. I am excited to be a part of reinforcing that core culture to alumni, students and legacies.
How do you spend your time outside of work?
A lot of my time is spent with my family. My husband and I have three children: Wyatt, 11, Westin, 9, and Morgan, 8. They are active in sports, and Morgan also plays piano. We are always running all over the state for basketball, football, softball and baseball.
What do you look forward to the most at the Alumni Association?
There is something different about being a Cowboy, and at the association, we promote and protect those values and traditions that set us apart. There is so much opportunity ahead of us, and I look forward to helping grow enthusiasm and pride in Oklahoma State for all legacies, students and alumni of our beloved university.