National band fraternity Kappa Kappa Psi celebrates 100 years on the campus where it began
In July, more than 1,000 students and alumni from across the United States flocked to Stillwater to celebrate a national band fraternity that has been 100 years in the making. Kappa Kappa Psi got its start on November 27, 1919, on the campus of Oklahoma A&M, now Oklahoma State University, and has become a nationwide organization.
The brainchild of A&M student William A. Scroggs and head of the A&M music department Bohumil Makovsky, the fraternity was developed to form closer ties among bandsmen across the country through service, leadership and musical excellence.
"The inspiration really was Boh Makovsky," said Steve Nelson, current Kappa Kappa Psi national executive director. "They wanted to create an organization that would serve college bands through the director. Even to this day, Bohumil Makovsky is seen as the guiding spirit of Kappa Kappa Psi."
The Alpha Chapter was formed by nine additional students and the top band members at Oklahoma A&M selected by Makovsky to assist Scroggs — A. Frank Martin, Raymond D. Shannon, Clyde Haston, Clayton Soule, Carl Stevens, William Coppedge, Dick Hurst, Asher Hendrickson and Iron H. Nelson.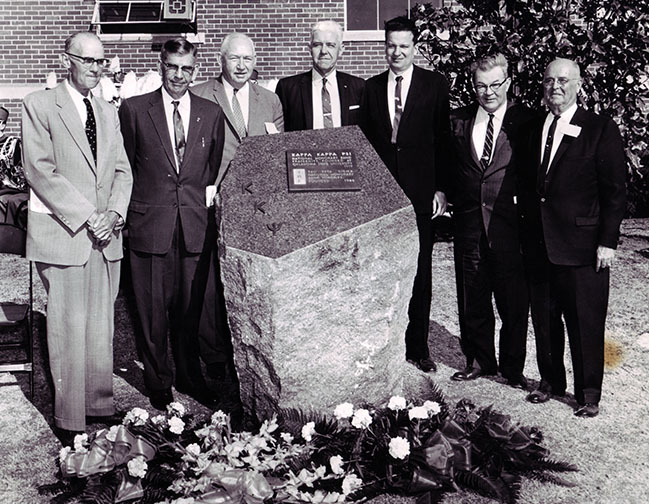 After the founding, the members formally invited 10 additional universities to join Kappa Kappa Psi. Montana State University and the University of Washington became the Beta and Gamma chapters in 1920.
"It is a really interesting story," Nelson said. "The only reason they are Beta and Gamma is because the guys got on the train here and went up there to install them as chapters. They got to Montana first, so they were the Beta Chapter. They got to Washington second so that is the Gamma Chapter."
Kappa Kappa Psi was originally founded as an all-male fraternity because many college bands across the country were exclusively male until World War II. During the war, female participation in bands increased. On March 26, 1946, Tau Beta Sigma was founded at Texas Tech University
as a band sorority. The organization
was officially recognized as a sister organization to Kappa Kappa Psi in 1947.
Kappa Kappa Psi now has chapters on 217 campuses with Tau Beta Sigma on 174. Both became coed organizations after Title IX became law in 1972. The first women to join the fraternity were the sisters of the Sigma Chapter at Arizona State University.
Mattie Awtrey, current Kappa Kappa Psi Alpha Chapter president and member of the Cowboy Marching Band, is proud to be able to lead the organization as a woman.
"It is really special to see how far we have come," Awtrey said. "Seeing how that mindset not only in our organization but society has changed— truly being able to understand that everyone is welcome and equal."
Each chapter is unique thanks to the vision of the band director at each university. Some focus more on the service and leadership aspects, while others focus more on the social opportunities for band members.
"Pick a school, and you will get a different flavor," Nelson said. "It is all based on that band's culture and needs."
"[This campus] is a hub. It's a really special time in our history to be home at Oklahoma State."
"Brothers from around the nation come to visit, to see the headquarters and to see where the chapter was started with our founding father," Awtrey said.
The campus is home to a shrine that was dedicated to the co-ed band fraternity — and co-ed sorority Tau Beta Sigma — in 1960. The joint organization's national office resides in Stillwater, Oklahoma, but with thousands of members nationwide, its reach and impact stretches far and wide.
"Stillwater is the epicenter of the universe for Kappa Kappa Psi and Tau Beta Sigma," said Dr. Joseph Missal, director of bands at Oklahoma State University. "It was founded here. There are about 1,000 college kids who came here to celebrate the 100th anniversary and it's a special time. Kappa Kappa Psi and Tau Beta Sigma are the lifeblood for bands across the country. ... They exist to support university bands and they do a great job of it nationally, and perhaps nowhere better than Oklahoma State. We've got one of the largest chapters in the country."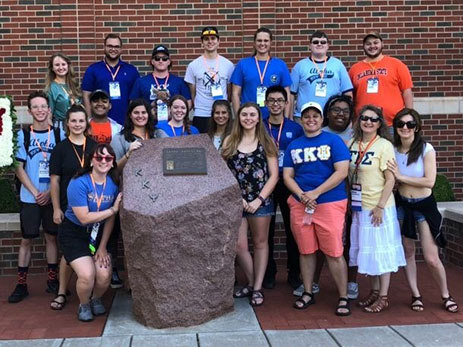 Some members continue to have an impact on Kappa Kappa Psi even after graduating. Andy Melvin, an alumnus of the University of Oklahoma, currently serves as a governor for the southwest district.
"I always wanted to give back to college bands and help the students grow," Melvin said. "I feel like I have been able to do both of those things in my current role. In the past five or six years, there have been a lot more opportunities created for people to give back and serve in leadership roles."
The history of the Alpha Chapter and the ability to see the history of the organization is something Kappa Kappa Psi members at OSU get to appreciate throughout the year, but others were able to share in the experience at this year's centennial celebration.
Brothers and sisters from many chapters outside Oklahoma spent time exploring the national headquarters at Stillwater's Santa Fe Depot, visiting the cemetery where multiple founding members were laid to rest, taking pictures with the organization's national monument located on the OSU campus near the Classroom Building and enjoying the centennial alumni band concert under the direction of Missal.
"I think it was a very eye-opening experience," said Brianna McKinzie, president of the southeast district and current student at the University of Florida. "The people who started it didn't live in some big city."
"This is where our founders went to school, and I like to think of it as a humble beginning... They had the desire to serve bands and to make a difference."
Hosting the centennial celebration in Stillwater meant a lot to Nelson and Aaron Moore, the national alumni historical and development coordinator. Both men became members as students and helped plan the celebration to honor the organization that means so much to them.
"When I first became involved with the upper levels of the fraternity, I never thought I would be doing my job during the centennial," Nelson said. "Like with anybody with OSU, there is a lot of pride and I was really proud to bring it here. It was really important to me to be able to do that."
Moore had similar feelings when planning for the centennial began nearly two years ago.
"I just couldn't think of anywhere else that it could be," Moore said. "For the 100th celebration, it had to be at OSU. As somebody who was in the band here and an OSU alumnus, it meant a lot to see it here and to see all of the people who made their first trip to Stillwater."
The centennial celebration also gave members the opportunity to reflect on Kappa Kappa Psi's impact across the nation.
"I don't think any of the founders of Kappa Kappa Psi in 1919 expected it to become what it is today," said Andrew Kinsey, a Kappa Kappa Psi member and recent Boise State University graduate.
"They founded something that college bands could really utilize. I think they just hit the nail on the head with what college bands needed."