Cowboys on Court
Monday, December 2, 2019
New futsal court brings health benefits and visitors to OSU-OKC campus
Ask Nestor Bravo, and he'll tell you the new futsal court at Oklahoma State University-Oklahoma City is about more than a game.
"It will help with recruiting incoming students, provide a gathering point for a diverse student body, and help students pursue an active and healthy lifestyle," Bravo said.
And, he added, it will breathe life into the school's Athletics and Sports Association. The student-led group is tasked with promoting fitness on campus, including through team sports. But the group has struggled in recent years owing to the limited sports facilities on the OSU-OKC campus.
School leaders made an effort to address that issue this summer with the construction of a new on-campus futsal court. Now Bravo, the school's Student Government Association president and a member of the Athletics and Sports Association, says the sporting landscape at OSU-OKC is looking up.
"The futsal court is a great addition to the school," he said. "It will bring in people from all over the city."
Futsal is a form of soccer played within a walled or fenced area, often seen in high-density areas where participants may not have access to a full-size soccer field. The futsal ball is typically smaller than a standard soccer ball.
With a smaller playing area, the game emphasizes ball control and quick, short passes. Players can excel through creativity and imagination — skills that can sometimes be marginalized on a full-size soccer field.
The OSU-OKC court features a hard surface — similar to a tennis court — and is located just south of the Administration Building and Student Center. It's at the heart of the campus, and an easy walk from several of the school's classroom buildings.
School President Brad Williams said he hopes the court will be a draw for students and members of the community at large.
"We believe this is a great way to engage the community," Williams said.
"In fact, we are planning a citywide futsal tournament to emphasize the values of teamwork and sportsmanship, while introducing participants to college and career opportunities."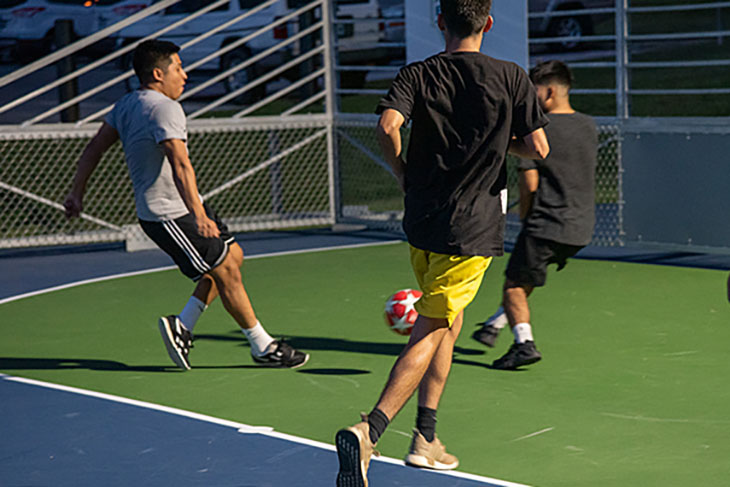 The court was constructed through a partnership with the Oklahoma City Energy and the Energy Assist Foundation. The foundation is building courts all around the Oklahoma City metro area. Energy Assist Executive Director Mickey Dollens said it made sense to his group to place a court on a college campus.
"The Energy Assist Foundation determines where to build futsal courts based on the community's needs," Dollens said. "Since OSU-OKC's campus is a hub for the community, it just made sense to build a court there. We're very pleased with the amount of activity taking place on the OSU-OKC futsal court. It's a beautiful addition to an already stellar campus."
Bravo said one big plus of the new court is that it will allow the Athletics and Sports Association (ASA) to keep its focus on campus.
In the past, the association spearheaded the formation of a co-ed indoor soccer team, but the games were played in a public league at an off- campus facility.
"Now the ASA can host futsal competitions right here on campus," Bravo said. "And it should help the club draw in new members, too."
As a soccer enthusiast and player, Bravo said he feels the futsal court will provide benefits beyond the ASA, as well.
"It's a great recruiting point for incoming freshman," he said. "It will be a great diversity area as well, because soccer will bring everyone together."
Following a recent pick-up game, Bravo and his fellow players had rave reviews for the court, which features shaded bleachers and lights for night play.
"The court looks great and feels great," he said. "The canopy is good for shade and coverage from the rain. I wouldn't mind playing in the day or night."