First in-residence position boosts engagement in Parker Hall
Oklahoma State University's College of Engineering, Architecture and Technology often finds itself on the cutting edge. That remains the case with its new in-residence position. The position places a CEAT-affiliated staffer in its Living-Learning Program in Parker Hall, which houses more than 200 of the college's freshmen. The person fulfilling the job aims to foster and enhance an environment that encourages learning and growth outside the classroom.
CEAT teamed up with the Office of Housing and Residential Life to create this first-of-its-kind position at OSU.
The idea came from Housing and Residential Life Director Dr. Leon McClinton Jr., who approached Associate Dean Randy Seitsinger, and Student Academic Services Director Lance Millis.
"Considering CEAT has helped us transform Parker Hall into a highly active Living-Learning Program, we thought adding a faculty member (or someone affiliated with CEAT) would add another level of involvement that would be well received by CEAT's first-year students living in the hall," McClinton said.
Parker Hall is home to CEAT's Living Learning Program, which offers access to resources for CEAT students in their residential building, facilitates networking among students, and supports students through the transition to their rigorous majors. These resources include an extension of the CEAT Student Excellence Center in the basement, equipped with all the necessary tools (3D printer, whiteboards, etc.) for students to work on projects, free on-site tutoring, mentoring from CEAT upperclassmen — Parker Engineering, Architecture and Technology Experts (PEATEs for short), career coaching and much more. The CEAT in-residence position is yet another tool for CEAT students.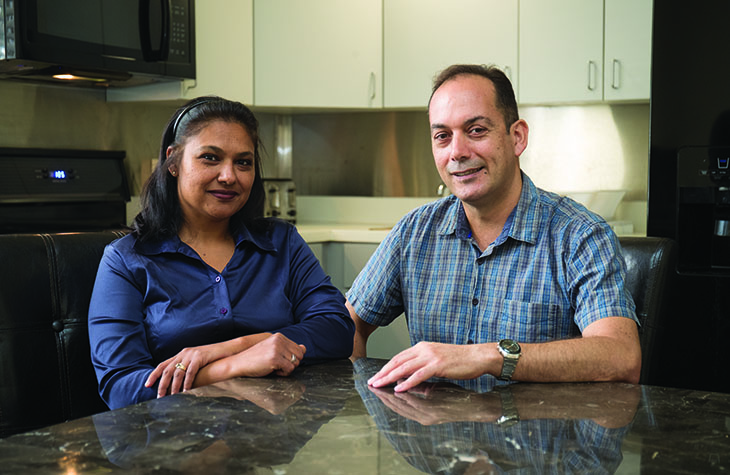 Through a lengthy selection process, Rodney Eksteen, a staff member with Engineering Extension, and his wife Kavina have been chosen as the first to fill the newly formed position. In conjunction with CEAT's Living-Learning Program, they plan and host programs for residents and host small group events in their specially designed private apartment.
Millis believes that the position is extremely beneficial to the students in Parker Hall, their parents and CEAT as a whole.
"Students benefit from getting to know two dynamic, interesting, fun people, who have great personalities and a wealth of experiences and perspective to share with students," Millis said.
"Parents see it as a plus, having adults living in the building with their student, and it shows that CEAT is willing to try new ideas to serve student needs and provide them with the best experience possible."
Rodney and Kavina bring a wealth of knowledge and experience to the position. While working with Engineering Extension, Rodney is also pursuing his Ph.D. in fire and emergency management. He has also served in several public safety roles such as fire and rescue and served in the South African Naval Marine Corps.
Kavina, who holds bachelor's degrees in physiology and zoology, is pursuing a master's degree in environmental science and is working as a graduate research assistant on a watershed sustainability project. She, too, has served in public safety roles such as first aid and firefighting, as well as teaching English as a foreign language.
The Eksteens strive to provide students with a safe space to share their frustrations and challenges as well as a calm place to receive encouragement, support and guidance. Although the beginning of the semester has been hectic for everyone, the couple is now beginning to schedule small dinners in their apartment and have organized a video gaming night for students.
The Eksteens came to OSU from South Africa, so this experience has provided them with an intensive cultural immersion in both American culture and young adult culture.
"We view the CEAT in-residence program as a unique opportunity for us to help, serve and develop the future engineering generation, which will have long-term positive impacts on society," Rodney said. "It is a privilege to be involved in the development of young adults and foster the many friendships that will benefit the students, the university and ourselves for years to come."