Music. Magic. McKnight.
Monday, December 2, 2019
OSU celebrates the opening of its world-class performance hall
More than music filled the air at the Opening Gala at The McKnight Center for the Performing Arts. There was magic in the atmosphere, a blend of elegance and art to rival the finest halls in the largest cities, bestowing a brightness on the venue and its guests.
The sold-out black-tie concert drew 1,000- plus people who were entranced by the New York Philharmonic, one of the world's most iconic ensembles, and Oklahoma-born Broadway star Kelli O'Hara.
But before a single note could carry the audience away, guests arrived to the pageantry of walking the orange carpet on their way into the Marilynn and Carl Thoma Grand Atrium. The welcome reception was broadcast live, sharing the spotlight shining so brightly on Stillwater with the world.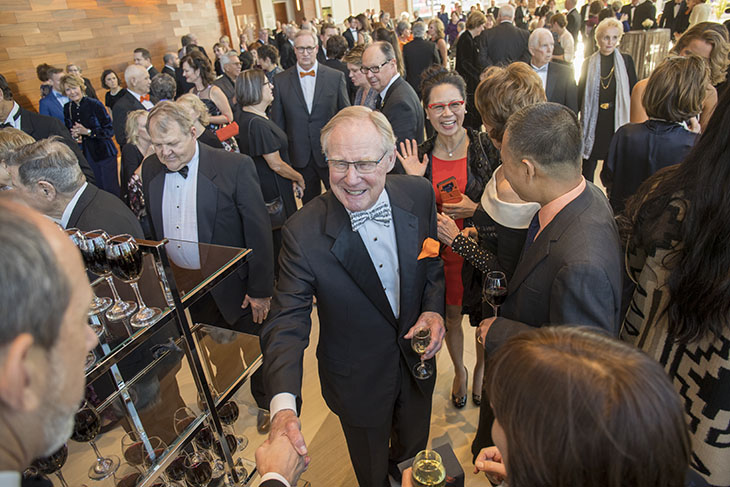 "We're totally overwhelmed by the building, the talent and the people supporting it," said First Cowgirl Ann Hargis, the buzz of the atrium full of people conjuring a wall of sound behind her. The hand-painted notes of the alma mater sparkled across her formal black gown, a visual reminder of what was bringing all together here: music.
Both she and President Burns Hargis, who have made elevating the arts a priority throughout their nearly 12-year tenure at OSU, reveled in the success of the evening and The McKnight Center.
"I think this will transform how we think of ourselves and the education our students, faculty and community are going to have," President Hargis said. "To be around the greatest musicians on the planet is an amazing opportunity for any college student, but for a center like this to be at your own home — it's just incredible."
Billie and Ross McKnight, who have endowed the center's programming with a $25 million gift and who have lent their name to the facility itself, were the stars of the evening. As they tried to quickly move through the atrium, they stopped often to visit with friends, family and fellow Patron donors and to receive thanks for their leadership and vision
"This is fantastic. There are so many people here, it's hard to fathom," Ross McKnight said. "I've always said the nation is run by business, finance, technology and mathematics. But the humanities and the arts are what make life worth living."
Inspiring the dream
Ross and Billie McKnight began dreaming about bringing the New York Philharmonic to Stillwater about five years ago. They were inspired while guests of fellow alumna Helen Hodges at Bravo! Vail, a summer concert series in Colorado.
"I had never seen the New York Philharmonic, but we had been to some symphonic orchestras in the past. I knew the New York Philharmonic was something really different, and to be honest, I wasn't looking forward to it," Ross McKnight said with a laugh. "But the first song they played was 'The Star-Spangled Banner,' and I had chills running up my spine."
They began thinking. What would it cost to bring the orchestra to Stillwater? Would it even be possible? President Hargis had asked them previously to support a new performing arts facility at OSU — but what would happen if they created a programming endowment to bring these life- altering experiences to Stillwater and the Cowboy family?
"Music can change the world because music changes people."
- Billie McKnight
They forged strong relationships with Bravo! Vail artistic director Anne-Marie McDermott and founder John Giovando, who were well-connected in the music world and helped advance the dream.
Ross and Billie announced their $25 million gift to establish The McKnight Center's programming endowment in 2016. Alongside President Hargis, they invited others to dream big and help OSU reach a $50 million fundraising goal.
Six months later, the residency partnership with the New York Philharmonic was announced at the center's groundbreaking, and more people had stepped forward to commit $1 million-plus gifts to ensure the center's success.
The Cowboy family got its first taste of McKnight Center programming in 2018 with the Chamber Music Festival. McDermott, now a close friend of the McKnights', has served as artistic director for each of the annual event's three installments. Ross McKnight was recently appointed to the New York Philharmonic's board of directors, and last year The McKnight Center met its initial $50 million fundraising goal.
Their dream came full circle when the New York Philharmonic kicked off The McKnight Center's Inaugural Season that Friday evening with "The Star-Spangled Banner." Nearly two hours later, the orchestra brought down the house with a surprise rendition of OSU's alma mater to close the enchanted evening.
The opening chords of the beloved OSU piece drew gasps, cheers and even tears. Sophomore Calvin Householder, like other students in the Michael and Anne Greenwood School of Music, had eagerly taken part-time jobs at The McKnight Center.
That night, he and roommate Doug Bell were working in the west lobby, near the outdoor plaza where the concert was being simulcast to the LED wall. Outside, those watching the broadcast ditched their blankets and lawn chairs to connect with their neighbors and sway together in a 30-degree wind chill, warmed with pride and admiration.
Householder and other young ushers didn't hide their efforts to wipe their eyes or stop themselves from triumphantly raising their arms.
"Everyone in that building felt the same sense of pride for their university and shared the same sense of excitement watching the New York Philharmonic," said Householder, who plays the trombone. "This is one of the reasons I decided to come to Oklahoma State — to be a part of something bigger than me. At that moment, when they played our alma mater, it all kind of became real to me."
Music education freshman Kaitlyn Kennedy was giddy, manning the north door of the atrium.
"This is such a huge opportunity, and I'm thrilled to even be a part of it," she said. She plays the French horn and wants to become a high school band teacher like her parents. "My dad actually graduated from school here in the department of music about 25 years ago, and he sat in the same classrooms I currently sit in at the Seretean Center. He's back home in Texas teaching middle school band right now, and I'm listening to the New York Philharmonic, going to school. He didn't have opportunities like this when he was going to school here, and he's really excited for me."
Chills had become shouts of triumph and tears of happiness.
Roger ('85 geology) and Katrina Head ('87 early childhood education) were among the first people to stream out of the performance hall at the concert's conclusion.
The couple returned to Tulsa in 2017 after living abroad for 15 years while Roger Head worked for ExxonMobil.
"We've been exposed to a lot of art while living abroad. We've been to places in Vienna, seen where Mozart played and other unbelievable things, but this place is incredible," Katrina said.
"This is fantastic," Roger said. "I would've never thought as an Oklahoma State graduate that we'd have something world-class in Stillwater."
Two of the couple's five children attended OSU, and they're hopeful the youngest will choose to as well. Regardless, they plan to make many more trips to Stillwater for future performances.
After the gala concert, Patron donors, sponsors and their guests gathered in the Student Union Ballroom to celebrate.
President Hargis told the room he experienced a range of emotions during the concert.
"I got through the whole thing pretty well ... and then they played the alma mater, and that's when I lost it. I lost it good," he said. "It was the most glorious concert I've ever heard. It was just the most exciting night of our lives."
Ross and Billie McKnight gave credit to everyone who "told the story of The McKnight Center," from friends they met along the way to those they've cherished for decades.
"This was an idea, a dream that was planted years ago. Looking around tonight, I can see it in bloom. As a farmer from Texas, I can see that this was a good idea," Ross McKnight told the cheering crowd. "Nearly all the people in this room had something to do with this tonight. ... I hope we didn't disappoint anybody."
Musical ambassadors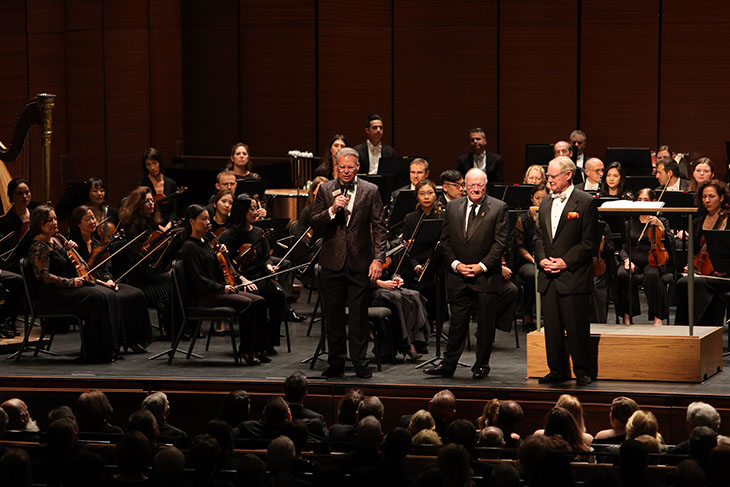 Days after the New York Philharmonic's Stillwater residency ended, the energy from The McKnight Center's opening festivities still hung in the air.
That's no surprise to Mark Blakeman, the Marilynn and Carl Thoma Executive Director of The McKnight Center.
He saw exceptional chemistry between audience members and New York Philharmonic musicians throughout the residency.
"That was part of what people were experiencing. The audience was happy and energetic, and the same was true of the orchestra," Blakeman said. "It was a personal experience not only for those watching and listening to the concerts but for the musicians, too. They could look out at the audience and see faces — some of whom they had met and visited with extensively. They can't do that back home when they play for 3,000 people at a time.
"A real sense of connectedness translated into these powerful artistic moments."
In all, the four-day residency included 16 master classes, a lecture and four performances, including the Opening Gala and a daytime concert for first- and second-graders from Stillwater Public Schools.
"It's just state-of-the-art. It's gorgeous."
- Kelli O'Hara
"So many people were moved by whatever part of the residency they participated in, and that's something they'll carry with them for the rest of their lives, no matter if they were a musician or an audience member," Blakeman said. "That's transformational."
Deborah Borda, New York Philharmonic president and CEO, and Oscar Tang, co-chair of its board of directors, called Stillwater's warm welcome memorable and said it added to the excitement of helping OSU open its new facility.
"It's such an honor to be a part of this. We've been so impressed by how well this organization has prepared for the grand opening of this magnificent hall," Borda said.
Tang echoed her sentiment, adding that he would like to see the New York Philharmonic return to The McKnight Center.
"We would hope that this would become a recurring situation for us to be able to work with talented people in Oklahoma, in master classes and so forth, on a regular basis," he said.
Renowned Broadway star and Tony Award- winning singer Kelli O'Hara grew up in Elk City, Oklahoma.
While her siblings and father attended OSU, she pursued a fine arts degree at Oklahoma City University.
O'Hara beamed as she talked about how valuable The McKnight Center is to the entire state, noting that she sometimes felt alone in her passion for the arts growing up in Oklahoma.
"Today, I'm not alone. I feel the entire state's support," she said. "It's an incredible moment."
Hours before the Opening Gala, she joked that she wanted to sneak into The McKnight Center's recital hall just to enjoy how her voice sounded in the venue.
"I hope that everyone, regardless if they went to OSU, comes to hear these concerts and see these artists perform on stage. This rivals what's around the country and around the world. What a lucky thing for the state."
Blakeman has no doubt that experiences like O'Hara's will ensure The McKnight Center becomes a destination for musicians around the country. Messages from New York Philharmonic musicians and colleagues nationwide have flooded his email inbox since the gala.
"They had a great time in Stillwater, and they really liked our hall," he said. "We want people who attend our performances to have a great experience, but on the other side of that coin is making sure our artists have a good experience. They take that with them. We now have 140 ambassadors from the New York Philharmonic that are out in the global world of music talking about their experiences.
Blakeman is eager to see the momentum and excitement continue for the remainder of The McKnight Center's Inaugural Season and as the performing arts continue to weave their way into OSU and Stillwater's identity.
"The Opening Gala and the emotion people felt is a great touchpoint for our community," he said. "It showed a lot of people how great art can touch peoples' lives. It becomes a part of them."
---