OSU Medicine President Dr. Kayse Shrum is leading the fight to improve rural health care — and winning
Kayse Shrum counts herself lucky.
Lucky that she received a friendly nudge into the medical field.
Lucky that she had family support to get her through medical school.
Lucky that she has the opportunity to pursue her passion: bringing quality health care to rural Oklahomans.
Her relentless focus, whether as a pediatrician in her hometown of Coweta, Oklahoma, as the state secretary of science and innovation, or as dean of the OSU College of Osteopathic Medicine and OSU Medicine president, has garnered her many honors over the years. Recently, that list grew a little longer when The Journal Record named her "Woman of the Year."
Again, she counts herself lucky — this time to be among so many powerful women, including First Cowgirl Ann Hargis, who received the honor in 2014.
While she may indeed be lucky, those who know her best would tell you that she has made her own way, that Oklahoma is lucky to claim her and to have her at the helm of one of its premier medical institutions.
"Everyone is really proud of her. I don't know of anyone else [from Coweta] that's accomplished so much," said her sister, Patti Plunk. "She's so deserving. She really has a servant heart, and she really wants to help people. That's at the root of everything."
Meteoric Rise
Shrum's rise through the health care ranks started with a simple suggestion from her physiology professor, who told her that she had the highest grade in a class full of medical school- bound students and suggested that she consider going herself.
She followed her professor's advice and visited her hometown doctor, OSU Medicine alumnus Ronnie Carr, D.O., who encouraged her to visit the OSU College of Osteopathic Medicine.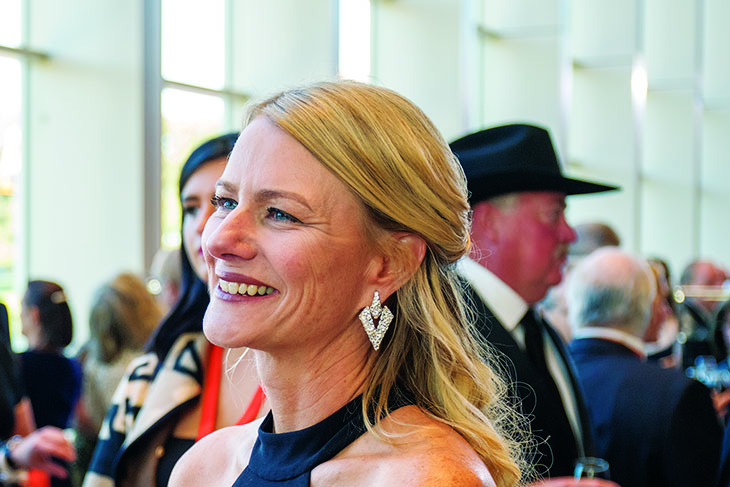 "I grew up thinking that all I wanted to do in life was to play fast pitch softball," she said. "As soon as I visited OSU Medicine, I knew that medicine was my calling. I really had always wanted to have a career where I felt like I was making a difference and helping people but one that was challenging."
Though she was focused on being a student athlete at the time, pitching for the Coweta Lady Tigers from 1987 to 1990, she always knew she wanted to make a difference — and all of a sudden, the path became clear. Shrum always had an inner strength and drive, Plunk said, but that small burst of encouragement was revelatory. She said it changed her life.
"His suggestion sparked something within her and made her realize, 'Oh, yes. I can do that,'" Plunk said. "For her, it was someone reaching down, that professor reaching to her and saying 'Yes, you can do this.'"
Starting in Coweta
Growing up in Coweta — a Tulsa suburb of less than 10,000 people — Shrum never imagined she would become the first female dean (and youngest) of a medical school in Oklahoma. Some days, she didn't think she would ever become a physician.
But that's not what others saw.
Dr. Rhonda Casey, a friend of Shrum's who is now associate dean for global health at OSU Medicine, was a resident when Shrum was a medical student at OSU in the late '90s.
"When she was a fourth-year medical student, I recognized something in her," Casey said.
She saw a kindred spirit, another motivated, aspiring doctor from a small town.
She saw a leader with relentless determination, an observation made fairly indisputable by the fact that she gave birth to three children while in medical school and during her residency. As though that were not enough, Shrum later adopted three adolescent boys from Ethiopia.
"She's so intelligent, it's unbelievable," he said. "She's highly educated, highly motivated and whatever she puts her head to, it's going to be done ... and she's just getting started."
After earning her osteopathic medicine degree from the Oklahoma State University College of Osteopathic Medicine, Shrum joined OSU's medical school faculty in 2002 and served as chair of its Department of Pediatrics from 2004 to 2011.
"I love OSU's land-grant mission, and the mission of the medical school is to serve rural and underserved Oklahoma. That's something that I'm very passionate about."
Before she became provost of OSU Medicine and dean of the OSU College of Osteopathic Medicine in 2011, Shrum found herself torn. On the one hand, she loved caring for patients, but on the other, she knew the kind of impact she could have in a new and challenging role.
Now, as OSU Medicine president, she is blazing new trails in rural health and illuminating the path for the next generation of Oklahoma health care leaders.
Carr said there's no one better to lead that charge.
"I love OSU's land-grant mission, and the mission of the medical school is to serve rural and underserved Oklahoma," Shrum said. "That's something that I'm very passionate about. Having grown up in Oklahoma, I think it's important to give back, and I've really had the honor of being entrusted by President (Burns) Hargis and the regents with carrying out OSU's land-grant mission in a way that improves the health and lives of Oklahomans."
Rural Mission
Carrying out OSU's rural health mission means more than training the next generation of doctors. For Shrum, it includes a proactive approach to solving the big problems and opting to treat the whole person and not just the disease or the symptoms of Oklahoma's rural health care crisis.
She knows rural Oklahoma and her pragmatic assertion that rural doctors come from rural communities is at the foundation of her strategic leadership to create a sustainable pipeline of primary care physicians. She has spearheaded award-winning programs, like Operation Orange and Blue Coat to White Coat, the establishment of a Rural Medical Track (a rural-focused medical curriculum) and expanded residency training programs in Oklahoma.
The timing couldn't be more crucial. Shrum said 27 percent of rural primary care physicians are over the age of 65 in Oklahoma. As those doctors retire, just as baby boomers are seeking more care, access to health care stands to deteriorate in those communities. Stilwell, Oklahoma, for example, has the lowest average life expectancy in the United States at 56.3 years — lower than the life expectancy in the Congo.
"You look today and some counties in the state have no primary care physicians, none," Shrum said. "And the thing that has been shown time and time again to improve health outcomes is having access to primary care. And that is our mission. We really have embraced that and put programs in place to recruit the right students.
"We are wanting kids from Oklahoma, from rural parts of our state, who are going to want to fulfill our mission. We are training them in a way that keeps them connected to rural communities and puts them with rural communities.
"This last year, about 18 percent of our class were former FFA students," she said. "We have the same initiative for recruiting tribal students because if we're not partnering with our tribes, there's no way we're fulfilling our rural mission.
"Those two key groups are students we're recruiting. Across the United States in medical schools 0.4 percent of medical students are Native American. We have, in the last few years, ranged from 14 to 17 percent of our medical school class being Native American students. So the recruitment efforts work. We can't do the same thing over and over again and expect a different outcome. I believe if medical schools don't recruit from rural areas and do everything right there in an urban setting, they're going to get the same outcome, which is doctors not choosing to practice in rural Oklahoma or rural communities across the United States."
Full Plate
In addition to the rural and tribal partnership initiatives she is leading, Shrum also spearheaded the establishment of the new OSU Medicine Center for Wellness and Recovery, which she hopes will be the incubator for revolutionary new addiction research and treatment.
It's a full plate, but Shrum's appetite for the challenge remains strong.
"All of those things are a reflection of the land-grant mission being put into action," she said. "The Woman of the Year Award is really an acknowledgement of OSU's success in fulfilling its mission in a meaningful way for the state. I just happen to be leading that."
Hearing her downplay her own influence probably doesn't surprise those who know her best. They would tell you that she's quick to embrace criticism and deflect credit. But they would also say that no one deserves that credit more.
"There is so much advancement that has taken place strictly because of her," Casey said. "She pours her heart and soul into everything she does."
Carr said he can't wait to see what she'll do next.
For her part, Shrum said it just comes back to work ethic and passion.
"I get up and do the best I can every day to do the right thing and look at how we can better the state through OSU Medicine, whether that's graduating professionals or through our programs or through our clinics and hospitals. It really is an honor to receive that prestigious award for just doing what I love. I'm very proud of it because I feel like it's really a reflection of what Oklahoma State University stands for."