Still Lighting the Way
Monday, December 2, 2019
National Science Foundation awards $3.9 million grant to OK-LSAMP program
Growing up on a small ranch in the rural Mexican town of Atolinga, Casandra Salinas had plenty of time to daydream about her future on the 30-minute bus ride to and from school.
"I didn't really dream big," she said. "I didn't think I would have the opportunity to."
Her father died in 2010, and the California-born Salinas ended up in Oklahoma City with her aunt.
Despite attending three different high schools and a slew of other challenges, Salinas maintained a 4.0 GPA. Still struggling with English and lacking the guidance and connections that some take for granted, she was burdened with doubt. She had long dreamed of becoming a doctor but thought the path might be beyond her reach.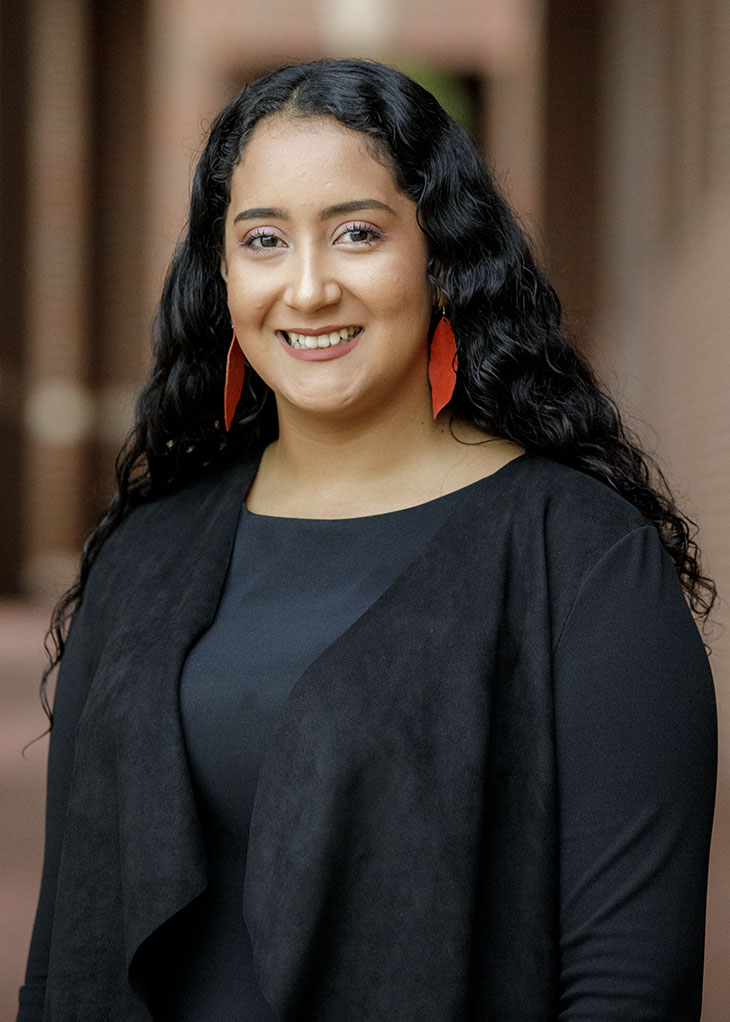 "I thought maybe it wasn't for me because of my background or my financial situation," she said. "I thought that's just not going to happen."
An OSU admissions counselor came to visit during her senior year in high school, and everything changed.
"She was talking to students about OSU, and she told me I could make it at OSU," Salinas said. "She encouraged me to apply."
Opening the door
Salinas was accepted and came to OSU in the fall of 2016, quickly falling in love with the campus and the people.
Still, juggling her class load in a new collegiate environment and working at a restaurant, the first-generation college student felt overwhelmed and unprepared.
"I felt imposter syndrome, like I shouldn't be here, I shouldn't be doing research," she said. But help arrived in the form of the Oklahoma Louis Stokes
Alliance for Minority Participation program (OK-LSAMP). Through her involvement in the Hispanic Student Association, Salinas met OK-LSAMP director Brenda Morales, who is the co-adviser of the association.
"Brenda Morales mentored me and pushed me to apply for the OK-LSAMP program. I got accepted, and then I applied for the McNair Scholars program as well."
Through OK-LSAMP, Salinas started her research project on cystic fibrosis in the summer of 2018 in the department of microbiology and molecular genetics under Dr. Marianna Patrauchan. Now a senior, the biochemistry and molecular biology major is working in the same lab today and has presented her findings at various conferences. At the recent Oklahoma Women Impacting Science and Entrepreneurship conference in Tulsa, she earned the top award for outstanding undergraduate poster presentation.
Inspiring Scholars
Named after the late Ohio congressman and civil rights pioneer Louis Stokes, the OK-LSAMP program opens students' eyes to possibilities and opportunities available at OSU and all Oklahoma Alliance institutions. The National Science Foundation recently awarded a $3.9 million grant to the program, ensuring that the Oklahoma alliance will be able to continue its mission of preparing underrepresented scholars to enter STEM fields and engage in research around the world.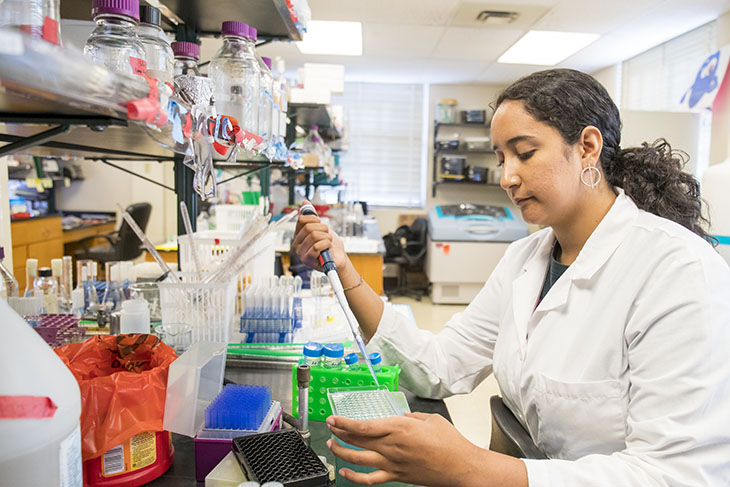 "We're helping OK-LSAMP Scholars understand that there are different ways that research happens, and it's not always what you imagined or what you were told," said Dr. Jason F. Kirksey, vice president for institutional diversity and chief diversity officer at OSU, who serves as principal investigator for OK-LSAMP. "So when our scholars get to see and hear industry professionals talk about where they started, the students recognize that their backgrounds, including the struggles of their parents, are exactly the same.
"At that point, our students become motivated and inspired that they are able to accomplish the achievements of the career professionals talking to them."
Kirksey said the program does more than open the door — it keeps the door open, instilling confidence in its scholars.
"This program creates an opportunity to really fuel those passions and lets the students experience things that few programs offer," he said.
By the numbers
The National Science Foundation implemented the LSAMP program nationally in 1991. The Oklahoma Alliance was established in 1994 to develop programs aimed at increasing the number of students from underrepresented populations earning degrees in STEM disciplines. With Oklahoma State University as the lead institution, OK-LSAMP now includes 12 universities across the state that have awarded a total of more than 13,000 bachelor's degrees.
OK-LSAMP was required to demonstrate continued growth and forward momentum to secure this round of funding from the NSF, Morales said, and the program continues to boast strong numbers.
The enrollment of underrepresented students in OK-LSAMP institutions increased 370 percent since 1994. From 2015-18, 62 scholars participated in 69 research experiences in 25 countries and over 40 locations, demonstrating the program's focus on international research. In addition, scholars participated in study-abroad seminars, panel discussions and workshops for these scientific and cultural experiences.
"At OK-LSAMP, we are proud to provide opportunities that will impact the scholars, research and the global scientific community," Morales said. "Thanks to the National Science Foundation LSAMP grant we are able to continue to inspire young, underrepresented STEM students to through academic integration, professionalization and scientific community integration."
Salinas said she never could have imagined the opportunities that OK-LSAMP has shown her.
"Now I can see myself pursuing a career as a biomedical scientist. Looking back, that wasn't even on my radar. Back when I was in middle school and high school, it seemed impossible. But I've had amazing mentors and professors, and I'm very happy and very proud that Oklahoma State University has these programs for students who really need them."
The program has also opened opportunities for her little brothers, including a 17-year-old who is considering going to college himself. Salinas said she now has the tools to help them navigate the college journey.
"OK-LSAMP didn't just open doors for me — it opened doors for them, too. And it's going to allow me to do something impactful for my family, my community and myself," she said. "I would love to be a liaison to my hometown and help bring resources there, but I also love Oklahoma. This is home, too."
Bridge to doctorate
Fellow OK-LSAMP scholar Rainee DeRoin has a different success story that also started with the program.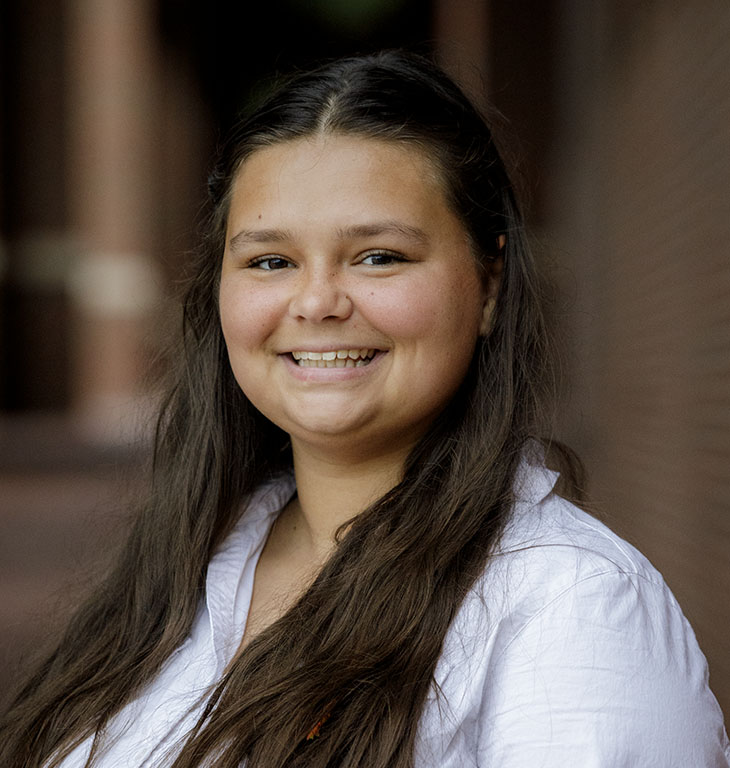 While researching programs at OSU, the first-generation college student learned about OK-LSAMP through the Retention Initiative for Student Excellence (RISE) program. DeRoin always aspired to do water quality research and the OK-LSAMP program gave her that opportunity. And, because OK-LSAMP researchers get hands-on research opportunities as undergrads, she didn't have to wait until grad school to delve into her passion.
Former OK-LSAMP scholar Adrian Saenz was getting his master's degree and doing a research project on Eastern red cedar management.
DeRoin saw her opportunity.
"I just knew we were getting water samples and I was like, if it's got something to do with water, I'm doing it," she said.
DeRoin, a Tulsa native, had never left Oklahoma until her freshman year at OSU. Three years later, she has been to Washington, D.C., Georgia, New Mexico, Alabama, and, most recently, Germany for the World Congress for Undergraduate Research. She was also selected to go to Hawaii to showcase her work and to network with researchers from around the globe.
In October, the environmental science senior attended the National Diversity in STEM Conference (SACNAS) in Honolulu to present the latest findings of the water research initiative. Now, she's looking forward to a bright future — one that she said would not have been possible without the OK-LSAMP program.
"I never dreamed about going to grad school, but OK-LSAMP has opened that door," she said. "They have this funding program called Bridge to Doctorate and hopefully I will get it, and I will be on track to get my Ph.D. Because I've already done so much research through OK-LSAMP, I will have a chance to go straight to a Ph.D.
"It's crazy from where I came from. At Nathan Hale [High School], I think only four of the people I knew in my class went to college. I have OK-LSAMP to thank for that."