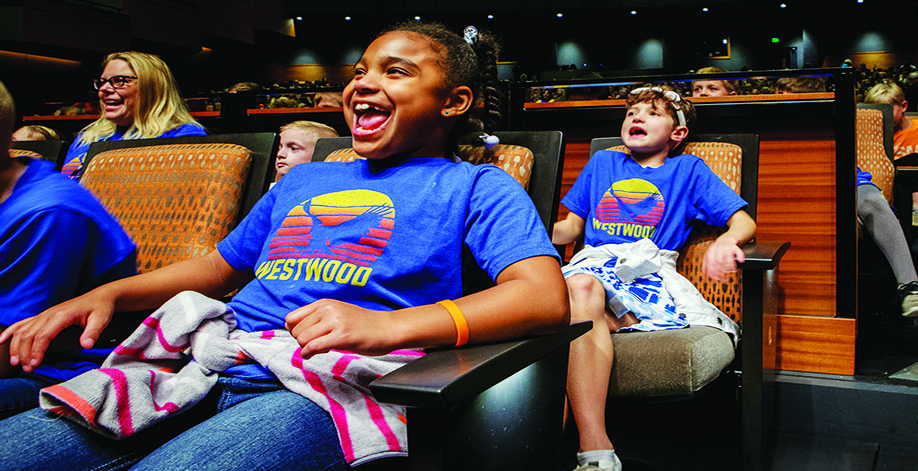 Youthful Appeal
Monday, December 2, 2019
McKnight working with Stillwater Public Schools to bring in 'every child, every grade, every year'
At The McKnight Center for the Performing Arts, Marilynn and Carl Thoma Executive Director Mark Blakeman is passionate about providing a rich experience for all visitors — an experience that resonates deeply in the unspoken, shared parts of humanity.
This determination led to a 2017 meeting with Dr. Marc Moore, superintendent of Stillwater Public Schools, to discuss a partnership between the schools and The McKnight Center.
"In that conversation, I said my goal — my dream — would be that eventually we build programs so that every student in every grade of the Stillwater Public School system would come to The McKnight Center every year and have a meaningful performing arts experience in some way," Blakeman said.
The K-12 partnership was born; the phrase, "every child, every grade, every year," represents the goal of the program.
"We have a high-quality program at The McKnight Center for every first- through eighth- grader at Stillwater Public Schools," Moore said. "We ultimately hope students will have an appreciation for the arts and incorporate them into their lives as they go beyond Stillwater."
Positive Impact
Darin Williams, the new education and community engagement manager at The McKnight Center, also believes firmly in the power of music to inspire and enrich people's lives, especially those of adolescents.
"Music has definitely shaped me as far as an inspirational point of view as well as a work ethic," Williams said. "I know that if you speak to anybody who's been in a band program before, they'll talk to you about developing the rudimentary skills of how to be a successful adult."
In October with roughly 900 first- and second- graders watched a lively performance by the New York Philharmonic Brass Quintet.
Westwood Elementary second graders had front-row seats and offered rave reviews.
"The performance was great," said Lyla Wingate, who wants to learn to play the saxophone when she is older.
Fellow 8-year-old Avah Fortenberry was excited to see the new concert hall, which seats more than 1,000 but still feels intimate.
"I liked everything," said Fortenberry, who wants to learn to play the piano. "The music was fun but I liked the tuba the best. I'm excited that I get to come here every year."
A handful of students got the chance to play the marimba or djembe drum with help from Greenwood School of Music students.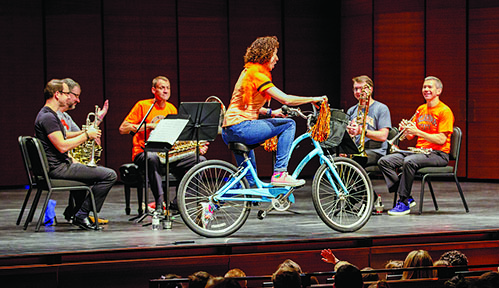 Jennifer McCoy, music teacher at Will Rogers Elementary School, loved seeing the smiles on students' faces.
"This was an incredible opportunity for our students," McCoy said. "They experienced a live concert with some of the best musicians in the world."
Another McKnight Center/K-12 program is Carnegie Hall's Link Up Program, which features interactive performances.
"We've done professional development with the Stillwater Elementary music teachers to introduce them to a curriculum that incorporates classic and new material that students of third, fourth and fifth grades will learn to sing, dance and play for the Carnegie Link Up Program," Williams said.
During the training, elementary music teachers practiced each piece and discussed the potential challenges and aspects to emphasize in the curriculum.
"We're basically putting all of their musical knowledge into practice just as professional musicians do," McCoy said. "Students will learn vocal and recorder parts in their music class for specific repertoire that they'll perform during an interactive concert at The McKnight Center." Their concert will take place alongside the Enid Symphony Orchestra on Feb. 5.
"It's a deep, integrated piece that will take a long time for them to perfect, but we're integrating it into the classroom, so they will have a unique hands-on experience all year long," Williams said.
More programs include seventh- and eighth- grade students attending a Cirque Mechanics performance with classroom activities to supplement the experience, as well as sixth- graders getting involved with the Chamber Music Festival.
"This is a tremendous outreach to allow students of all ages to experience music beyond the classroom and radio," McCoy said. "Students will actually see and hear a symphonic orchestra, watch a conductor, and experience beautiful music right here in Stillwater."
This extensive programming is possible thanks to a $25 million endowment donation by OSU alumni Ross and Billie McKnight and an accompanying $25 million in donations. With this funding, The McKnight Center can spend roughly $2.5 million annually on programming.
"Through music, we experience humanism, feeling, emotion, love, compassion, gentleness," McCoy said. "Many kids like to tap to the beat, dance and sing along. Music can help students relax, be more emotionally developed and aid in coping with anxiety. The list of benefits truly goes on and on. We hope for our students to become so deeply interested and engaged that they'll be lifelong learners and lovers of music."