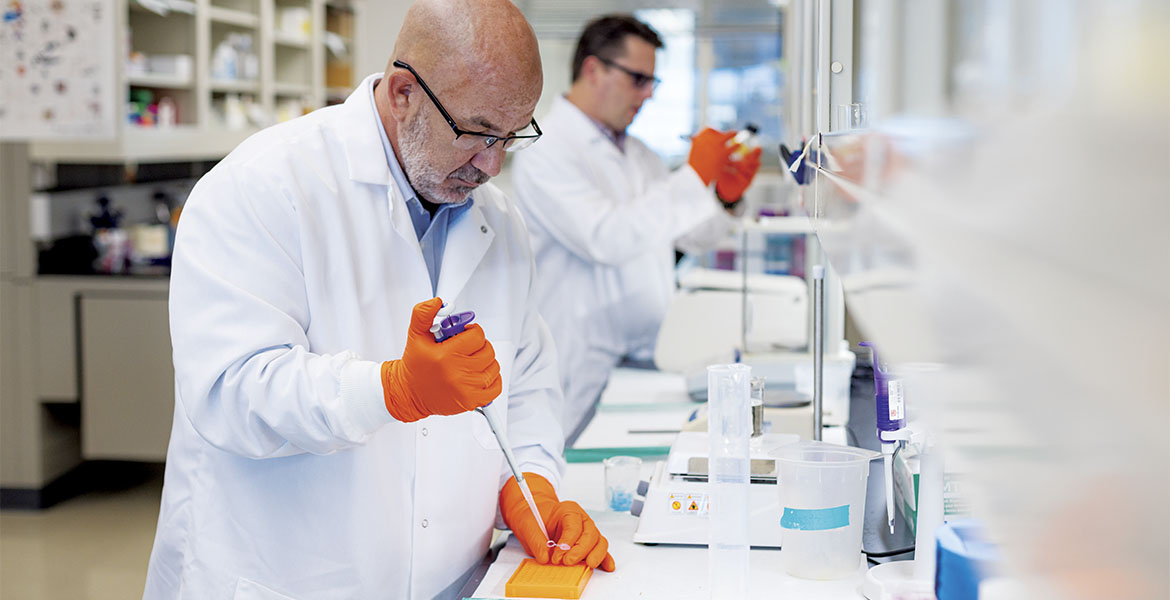 Oklahoma State research adds science-driven tools to battle against addiction
Thursday, September 3, 2020
Oklahoma residents, like many people throughout the nation, are fighting a battle with a brutal enemy: opioid addiction. Boldly leading the defense for Oklahomans — and indeed the nation — is the Center for Wellness and Recovery at OSU Medicine.
Opioid addiction does not discriminate; it hits people of all races, genders, education levels and economic classes. Even today, it is highly misunderstood. Addiction was once thought to be caused by choices; however, doctors now say addiction is due a combination of genetic, biological, behav- ioral and social factors.
That finding came out of research — and further under- standing addiction requires more research.
"Without evidence to support our practices, we could not train providers to treat addiction," said Julie Croff, executive director of the Center for Wellness and Recovery. "Research is necessary to inform our clinical services, training and advo- cacy initiatives."
That's where this Tier 1 Research Initiative comes in.
"OSU's research has always reflected our land-grant mission to serve society," said OSU President Burns Hargis. "Our Tier 1 Research Initiatives represent a commitment to Oklahoma that we intend to use our research strengths to make a major difference."
"Addressing the opioid crisis with science-driven tools is the ultimate goal," said Dr. Charles Amlaner, OSU Center for Health Sciences vice president for research. "And we are excited to have OSU-CHS lead this collaboration with our OSU colleagues."
The Beginnings
The Center for Wellness and Recovery was founded in November 2017 as a research arm of the Center for Health Sciences. OSU- CHS President Kayse Shrum established the center to address the opioid epidemic in Oklahoma by focusing on research, advocacy and clinical services.
Tier 1 Initiatives use interdisciplinary approaches, and the center is no exception.
"Addiction is a brain disease that has multiple intersecting causes, so it is ideal that we work across fields to develop a comprehensive approach to treatment and prevention of addiction," said Alicia Ford, clinical assistant professor of psychiatry and behavioral sciences.
Partnering with other colleges, research centers and pharmaceutical companies has provided needed resources. Currently, several intersectional models of research are in use at the center.
Translational Research
Translation research involves using animal models to inform research on human subjects. Partnering with biomedical scientists, clinical researchers can see outcomes from research faster.
Opioids cause changes in many pathways of the brain and can often lead to a decrease in cognitive function, which can improve once opioids are no longer used. Dr. Ford is collaborating with Dolores Vazquez Sanroman, assistant professor of anatomy and cell biology, on a series of studies that evaluate the level of natural brain recovery that occurs during early abstinence. Researchers are using rodents to study this effect.
"Our initial results indicate that when people enter inpatient treatment for opioid abuse, they are performing at one-half to one standard deviation below expectation in multiple cognitive areas," Ford said. "After one month of abstinence, they demonstrate improvements in cognitive performance, though not yet a full recovery."
Dr. Vazquez Sanroman is working to understand if there is a pattern of biological changes that relate to this cognitive recovery.
"In particular, we are looking at the levels of brain-derived neurotrophic factor, which is a neural protein that plays an important role in neurogenesis and neural plasticity — the brain's ability to form new neurons and to change
in response to the environment," she said. "Using a rodent model of place preference, animals that preferred to expend time on the opioid-associated environment showed a dysregulation on BDNF levels in brain areas involved in addiction."
Life Course Model
The center also seeks to understand the biological and behavioral impacts on addiction. One specific area being studied is the indirect and direct effect of a mother's substance abuse on birth and the child. The HEALthy Brain and Cognitive Development study is led by Croff and Amanda Sheffield Morris.
The study is gathering data focused on such factors as drug and alcohol use, environmental toxins, social interactions and nutrition. The final protocol of the study will follow the development of babies until age 10.
According to the National Institute on Drug Abuse, "Medicine has thus far lacked detailed baseline standards of normative brain development in childhood, and [this study] will help produce such standards. The information gained from the study will create an invaluable reference for pediatricians, pediatric neurologists and psychiatrists."
Alternative Models
For many people, opioid addiction began with an injury and a prescription for the powerful pain relievers. For a patient with chronic pain, opioid use can escalate over time and lead to an addiction. One way to avoid this is to use other methods to manage pain.
Osteopathic manipulative treatment is a set of techniques, including various stretches, pressure and resistance, that physicians can use to treat musculoskeletal problems. This treatment has worked with low back pain and most non-cancer pain.
Ford and Vazquez Sanroman (co-principal investigators) are leading a two-year research study funded by the American Osteopathic Association to evaluate the use of manipulative treatment with patients who have both opioid addiction and chronic back pain.
"Both opioid addiction and chronic pain have known effects on one's mood, cognition and general life functioning," Ford said. "These are accompanied by a host of neurobiological changes. We hope that by providing an effective nonmedication treatment for pain
that our participants will experience improvement in multiple areas and be more successful in remaining abstinent from opioids."
Powering Forward
Research continues to be the answer. From understanding how to better train medical professionals and patient recovery processes to determining how to support families of those struggling with addiction, research is key to a better defense in battling the opioid epidemic. Using a multidisciplinary approach allows researchers to move faster and more effectively.
Both those struggling with the disease of addiction and those researching how to best support them need support. The Center for Wellness and Recovery and the Tier 1 Research Initiatives are up to that challenge.