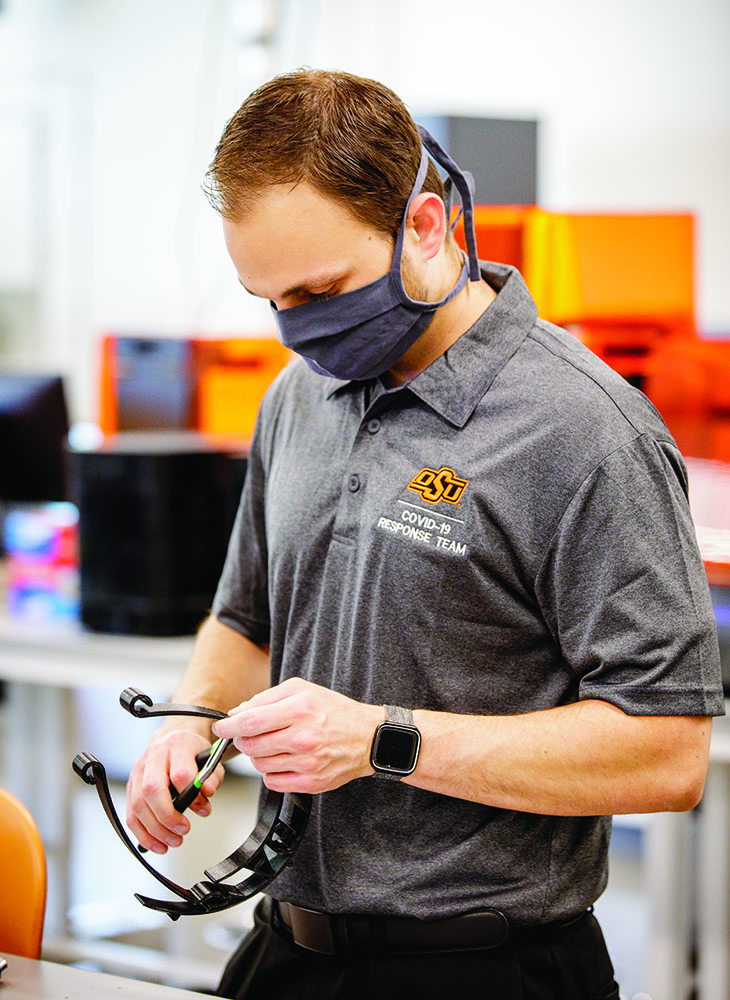 Oklahoma State works to mend a broken supply chain with PPE for Stillwater Medical Center
Thursday, September 3, 2020
At Stillwater Medical Center, CEO Denise Webber first started noticing supply chain issues in late February. Shortly thereafter, the scope of the national shortage of personal protective equipment came into brutal focus.
"The prices were almost incomprehensible," she said.
Disposable gowns skyrocketed from less than a dollar to $25 apiece. Even if hospital administrators were lucky enough to find a stock of N95 respirators, masks and face shields — a challenge in itself — the best price they could find was often five times higher than before.
"All of the sudden, our supply chain was completely locked up," she said. "Pretty much overnight, we hit a supply chain crisis."
It wasn't a crisis they would face alone, however.
Starting in March, at least a dozen OSU-born efforts were launched to help combat the virus in the Stillwater community and beyond.
A group of students from OSU's College of Engineering, Architecture and Technology's ENDEAVOR lab began prototyping personal protective equipment (PPE) to donate to Stillwater Medical Center and other facilities. Led by senior engineering student Killian Bussey, the group has since donated more than 3,000 face shields, 20,000 replacement sheets and hundreds of ear savers and masks. They also released the prototype design files and instructions for the face shields and protective masks to anyone to download and use.
Bussey said social media posts emerging from Italy inspired him. With the death toll rising there and PPE in short supply, he saw an opportunity to make a difference. "I saw where people in Italy were making equipment with the tools we have here in ENDEAVOR," he said.
"I saw the potential need that Oklahoma could have, so I decided to run test prints on our Craftbot 3D printers. Once we realized that we had the capability of doing this, it was full steam ahead."
The masks and shields Bussey's team donated to Stillwater Medical Center were joined by countless other donations from independent facets of the OSU community.
The OSU Chinese Faculty & Staff Association led an effort that resulted in thousands of donated masks. The College of Engineering Architecture and Technology's professional development office donated protective suits and gloves, the School of Architecture donated safety glasses, and Facilities Management donated shoe covers, gloves, goggles, safety glasses, masks, protective suits and disinfectant wipes.
And that's just a small sample of the effort and care Cowboys brought to the table.
Stillwater Medical Foundation Executive Director Scott Petty, a 1988 OSU graduate and former Pistol Pete, said the donations made an immediate impact. They also served as a reassuring reminder of the connection between OSU and Stillwater.
"The unselfish response from Oklahoma State was not surprising in the least," he said. "We have a terrific working relationship and a long-standing mutual respect for Stillwater's residents. So, especially during those early days of this pandemic, multiple university departments wanted to know how they could help."
Webber said the donations did more than solidify Stillwater Medical Center's supplies.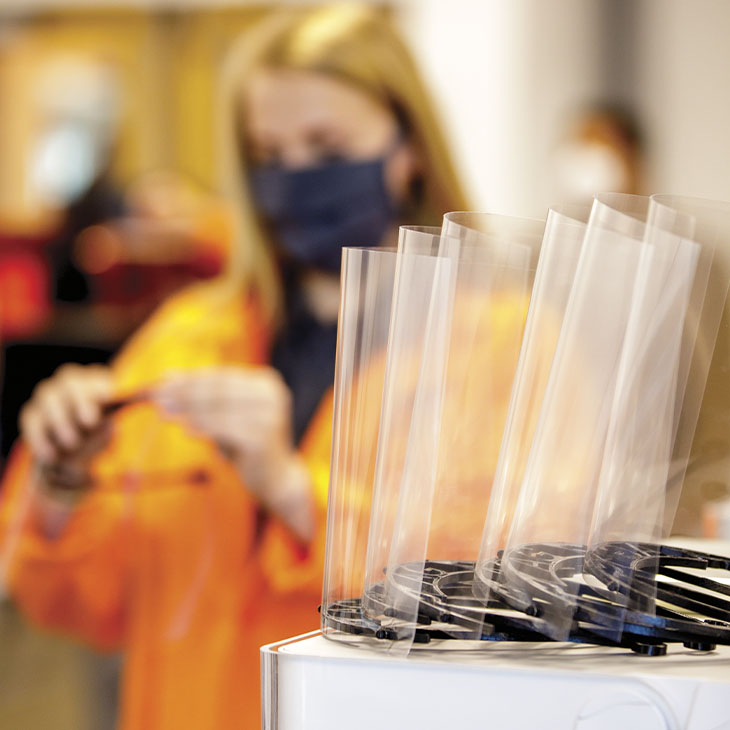 "I don't even know if words can express what that meant to us," she said. "One of my biggest fears was to have to supply our team with things that were not designed to take care of patients. There was an example that we saw at another hospital in Oklahoma City where they fashioned a face shield out of a donut box (as well as) trash bags used for gowns. OSU and all the creativity, the innovation, the neighborly help — it just did so much to give us hope."
Webber said she anticipates the hospital will continue to face shortages of face shields, earsavers and masks. The fight is far from finished, but Bussey said his team is staying in.
"At this point, we are continuing to do research on PPE and pushing the limits on 3D printing to enhance and improve PPE gear and make it more widely available," he said.
Maria Ma, associate professor of food safety and biosecurity, said the CFSA is prepared to answer the call again, too.
"We are very grateful that we were able to contribute to our community's fight against COVID-19 pandemic," she said. "Stillwater is the place we all call home!"
Webber said she hopes everyone in the OSU community will do their part.
"We really value what OSU means to this community," she said. "They are the heart and soul of Stillwater, and we want to work together. "The other thing we need from the OSU community is for people to wear the mask. If everybody wore a mask, we would not have the spread that we've had. There's been study after study, example after example. We encourage everyone to wear a mask, follow CDC recommendations and protect your neighbor."