The COVID-19 pandemic forced every institution to rethink how they function and serve their customers, employees and community.
The OSU Center for Health Sciences, OSU Medicine and OSU Medical Center were no different. Everyone from administrators and department leaders to physicians, from front-line workers to faculty and staff stepped up to meet public health care needs with innovation, technology and hard work.
In April, about a month after the outbreak began in Oklahoma, Gov. Kevin Stitt designated OSU Medical Center in Tulsa as a surge hospital.
That designation meant that if other hospitals in the Tulsa area reached capacity for COVID-19 patients, then OSU Medical Center would handle any additional positive COVID patients or persons suspected of having the virus.
"OSU Medical Center has served Tulsa and the surrounding communities with exceptional patient care for 75 years, no matter the circumstance. Supporting the health care needs of our friends and neighbors has always been who we are, and this pandemic has heightened awareness about serving those entrusted to our care," said Eric Polak, chief executive officer of the OSU Medical Authority and Trust. "Alongside our brave first responders, and in concert with the broader medical community, we stand ready to support and be of service to the greater Tulsa area."
Once OSU Medical Center was designated a surge hospital, crews from the U.S. Army Corp of Engineers and Manhattan Construction evaluated and modified 125 patient rooms on four floors of the hospital with the necessary negative pressure rooms, updated nurse call systems, additional power outlets and cameras in each patient room so health care workers would have a constant line of sight for the patients without having to repeatedly gown up to enter the rooms.
From a patient's point of view, the rooms and hallways on the COVID floors don't look much different than other rooms and floors throughout the hospital. What's behind the walls is what makes these rooms and hallways different — negative pressure fans and ventilation so air flow goes directly outside instead of elsewhere in the hospital.
"When asked to be the designated surge hospital for COVID patients in Tulsa, it was an easy answer for us. To be able to step in and fill a critical role within the preparedness and response effort, not only here in Tulsa but in our rural health care communities as well, is core to our mission," Polak said.
The surge hospital designation remained through July 22, but capacity at the other Tulsa area hospital systems never reached the point where OSU Medical Center was triggered as a surge hospital. The rooms on the modified floors were still used to treat COVID patients admitted to the hospital.
Technology in the Fight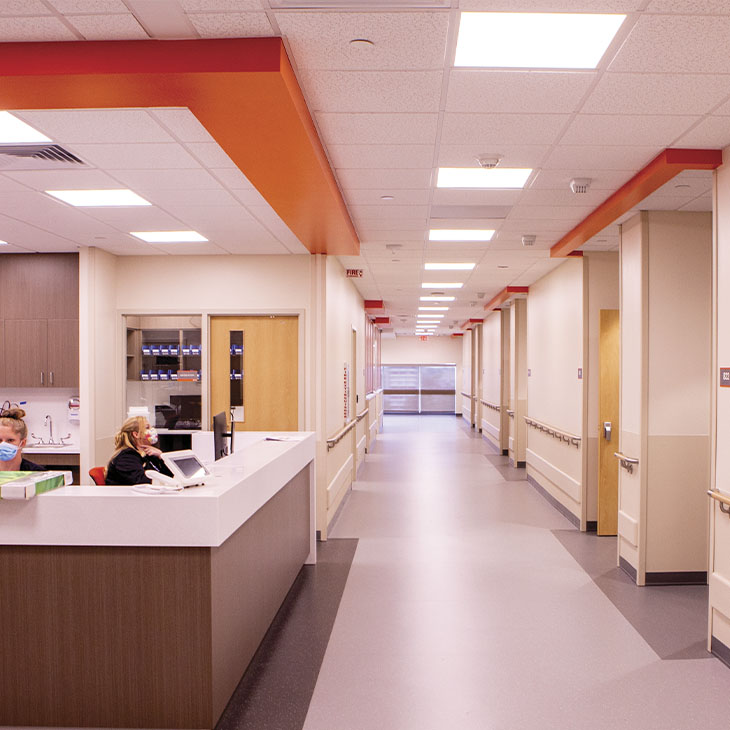 Over four days, OSU Center for Health Sciences' Project ECHO team (Extension for Community Health Outcomes) developed and launched the COVID-19 Oklahoma Update ECHO to rapidly share health information.
Dr. Joseph Johnson, Project ECHO medical director, said Dr. Kayse Shrum, OSU-CHS president and OSU College of Osteopathic Medicine dean, knew Project ECHO could play a vital role in flattening the curve for COVID-19 cases in the state.
It all started with the formation of an expert team.
The team was trained in the ECHO model. Curriculum was developed and guest speakers were arranged while remaining flexible to respond to the everchanging situation. COVID-19 sessions were held every Monday, Wednesday and Friday. Members of the governor's task force, clinical experts and new interim Commissioner of Health Dr. Lance Frye assisted in disseminating the state's response plan.
Project ECHO connects specialists and experts from OSU-CHS with health care providers in rural and underserved areas via teleconference to discuss evidence-based treatments and share the latest information about complex and chronic diseases.
In addition to the COVID line, Project ECHO offers seven other health care lines and three education lines, all of which also addressed COVID-19 issues. The ECHO education line shared evidence-based practices on knowledge and distance learning with educators across the state who were working with limited resources.
The COVID-19 ECHO line launched March 20. By the end of June, more than 22,000 health people had participated in at least one session, including legislators and front-line providers, saving the state of Oklahoma millions of dollars.
According to Project ECHO's return-on-investment formula, if each participant treats one patient locally instead of sending them to a specialist or to a larger health care provider, the cost savings equates to $1,178 for the patient and the private insurer, Medicare or Medicaid.
If each of the 22,000 health care providers who participated in a COVID19 ECHO session saw just one potential COVID-19 patient a month from March through June, that would mean a cost savings of more than $103 million. And many physicians participating in the ECHO sessions are seeing patients with COVID-19 symptoms weekly if not daily, Johnson said.
Project ECHO also hosted 10 sessions to educate health care providers, administrators, EMS and mortuary services on the Governor's Solution Task Force's Health Care Surge Plan, Long Term Response Plan and PPE resource management, reaching an additional 4,000 participants.
The Oxley Foundation in Tulsa made a gift to support Project ECHO during the pandemic.
"Project ECHO is valuable not just to Oklahoma but to the health care industry as a whole because it shines a light on ways to help both the physician and the patient, especially in rural towns. Through Project ECHO, there are opportunities to educate and share information, empower leaders in the health care communities and simplify communications," said Konnie Boulter, Oxley Foundation executive director.
An 'Efficient and Easy Process'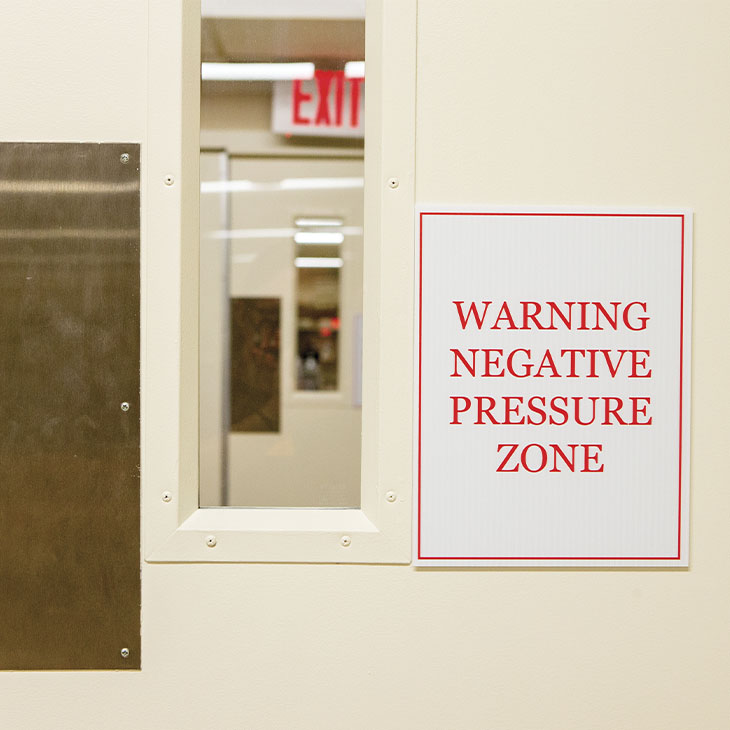 In April, OSU's Telemedicine bus joined several white tents as the hub of the drive-thru "swab pod," a COVID-19 testing site in OSU-CHS east parking lot.
"When the state wanted to increase our testing capacity, OSU Medicine was ready and willing to serve our communities," said Barrett Hunter, OSU-CHS' director of risk management and compliance. "The Telemedicine bus has always been a valuable resource for OSU Medicine, and it allowed our staff working at the testing site to have a centralized area to store supplies, PPE, specimens and other equipment without relying on a physical building for storage."
In May, the mobile testing operations were moved to the OSU Health Care Center about a mile away before a second drive-thru testing site was opened again on the OSU-CHS campus.
More than 2,500 people came through the drive-thru testing sites during their first three months of operation. Hunter called the collaboration involving several departments critical.
"We tried to make it a very efficient and easy process," he said. "People usually got from the entry point to leaving the testing site in under five minutes. And our process was optimized so patients didn't have to leave their car at any point during the process."
The drive-thru testing model really went mobile in June when shortterm testing sites were set up on other Oklahoma A&M campuses including Connors State College in Warner, Oklahoma Panhandle State University in Goodwell and OSU Institute of Technology in Okmulgee.
OSU Medicine opened a testing site on the Stillwater campus in late June and conducted 70 tests on the first day of operation. Physicians with OSU Medicine also conducted about 150 COVID-19 tests on OSU football players, coaches and staff in June.
Waiting in Your Living Room
On March 15, Gov. Kevin Stitt declared a public health emergency across Oklahoma. OSU Medicine clinics transitioned traditional office visits to virtual visits and went live with a virtual visit platform in just three days.
A little over a month later, the OSU Medicine clinic system had completed approximately 6,500 virtual visits, averaging about 1,000 per week. OSU Medicine Chief Executive Officer Rhett Stover said physicians and patients were pleased with the service.
"COVID-19 has ushered in a rebalancing of how we approach health care delivery," he said. "Telemedicine has legitimized its position as a key and critical component of the future of health care across our system. Virtual visits and the comprehensive delivery of telemedicine services is here to stay."
Stover said virtual visits are not designed to completely replace in-office consultation and treatment, but rather strengthen care management for less acute patients. This allows for those with more complex conditions who do require traditional office visits the ability to see health care providers more quickly.
"Virtual visits have the benefit of enhanced convenience, safety and accessibility of care by helping patients receive consultations in the comfort of their own home as opposed to commingling with other sick patients in waiting rooms, emergency rooms or urgent care settings," he said. "Virtual visits often come with less financial obligation to patients. The economic and clinical value of telemedicine and virtual care will only strengthen as technology and patient demand for these services continues to grow."
The Doctor Will See You
—

On Screen

As part of Oklahoma's COVID-19 Task Force response, OSU Medicine ramped up its telemedicine capability across the state through OSU's TeleHealth Solution technology. The program will serve 30 rural hospitals by the end of the summer.

"The COVID-19 crisis is reaching into all areas of Oklahoma, adding a strain to rural hospitals that are trying to bring patients the best care possible right in their hometowns," Stover said. "Technology now allows licensed physicians to assess Oklahoma's rural patients via enhanced telemedicine tools that help diagnose and begin a treatment plan for patients who are miles away. Rural health care providers can keep patients in their communities without having to transport them long distances for a hospital admission."

The process activates when nurses in partner communities engage the OSU TeleHealth Solution cart service at the patient's bedside, often during an urgent medical need situation, typically in the emergency room. The hospital nurse uses the telemedicine technology to monitor the patient's vital signs and other electronic assessments, which are digitally transmitted to the distant physician who assesses the patient's condition and makes treatment recommendations.

By the end of June, TeleHealth Solution carts were located at Carnegie Tri-County Municipal Hospital, Eastern Oklahoma Medical Center in Poteau, Fairfax Community Hospital, Mangum Regional Medical Center, McCurtain Memorial Hospital in Idabel, Memorial Hospital of Texas County in Guymon, Pawhuska Hospital, Physicians' Hospital in Anadarko, Prague Community Hospital, Seiling Regional Medical Center,Stilwell Memorial Hospital and Stroud Regional Medical Center.

Other hospitals in the process of getting the carts include Atoka County Medical Center, Choctaw Memorial Hospital in Hugo, Coal County General Hospital in Coalgate and Pushmataha Hospital in Antlers.

"The recent rapid adoption of telemedicine services, accelerated by our nation's COVID-19 emergency response measures, has created additional access to care in order to accommodate corresponding increases in patient demand for health care services across all health care communities," Stover said.