Alumni Larry and Kayleen Ferguson want to feed the world. They believe Oklahoma State University can help.
Inspired by faith, family and strong ties to OSU, the couple unveiled a historic gift through their Ferguson Family Foundation on Jan. 15. A crowd of about 250 people gathered to celebrate the launch of New Frontiers — a $50 million capital campaign for a new teaching, research and extension facility to replace the aging Agricultural Hall.
People gasped and rose to their feet when President Burns Hargis announced the Ferguson Foundation's $50 million gift, which will be split evenly between the campaign and a newly created endowment to support college operations.
Orange and black confetti shot through the air when Hargis further explained that the college would be renamed the Ferguson College of Agriculture in recognition of the gift, which is among the largest in the university's nearly 130-year history.
"A lead gift like this doesn't come along very often," Hargis said. "The impact on OSU Agriculture is going to allow it to soar, even more than it already has."
Larry Ferguson said his career as CEO of the world's largest employee-owned dairy company, Schreiber Foods, took Kayleen and him around the globe, feeding people as they went.
"We got to see a lot of people who are hungry, and that really touched us," he said. "I really believe Oklahoma State can be a center point, a light, to help feed the world. This will really make a difference. We want to see Oklahoma State's ag program be the best in the world."
The program support and the cuttingedge facility will allow the Ferguson College of Agriculture to grow its status an unequivocal leader in agricultural and natural resource programs across the country and around the world, said Dr.Thomas G. Coon, OSU's vice president
for agricultural programs and dean of the renamed college.
The new $100 million facility will be located north of the Henry Bellmon Research Center on the east side of Monroe Street — diagonally across from Agricultural Hall. Architectural planning is under way, and the university is expected to break ground on the building next spring with an expected completion date in the fall of 2023.
The building will include innovative and flexible teaching and research laboratories, dynamic classrooms and space for students, faculty offices, new OSU Extension programming and a sense of community. The state's 4-H headquarters also will be housed in the building, as will a re-envisioned Dairy Bar.
"This project will change and modernize our research and the way we teach scientific subjects. It all goes back to the premise of being a modern, land-grant institution," Coon said. "Research has the promise to change the way we grow food and care for the natural environment we rely on. It can transform Oklahoma's economy, fostering innovation that will feed a growing world."
Hargis said the facility will help recruit and support "the brightest minds in the world."
"The Ferguson College of Agriculture will be a destination for researchers, professors and students," he said. "One can only imagine what discoveries will be made and how the world will change because of the work being done in OSU Agriculture."
OSU Agriculture already makes a substantial impact in Oklahoma, and its influence can only grow.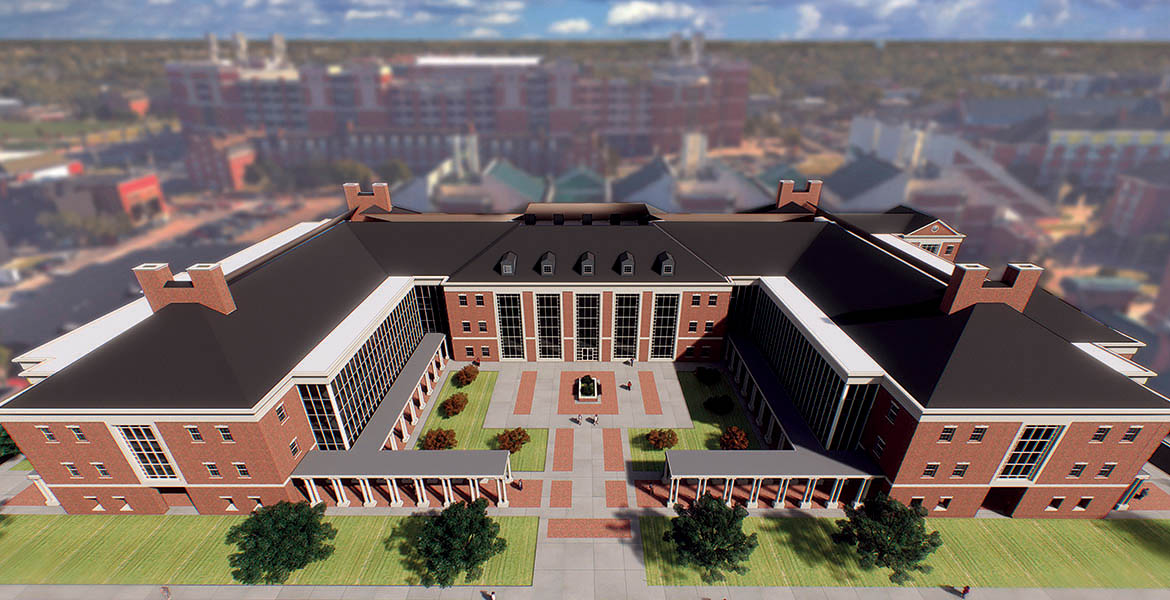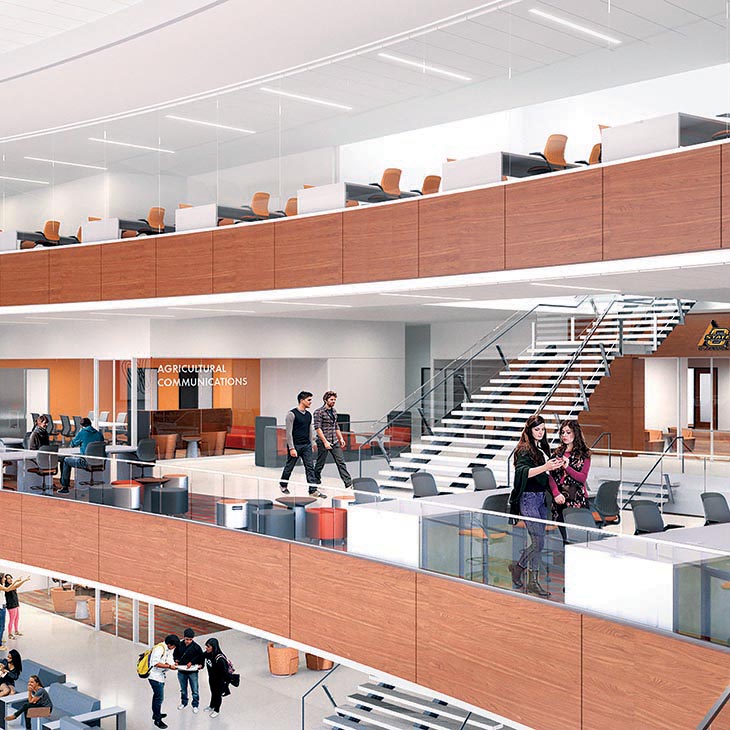 At the announcement, Gov. Kevin Stitt said the success and rich history of agriculture in the state is due in large part to OSU Agriculture, which is comprised of the college, the Division of Agricultural Sciences and Natural Resources and two state agencies: the Oklahoma Agricultural Experiment Station and the Oklahoma Cooperative Extension Service.
Combined, the entities account for 40 percent of OSU's research expenditures and generate 85 percent of the revenue created by patented intellectual property and technology.
"I commend the university for the innovation, teaching, research and extension efforts that have been critical for the growth of our state," said Stitt, who is also an OSU alumnus. "The research conducted here directly influences what crops are grown, what wheat varieties and breeds are grown in our state, how our livestock are cared for, food safety and how water resources are protected in addition to innovative developments including the usage of unmanned aerial systems."
He noted that agriculture is a $42 billion state industry — the second largest in Oklahoma — with more than 78,000 farms and 300,000 employees.
Blayne Arthur, Oklahoma's secretary of agriculture and a 2004 agricultural economics graduate, said she is looking forward to what the new facility will offer students and the agriculture, food and natural resource industries.
"When I think of a new ag hall, I think about the tremendous opportunities for students and our land-grant institution. I look forward to students having a new place to call home," she said. "I look for ag hall to be a place with cutting-edge technology and a place where our top-tier faculty continue guiding our students on a path to success."
The benefits of the project will directly impact and help drive the state's economy by elevating student education, research and extension efforts, she said.
"I think we will still see this gift's impact decades from now — for all of Oklahoma and especially for farmers and ag producers," Arthur said.
New Name. Same Family.
Students from around the country choose to study agricultural sciences and natural resources at OSU because they know they'll get a hands-on education that will both challenge them and provide them an opportunity to make a difference, said Dr. Cynda Clary, associate dean of the Ferguson College of Agriculture.\
That type of learning has become a hallmark of OSU Agriculture. So has the tight-knit family feel that has resulted from quality faculty members who focus and prioritize mentorship of undergraduate and graduate students.
"That's really what makes education happen in our college," Clary said.
The Ferguson College of Agriculture adopted the tagline "New Name. Same Family." to promote the college's name change to students, faculty, staff, Extension network and alumni.
"It was important to communicate to students and the entire Cowboy family that we haven't changed who we are — just what we call ourselves," Coon said.
He added that the word "agriculture" encompasses all of the Ferguson College's programs and departments, including natural resources.
Immediately following the event on Jan. 15, Ferguson College of Agriculture signs and decals were installed in Agricultural Hall. Within 24 hours, the college's social media presence reflected the change, too.
The following day, the college hosted a daylong open house in the Student Success Center where students could pick up Ferguson College of Agriculture T-shirts and pens and sign a "thank you" banner for all of the donors who are making the facility possible.
"It's neat to know there are people out there who want to donate $50 million to students like us to improve our programs here at Oklahoma State," said Hunter Starr, Ferguson College student council president. "I was always raised to leave things better than I found them, and I think the Ferguson family is the embodiment of that idea. The college of ag here will forever be our home no matter what its name is."
The facility will greatly improve spaces like the Student Success Center, where people gather for career readiness help, student and leadership group activities or to simply visit with friends between classes. The center, which sees as many as 10,000 student encounters annually, is commonly referred to as the fishbowl because of its open windows and how crowded the room can get.
"One can only imagine what discoveries will be made and how the world will change because of the work being done in OSU Agriculture."
Current plans for the new building call for a student services pavilion with an open atrium that will better fit the needs of the college and students.
The student services pavilion will be the central point of the building and will be bookended by a teaching pavilion to the north and a research pavilion to the south.
In the current building, faculty have to coordinate unplugging equipment between labs to avoid shorting circuits and filter water twice before it's acceptable to use for experiments. Much of the building was brought online before DNA sequencing was possible and long before computers were common in households.
The new facility will immediately solve challenges created by outdated electrical systems, improve safety and accessibility and encourage an atmosphere of interdisciplinary discovery.
"What I want students to know about this day, is that it's something they can always remember. To be part of the creation of something new. Moving our industry forward. Moving their college forward. Helping to create spaces that are going to live on long after they leave here," Clary said. "But I also want them to celebrate this moment. To be in this moment. And to realize that this investment that the Fergusons have made is an investment in them. A belief in their potential, and the Fergusons' willingness to express that belief in a very tangible kind of way and it's something we should celebrate for a very long time to come."
Family Legacy
The Fergusons have already begun transforming agricultural programs at OSU through their contributions to the Ferguson Family Dairy Center. The couple announced the lead gift for that project in 2015 and celebrated its grand opening in 2017.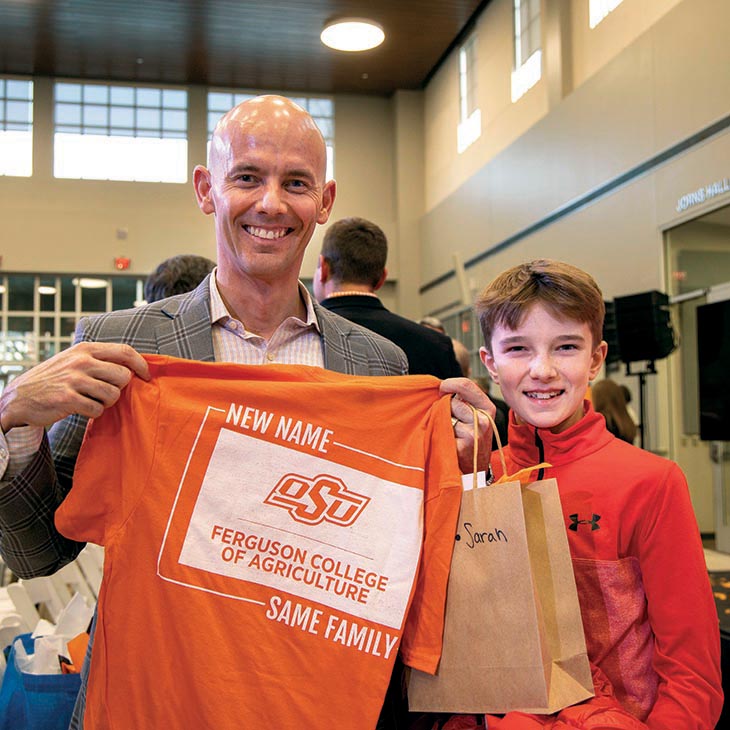 The dairy center's improved student housing is named Helms Hall in honor of Kayleen's parents. Kenneth and Kathleen Helms met while students at OSU. Kenneth lived in the dairy dorm and milked cows. Kathleen was the daughter of the dorm's cook.
Larry and Kayleen met in a similar fashion in 1975 in OSU's Dairy Cattle Center, where they both worked. Larry and his friends ate lunch in the time-clock room, and he noticed Kayleen as she quickly entered and exited the room. He learned her name from her timecard and called that evening to ask her out. Before the end of the year, they were married and living 1,000 miles from home as Larry began his successful career with Schreiber Foods.
"It's about our legacy. My parents met, married and got their master's degrees all from Oklahoma State in dairy science and agriculture. Larry and I met and married here. He started his career here at Oklahoma State all because of the education that he received here," Kayleen said. "We're just very thankful and we want to pass on that legacy of education in agriculture."
In total, Kayleen and Larry have given nearly $55 million to Oklahoma State through the Ferguson Family Foundation.
"The next generation of Cowboys will see some things on campus that will make them say, 'I want to be like that. I want to have an impact like a professor or alumni,'" Larry said. "We can influence future generations and future alumni by how we act today."
Larry said he and Kayleen are excited to be a part of the project. The university has raised more than $30 million so far, including the Fergusons' $25 million contribution and commitments from silent phase donors and several Cornerstone Donors who have given $1 million or more.
"We're not alone in this gift. It's to inspire other people to give and join in," Kayleen said. "This won't happen by ourselves. We need Oklahoma State grads, international grads, we need others to join in and see the importance of agricultural education."
---
For more information, visit osugiving.com/new-frontiers or contact heidi williams at hwilliams@osugiving.com or 405-385-5656.
Watch the New Frontiers announcement ceremony