New Ray and Linda Booker OSU Flight Center set to open in 2021
Thursday, May 14, 2020
A couple's generosity and passion has cleared the way for the next chapter in OSU Aviation to take flight. In March, President Burns Hargis led a groundbreaking ceremony for the Ray and Linda Booker OSU Flight Center, set to officially open by fall 2021.
The 11,600-square-foot facility is named after the Bookers, two aviation enthusiasts and longtime Oklahoma State supporters who made a $1 million naming gift last year.
"We owe a huge thank you to Ray and Linda Booker for their commitment and vision for our aviation program," Hargis said. "With this new flight center, Oklahoma State will strengthen its position as the premier destination for aviation education and the home of the best-trained aviators in the country. This facility will have a major impact on the student experience and our work with the aviation industry."
The facility will include spaces for individual flight debriefings, encourage on-site group instruction and discussions and offer state-of-the-art simulator technology, dispatch space and student common areas.
"For most of us, the flight center is our second home," said Nate Anders, a professional pilot senior from Del City, Oklahoma. "When you aren't at home or on campus, you are probably at the flight center. And on a nice day with a blue sky, it gets pretty crazy — lots of people, lots of talking and lots of traffic. The idea that we will have private debriefing rooms, where we can speak freely about performance and openly talk to our instructors is imperative and will drastically improve the flight training process."
The energy and student excitement found at the flight center clinched the Bookers' investment in the project.
"We came and met the students and could instantly see how enthused they were and how much they all loved to fly," Linda Booker said. "I think anyone who goes into aviation has a passion for it. It takes a lot of hard work, skill, time and energy to pursue it. We already knew the demand for pilots was there, and we could see the enthusiasm in these students, so it was a natural fit for both of us."
Together, Ray and Linda made their donation decision. However, before the paperwork was finalized, Ray suffered a life-ending stroke at 84 after a battle with Parkinson's disease. Linda was determined to follow through with the gift so that his legacy would live on through OSU's aspiring pilots.
"I know he would be very happy, and it would be very special to him," Linda said. "Even to the point where we were before he passed, he was so excited. He was excited about everything OSU."
Giving has always been about the importance and power of education for them, she said.
"We want students to further their education and work hard to be the best they can be, which is exactly what Ray did," Linda said. "And his message to students would be: If you work hard and study hard, you can be whatever you want to be and do whatever you love to do."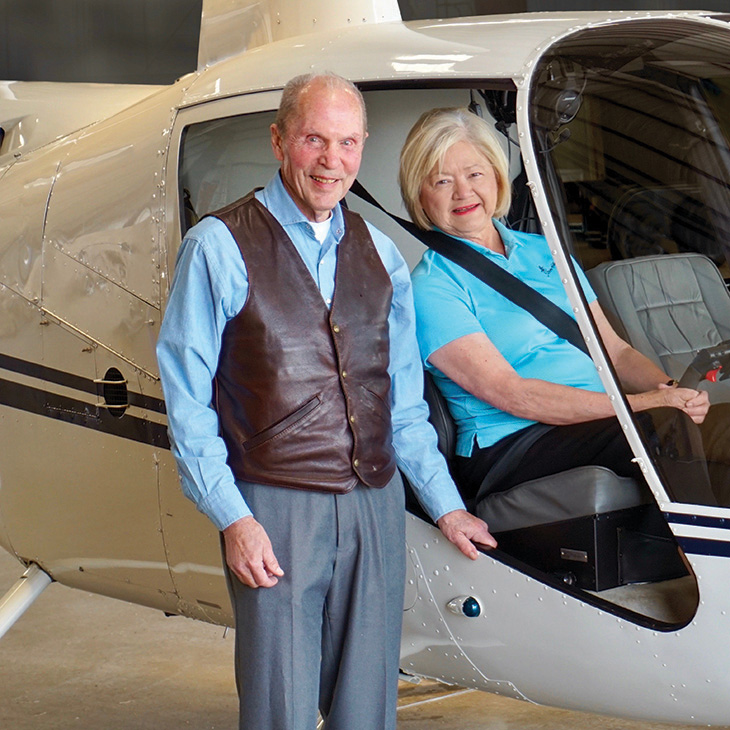 OSU Aviation enrolls more than 300 students annually, offering undergraduate degrees in aerospace security, aviation management, technical service management and professional pilot. It is also one of only 18 universities in the nation to offer graduate aviation degrees.
Enrollment has increased nearly 40 percent over the last five years, with the professional pilot option experiencing almost 50 percent enrollment growth.
"We've been outgrowing our space for some time now," said Lance Fortney, program manager for the OSU Flight Center. "Over the last several years, we've been continuously working on upgrades to our facilities, fleet and equipment so our students have a high-quality learning experience. This new flight center plays a major role in ensuring Oklahoma State continues to attract and retain the highest caliber of students."
According to the International Civil Aviation Organization (ICAO), 620,000 pilots will be needed to fly aircraft by 2036. The ICAO also forecasts a need for 94,000 new air traffic controllers and 1.3 million maintenance professionals.
Oklahoma State is determined to capitalize on future opportunities while maintaining the time-honored traditions of its aviation program.
The new flight center comes on the heels of a landmark year for OSU Aviation. Early in 2019, the program was selected for the Top Hawk program, a partnership with Textron Aviation that provides access to the Cessna Skyhawk. Over the last year, the aircraft has supported flight training and promoted OSU Aviation at air shows, aviation contests and recruiting events.
"Being named a Top Hawk school is a tremendous honor that reflects OSU Aviation's rich tradition of excellence and strong national reputation," Fortney said.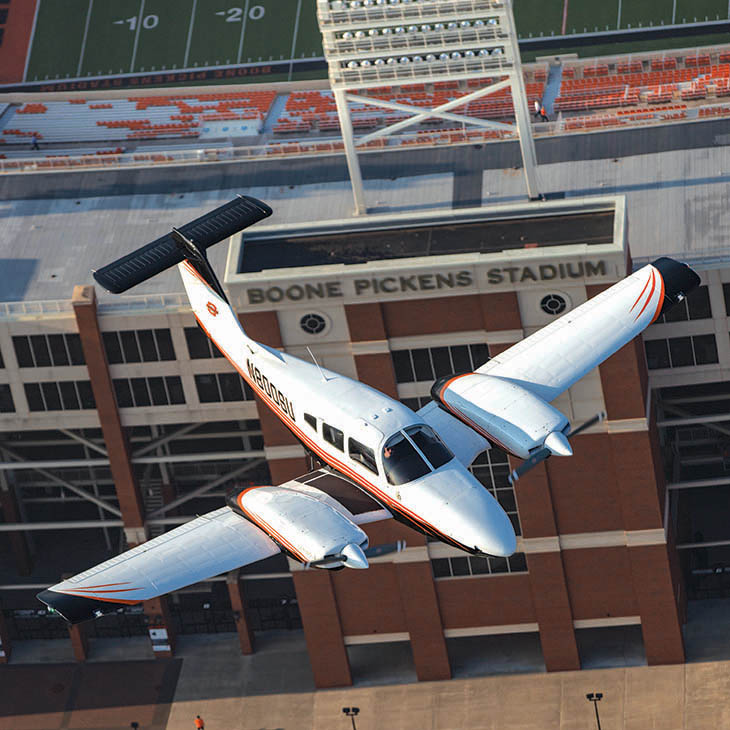 OSU also added five new Cirrus Aircraft SR20s to its fleet. The technologically advanced Cirrus SR Series boasts an impressive list of features and capabilities found on today's advanced airliners. All five aircraft are in use at OSU.
"I really believe that with the new fleet, new flight center and influx of students, we are in a position to be one of the best aviation programs in the nation," Anders said.
Industry partners are taking notice of OSU Aviation's programs, students and accomplishments. In late 2019, OSU established a professional development alliance with the Air Line Pilots Association (ALPA), one of only 12 universities in the organization's outreach mentor program. The OSU Aviation program and the OSU Flying Aggies now hold the ALPA Aviation Collegiate Education (ACE) Club distinction, the first and only Big 12 college to receive this honor. Alliances built between ALPA and leading aviation universities like OSU aim to promote the profession and support aspiring aviators' career goals.
"Our students now have direct access to major airline pilots through a formal mentorship program," said Dr. Jon Loffi, associate professor of aviation and space and faculty advisor for the OSU Flying Aggies. "Representatives from ALPA will be on campus at least once a semester to provide support to our students and make themselves readily available for questions related to flight training, crew resource management, career paths, job expectations and much more. This puts us in a great position for future partnerships and recognitions within the industry."
In Loving Memory
Ray Booker's passion for flying began at age 9. He was pulling weeds in Antlers, Oklahoma, when a Piper J-3 Cub aircraft flew overhead, mesmerizing him.
Throughout his life, Dr. Booker held many titles — pilot, engineer, meteorologist, entrepreneur, husband and father. Those who knew him described him as a modest family man who never bragged about anything. His wife, Linda, said he was always thinking, always reading and always wearing orange.
After graduating from Antlers High School, he earned a mechanical engineering degree from Oklahoma A&M College, where he was in the Air Force Reserve Officer Training Corps and flew the Piper Super Cub as a pilot training cadet.
He went on to become a second lieutenant in the Air Force, training and studying at Pennsylvania State University, earning master's and doctoral degrees in meteorology. His cloud physics research allowed him to fly on a regular basis, combining his engineering skills with his love of aviation.
Dr. Booker returned to Oklahoma to launch his first business, Weather Science Inc. and later joined KWTV (channel 9) in Oklahoma City as a meteorologist. Other business ventures included Aeromet Inc., Aviation Technologies Inc. and Metrodata Systems Inc. Dr. Booker's business ventures allowed him to build his flight time, add to his flight ratings and advance to flying larger aircraft. At one point, he owned and flew 11 aircraft. Mrs. Booker also holds a private pilot's license.
Through all of his successes, Dr. Booker never forgot where he came from and the role Oklahoma State played in his journey. The Bookers endowed two scholarship funds and a professorship at OSU, and, in 2005, Booker Residence Hall was named in his honor. In 2012, he was inducted into the OSU Hall of Fame.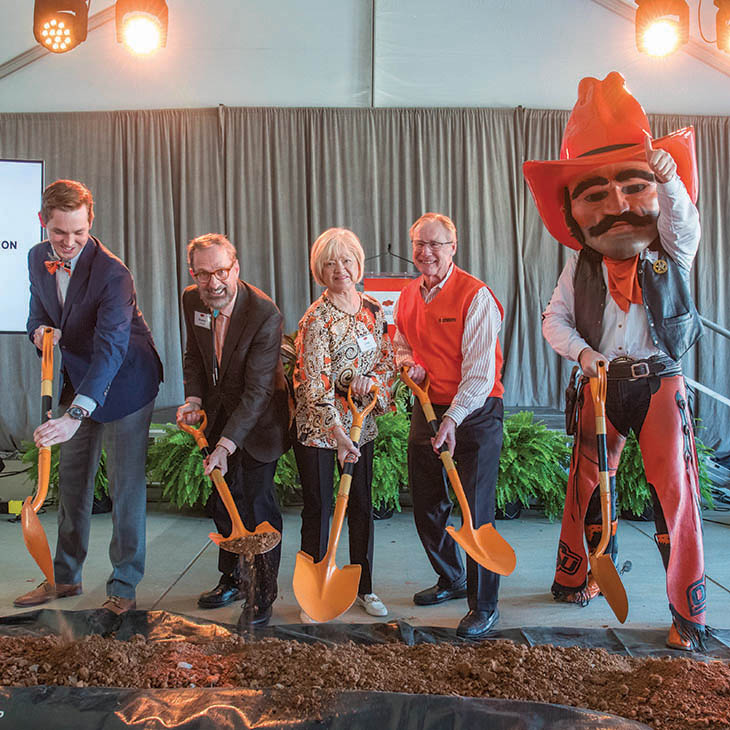 Dr. Booker was excited to see the new flight center come to fruition and knew the impact it would have on students who share his passion for flying. The couple wanted to ensure the longevity of the program and ultimately increase the number of OSU trained pilots around the world.
"With this gift, we will finally have a facility that physically reflects the excellence, pride and tradition by which OSU Aviation is already known," said Stephan M. Wilson, interim dean of the College of Education, Health and Aviation and dean of the College of Human Sciences. "And even more, Ray's legacy will live on through OSU Aviation."
---