Oklahoma Writers Hall of Fame inductee Teresa Miller appreciates the power of words
Thursday, May 14, 2020
Running deeper than oak tree roots and spanning wider than open grass plains, storytelling is a tradition cultivated in Oklahoma's red dirt. As a fourth-generation Oklahoman and the Oklahoma Writers Hall of Fame's most recent inductee, Teresa Miller is no stranger to the inseparable relationship between home and writing.
Growing up in Tahlequah, Oklahoma, a small town with no movie theater at the time, her main source of entertainment was stories. She loved the Nancy Drew book series and even attempted to write an end to the books, yet she attributes the majority of her love for storytelling to more than print. Throughout her childhood, she listened to neighbors, family and friends describe memories and experiences in a connected and meaningful way that influenced her.
She visited New York briefly as an aspiring actress after high school, wanting to explore other creative outlets. She returned home after an instructor told her that other actors struggled to understand her accent and suggested she should try writing instead. She enrolled at Northeastern Oklahoma State University in Tahlequah and earned a bachelor's degree in English.
"Writing was my way of claiming my voice," Miller said. "And after I graduated from college, I had a choice. I could go to law school or I could focus on writing. It was a big risk, and I second-guessed myself a million times, but I decided to write."
Miller wrote two novels that went unpublished. Her third novel, Remnants of Glory, caught the attention of agents in New York and sold within a month.
"There's a great sense of belonging you feel as a writer in Oklahoma."
- Teresa Miller
"I knew then that writing was something that was possible," she said. "It would be hard and elusive, but it was possible."
Her words proved true as challenges quickly arose in her career. After publishing her first book, she went through a period of writer's block that haunted her.
As Miller struggled to find the words to write, she gave a voice to other writers through hosting a TV show, Writing Out Loud.
"When I lost my voice, my consolation was that I could point to other writers through Writing Out Loud," Miller said. "The title was kind of ironic because I couldn't write but could speak about others' writings."
Fueled by her desire to support and invest in writers, she founded the Oklahoma Center for Poets and Writers at OSU-Tulsa. She directed the center and taught classes there for 20 years. She remains appreciative for the personal and professional growth she experienced there, as well as the atmosphere of encouragement, and the opportunity to witness new artists in the field.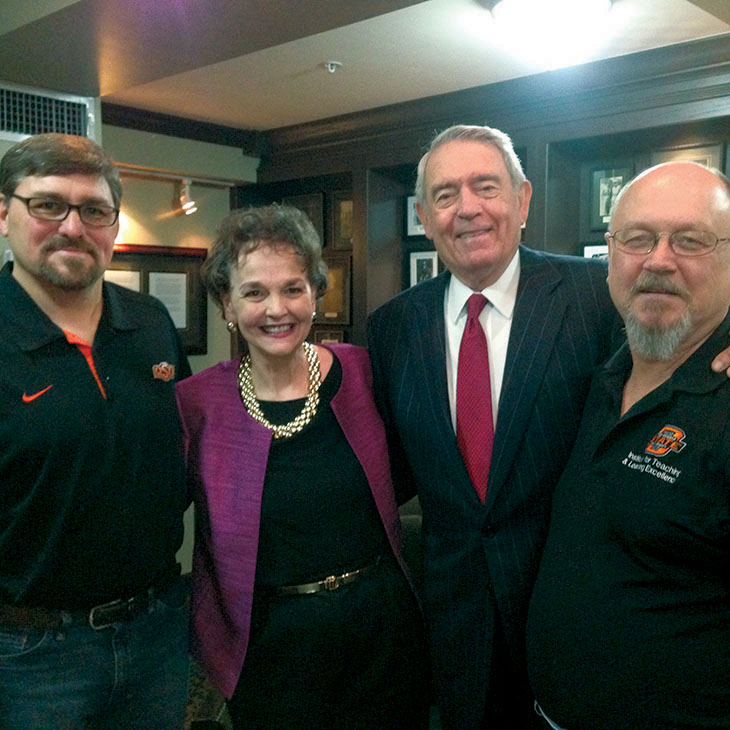 "OSU-Tulsa is such a nurturing environment," she said. "One of the greatest blessings of my life was that when my own voice failed me, I had a front-row seat to hear the voices of some of the greatest storytellers in our country. I don't necessarily mean the most famous — some of the best writing I've ever come across has been from my students."
Many of Miller's students were among the crowd at her hall of fame induction in November, celebrating the woman who gave so much of her time and talent to them. Miller said the night left her humbled.
"What a wonderful experience," she said. "This award felt like an acknowledgment of the struggle all of us go through as writers, to hone our words and make the most of all the opportunities we are given. I think it was only right that so many of my former students were there to share it with me because it was really about all of us as writers."
Looking from the little girl writing the end to Nancy Drew to the woman writing her own novels, Miller is grateful for where she came from and how it led to where she is now.
"Writing itself is a very lonely profession. Only you can reach deep within yourself to find your words and communicate them," Miller said. "And yet I think there is a wonderful community of those — other writers and readers — who support us in the struggle. There's a great sense of belonging you feel as a writer in Oklahoma."