OSU-Tulsa graduate uses her education to power her mission to help others
Thursday, May 14, 2020
Five women are seated in a circle around criminal justice reform activist D'Marria Monday at a table in the Tulsa City-County Library — 7 p.m. on a Wednesday — with laptops, notebooks and an aluminum baking sheet covered with chocolate chip cookies. These women are mothers, workers and educators. They are also activists, a team of volunteers and employees working under Monday's grassroots community-building organization, Block Builderz. Together, they combine resources to educate and advocate for formerly incarcerated women across Oklahoma.
As the team plans a free community education event in Tulsa's historic Greenwood district on the impact of cash bail requirements, they laugh at each other's jokes and share which dishes they will bring. But they also discuss the needs, attitudes and disparities prevalent in some of Oklahoma's most disadvantaged communities. Cookies are passed around the table along with phrases and concepts such as restorative justice and the national socio-political environment.
Led by D'Marria Monday, these women have all served time in prison or experienced a loved one's incarceration. Now they work to help other women in similar situations in any way they can. Their combined efforts have shaped legislation, helped justice-involved women find employment, transportation and housing, all while battling the fiscal and social barriers that accompany a conviction.
Monday is no stranger to these barriers — including being denied for housing and passed up by employers. Before she graduated from OSU-Tulsa and founded Block Builderz, she was a high school dropout and single mother facing 10 years in prison.
Breaking a Cycle
Growing up, prison seemed like an unavoidable destination for Monday.
"I was an ambitious child, but my environment weighed down on me," Monday said. "I was in Girl Scouts. I spoke at my church. Unfortunately, my perspective clouded over time — I was molded into a product of the ghetto, and prison became an accepted fate."
Monday was born in Tulsa and raised in Midland, Texas. Her single mother worked long hours to pay the bills, often leaving her in the care of someone else. Monday lived through addiction, mental illness and several different forms of abuse in her home. She started skipping school and running away, eventually lured into a life of fast money and crime.
Consequences came quickly, too. In her early 20s, Monday was federally indicted for conspiracy to distribute cocaine base, known as crack. She was pregnant at the time and gave birth just before being sent to a Florida prison, hundreds of miles from her home and her baby.
Monday transferred to a prison in Texas after a year and a half so she could see her son more often. Her mother was taking care of the child and visited when they could. Monday did not want her son to grow up in the same environment she did, but she found it impossible to be an active mother behind bars.
"The next time I saw him he wasn't a baby anymore," Monday said. "There was a toddler staring back at me with my eyes, but he was still a stranger. Each time he could visit, I had to wait for him to warm up to me again."
Driven by a desire to be a supportive and positive force in her son's life, Monday worked hard in prison, including five years in a call center. Despite spending most of her days on the phone with others, Monday often couldn't afford a phone call herself. She only made around $20 a month and spent that on hygiene products, without much money left over to pay for a phone call.
"When I was in prison, I realized how much harm I inflicted on my community," she said. "I was already determined to be a better person for my child. But I began to understand that the generation behind me also needs help to shape their future."
Education provided a productive escape. Monday never finished high school, but behind bars she completed her GED. She pressed on and took college courses, earning a business certificate and a cosmetology license. She was driven to learn as much as she could to make a difference after her sentence was served.
"When I was in prison, I realized how much harm I inflicted on my community. I was already determined to be a better person for my child. But I began to understand that the generation behind me also needs help to shape their future."
- D'Marria Monday
Coming Home
After serving nearly eight years, Monday was released and reunited with her son. She immediately set her sights on home: Tulsa.
"I was coming home to my roots. I knew I was going to be the change I wanted to see in the world, and I wanted to see it here first," she said.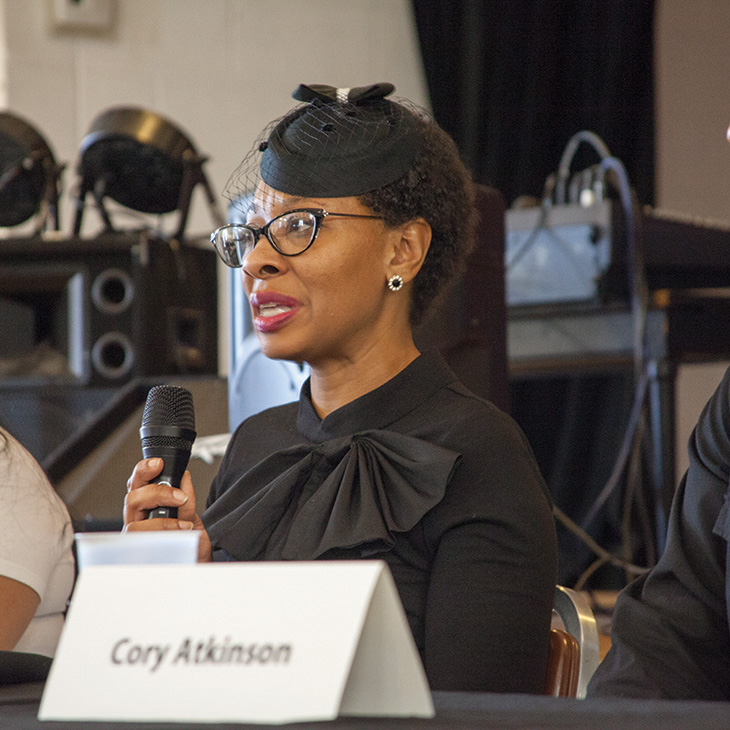 Education continued to anchor Monday to her mission. She enrolled in Tulsa Community College and earned an associate degree in business, then immediately transferred to OSUTulsa to earn her bachelor's degree in entrepreneurship. Even though she was raising a child and another baby was on the way, she knew she couldn't slow down on her education.
"I realized time waits for nobody," Monday said.
Oklahoma State was the obvious choice for Monday. She refers to the university as "the family school." Several of her family members pursued degrees at OSU, including Olympic gold medalist Kenny Monday, D'Marria's uncle. She feels galvanized by her uncle's legacy at OSU — honored with a place in the OSU Wrestling Hall of Fame, but the family feeling surrounding the university is not exclusive to those sharing her name.
"I feel supported by OSU. The relationships I've formed here are rock solid; the university is my family," she said. "I'll never be in the Hall of Fame for wrestling. But I am inspired by my uncle's footsteps and to make footsteps of my own."
Monday graduated from OSU-Tulsa in 2018. She was working full-time and constantly pouring in extra time and energy to help justice-involved women. With her education, the support of professors and staff at OSU-Tulsa and her experience as a former prisoner, Monday knew she had the tools to help restore the lives of other women affected by the justice system.
"That's how we built Block Builderz," Monday said. "Reaching out and showing people, 'Hey, I know what it's like."
Making Her Mark
Block Builderz is now Monday's fulltime job. The organization earned its first grant last year, enabling Monday to hire employees and incorporate more volunteers. The organization operates in downtown Tulsa.
Between writing laws, organizing educational events on justice system reform issues, and identifying and helping those who have served their time get back on their feet, no two days look the same for Monday.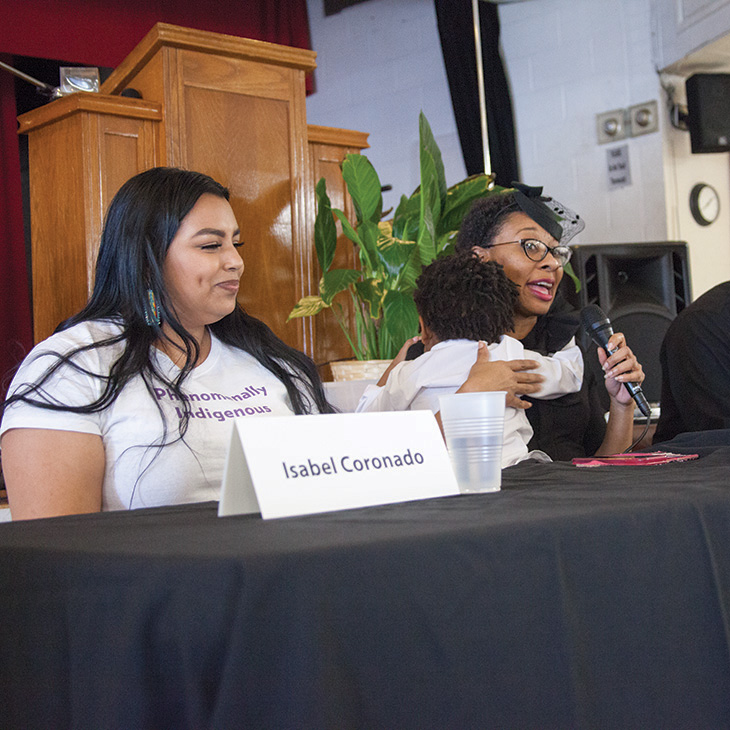 "At one of our resource fairs, we wanted to highlight stories of people directly impacted by incarceration," she said. "One woman had been denied enrollment to a vocational school and was told it was because of her criminal history. Someone heard her story and reached out to us, and we wanted to advocate for her. We wrote letters, started conversations, and it worked — now she's in school to draft construction blueprints."
The list of titles, projects and partnerships connected to Monday is extensive.
She's a member of the National Council for Incarcerated and Formerly Incarcerated Women and Girls, where she learned how to work with state lawmakers in crafting legislation to improve prison conditions for women. One bill she created alongside state lawmakers was inspired by other women's experiences of giving birth in prison, alone and shackled to the bed. Oklahoma's "anti-shackling bill" was signed into law in 2018; it bans the practice and allows women to have a family member with them for comfort.
Monday also operates as the northeast field organizer for the Oklahoma Policy Institute, visiting rural areas to organize people involved with the criminal justice system and teach communities to advocate for themselves. She partners with the national Dream Corps "#cut50" campaign to cut crime and incarceration rates. She even worked alongside the city of Tulsa to allow people with tickets and warrants to get them settled at the library instead of jail.
"We need a seat at the table. There's a saying in the movement — 'nothing about us without us.' Those making decisions about criminal justice need to understand how it affects the communities closest to it."
- D'Marria Monday
"I couldn't accomplish everything I work for today without climbing the staircase that education provided to me," Monday said. "TCC helped me down the path to OSU-Tulsa. Now my OSU degree provides me not only the knowledge, but the agency to carry my vision forward."
Monday never takes her eyes off the big picture for her future: improving the lives of people impacted by prison, starting with representation.
"We need a seat at the table," Monday said. "There's a saying in the movement — 'nothing about us without us.' Those making decisions about criminal justice need to understand how it affects the communities closest to it."