Boone Pickens' childhood home relocated to rest with him at OSU's Karsten Creek
Thursday, December 17, 2020
It's about more than a house.
It's about more than a famous alumnus who became a household name.
It's about more than concrete and steel and hedge funds and television shows and news conferences and names on buildings. Those things are bright and shiny and spectacular and awesome and every other adjective in the book.
They make headlines, as they should.
But it's about more than that.
It's about attitude. In fact, it's about two attitudes. And Boone Pickens is responsible for both — his and ours. On Sept. 11, 2020, the first anniversary of his death, the childhood home of Mr. Pickens was dedicated, virtually, during the annual Cowboy Golf Pro-Am event.
The house, originally located at 217 N. Kelker St. in Holdenville, Oklahoma, was the Pickens home from his birth until the family relocated to Amarillo, Texas, when he was a teenager. His grandmother and aunt lived next door. For Mr. Pickens' 80th birthday, a family member had the home moved to his ranch, Mesa Vista, north of Pampa, Texas.
The home is now in its third location, entrenched at Karsten Creek. Mr. Pickens is buried there, just outside the window of the bedroom where he grew up. The house represents an intersection. It is a symbolic melding of the past, the present and the future. Boone Pickens lived the past, changed the present and carved out the future for OSU Athletics and Oklahoma State University.
His record-setting giving, both to the university and the athletic department, no doubt changed the skyline of the OSU campus. But it did so much more. It also changed the foundation.
"The main thing he did was change our image of ourselves," said OSU President Burns Hargis. "He really did inspire a whole Cowboy Nation that they could be more than they ever dreamed. That's the most valuable gift he gave us."
Attitude is truly the gift that keeps on giving. Boone Pickens never forgot where he came from and wanted to make sure no one else ever did, either. His roots were constantly on display, from the orange ties he always donned on national television to showing up on campus with Dallas Cowboys owner Jerry Jones or Pro Football Hall of Fame quarterback Roger Staubach.
"He proved you could be a graduate of OSU, go out and change the world, make a lot of money in the process," said OSU Athletic Director Mike Holder. "And he proved it pays dividends to be generous and give back."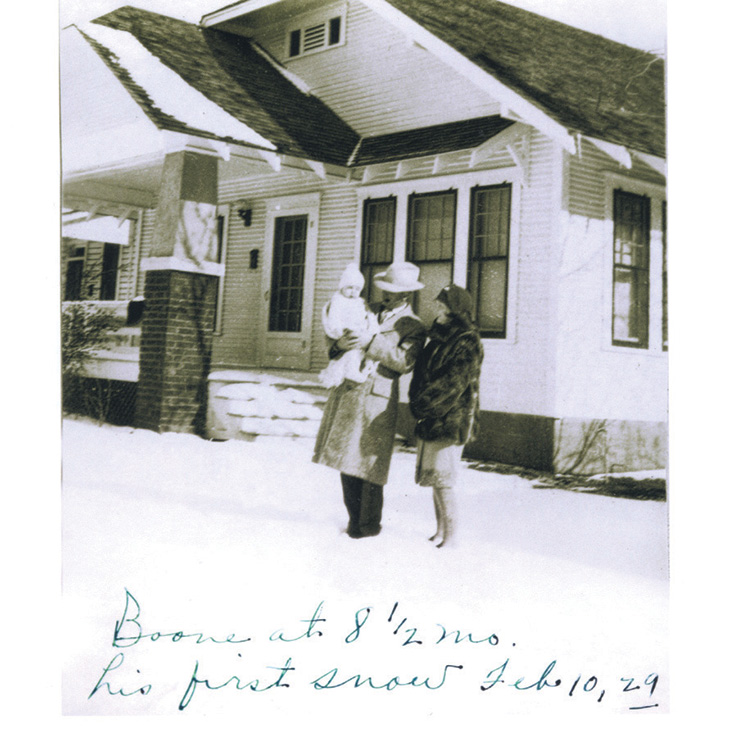 There is an old and familiar story that still floats around Oklahoma State — the fear that Boone Pickens' large swath of giving would discourage others from doing the same. If someone was going to donate $165 million in one fell swoop, and over $650 million over the course of their lives, why would anyone else need to bother? "The complete opposite happened," said Larry Reece, who oversees fundraising for OSU Athletics. "Boone's giving has inspired countless others to step up, including Mike and Anne Greenwood, Neal Patterson and Cecil O'Brate. Those difference-making donors have three things in common: a love for OSU, their names are on major facilities in the athletic village, and they were all inspired by Boone Pickens."
Former OSU quarterback Brandon Weeden knew Boone Pickens during his OSU playing days and stayed in touch with him after graduation.
"When Boone was around, you knew it," the all-Big 12 quarterback said. "Everyone would mind their p's and q's, and you wanted to make him happy. He did a lot for us, and it was important for us as players for him to reap the rewards for what he had done for the university, and in particular the football program."
And it wasn't just Oklahoma State players who were aware of Boone Pickens.
His legend far exceeded OSU, Payne County and the state of Oklahoma.
"I don't think there was anything he was more passionate about than Oklahoma State," Weeden said. "When I was in the NFL, the first thing players from other teams would talk about in regards to Oklahoma State was Boone Pickens. Everyone knew him. He was on a different level. There aren't many guys like him, people who are able to put a stamp on a university like Mr. Pickens."
Because Mr. Pickens gave Oklahoma State an attitude adjustment that stamp is here to stay.
He had lofty dreams that became reality.
And he wanted the same for his alma mater.
More than just wanting things to happen at OSU, he insisted they happen. Consider that mission fulfilled. Boone Pickens, as a donor, began OSU's campus-wide fundraising ascent with a $20 million gift in 2004. Prior to that donation, Oklahoma State University had received a total of 75 donations of $1 million or more in its entire history.
Since that donation, there have been 390 gifts of at least seven figures to the university. It's easy to see that Pickens' donations were transformational, not just financially. But his generosity spoke to the very soul of the school and the relocation of his childhood home reflects his deep connection to his alma mater.
The house was constructed by his grandfather in 1923, and the current interior of the home has been restored to its original look. Boone Pickens was born in 1928 and resided in the "Holdenville House" until he was 16.
"It's really a snapshot of what life was like in Holdenville, Oklahoma, in the 1930s," Holder said. "You can see what his room looked like and where he hid his paper money."
Spoiler alert: The money accumulated from his paper route was hidden in the floor of his bedroom.
Holder couldn't be happier that the house now sits at Karsten Creek.
"You could never put a more fitting memorial out there for Boone Pickens," he said. "What it represents for me is friendship, loyalty … and just how much the OSU golf program meant to him. We will never forget him. We will always be thankful to him."
It was 2008 when Mr. Pickens' wife, Madeleine, moved the Holdenville House to his ranch north of Pampa, Texas.
It is a 302-mile trek.
"When the house was moved from Holdenville to Mesa Vista, it was in three pieces," said John Houck, who was OSU's liaison for the relocation.
"We were able to make the move in two pieces for the relocation to Karsten Creek. The trip from Pampa to Stillwater was more accommodating in regards to overpasses and bridges.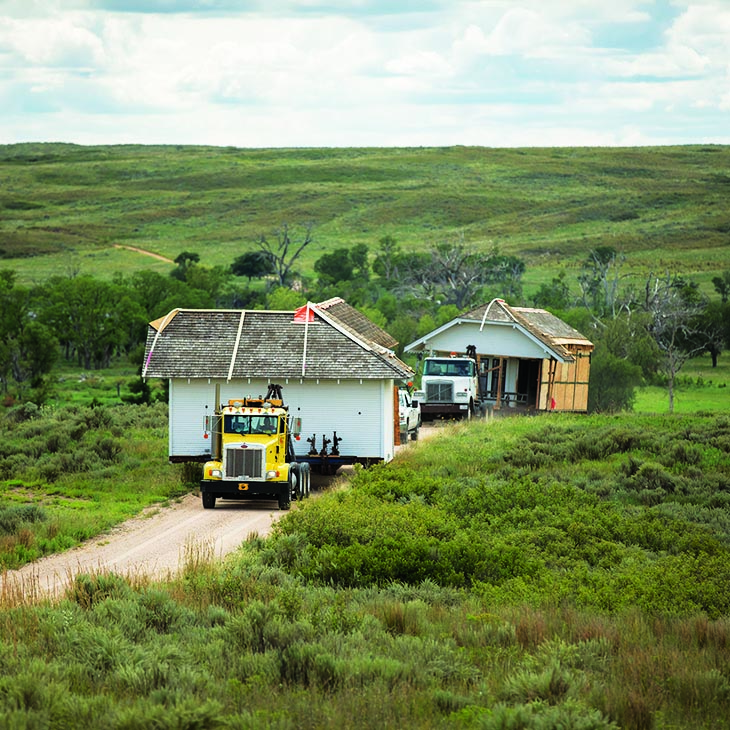 "It was watched carefully every step of the way," he added. "We kept an eye out for high winds, cross winds. There was a lot of angst."
Once that home arrived in Stillwater in 2019, there was a waiting period.
"We ran into a very wet spring," Houck said. "It really hindered the move. The home had to be stored for a period of time before we could start on it at Karsten Creek. Even moving to the current site was problematic due to wet soil."
Now at its permanent home, the Holdenville House will serve as a reminder of Boone's living legacy.
"Karsten Creek is a very special place, and it's fitting he is there where it's very open and everyone can see." Weeden said. "It's funny. He had been all over. But that place, like it does for all of us, resonated with him and he wanted people to know it.
"He was a special guy, and we are lucky to call him one of our own."
"Boone never forgot where he came from," OSU President Burns Hargis said. "His eternal resting place is just outside of his childhood bedroom window, where he imagined a world not yet built, dreamed big ideas and learned how the simple things become the most important things: In a statement to the media on the day of the dedication, the president had an eloquent summation.
"On this first anniversary of the death of this legend, business titan, fan and friend, we dedicate this simple and humble home, and we will always remember T. Boone Pickens, the giant who walked among us."