Flying Aggies join longtime pal for memorable last flight
Friday, December 4, 2020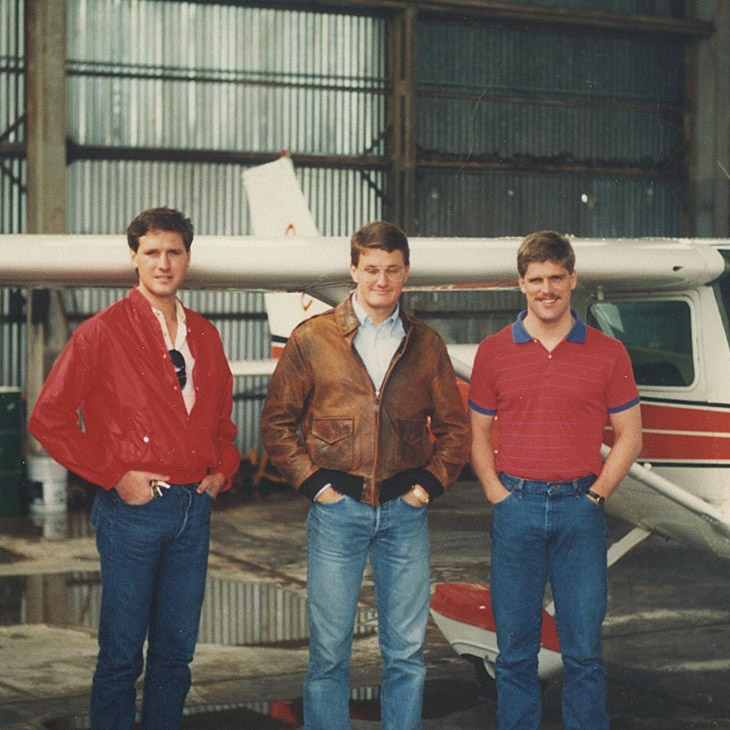 Retiring pilot Mark Schulz's final time in command of a Southwest Airlines Boeing 737 was an Oklahoma State University Flying Aggies mini-reunion.
Joining him in the cockpit on Aug. 30 were Southwest pilot Kevin Fergerson and retiring Delta Air Lines pilot Philip Martin — all three former OSU Flying Aggies.
Their families and their advisor from the 1980s, Bruce Hoover, were along for the ride in the main cabin. It was the perfect celebration of Schulz's last 737 flight and the embodiment of what a quality education, camaraderie and shared interests can mean to a life.
Any 10:30 Class Would Do
Schulz stumbled into aviation. He enrolled in college with no particular goal in mind. It was simply what a person was supposed to do.
"I made pretty good grades. Everyone said, 'You should be a doctor, lawyer, veterinarian or an engineer,'" he remembered. "Well none of that was really ringing my bell."
He took classes on Monday, Wednesday and Friday mornings at 8:30, 9:30 and 10:30 so he had the free time later to lift weights with a buddy down the hall.
When it was time to enroll in a 10:30 a.m. trigonometry class for the spring semester, he couldn't; he had an unpaid parking ticket.
"I had improperly parked in the freshman overflow lot, this big, ugly gravel lot on the north side of Hall of Fame," Schulz said. "So I go pay my stupid $5 ticket, and they told me I had to wait until everyone else enrolled."
He remembers the day he walked through a cold rain in the early morning darkness to the Student Union to round off his schedule with the 10:30 trig class. Drop-add in the early '80s consisted of a large room, light from an overhead projector and course catalogs. The trig class was full.
"I would have picked anything at 10:30 a.m. on Monday, Wednesday, Friday," he said. Schulz grabbed a catalog and started with the A's. AVED 1113, private pilot ground school, was the first 10:30 class he found. He verified that he could indeed get three hours of college credit for the course, signed up and went to the basement bookstore for the book and supplies.
"There was a shrink-wrapped collection of stuff. And I thought, 'What is going on here?' There was a map and a plastic thing in there and some kind of thing you wheel around. I thought, 'I don't know what this is, but I dig it.'"
Class started, and Schulz fell in love.
"This was the coolest thing I had ever done in my life," he said.
He went home to Altus, Oklahoma, that summer, worked at John Deere during the day and learned to fly in the evenings.
He baked under the summer sun in the small single-engine Cherokee 140.
"It was so hot and I was sweaty, but I didn't care. It was so cool I couldn't stand it," he said. "That was what I wanted to do, and here I am."
At Hoover's behest, he joined the Flying Aggies, a student organization founded in 1948 when the university was still Oklahoma A&M. As a member of the group's competition flight team, Schulz traveled to Battle Creek, Michigan, for the 1983 national competition. There, he met Phil Martin and Kevin Fergerson.
All three would serve as president of the Flying Aggies in the coming years.
The three believed interest in the aviation program was waning on campus. Hoover said they made it their goal to generate excitement around flying at OSU.
"These guys had the natural ability to engage their peers," Hoover said. "'We're going to take care of this, Mr. Hoover,' they would say, and off they would go."
"The Flying Aggies were our life," Schulz said. "We poured a lot of effort, dedication, devotion, time and energy into it."
The Early Years
Schulz quickly earned his private pilot's license, instrument rating, multiengine rating and instructor certificate. His grandmother left him exactly the amount of money needed to finish up his commercial instrument rating, certified flight instructor and certified instrument flight instructor ratings.
He taught ground school and new private pilot students at OSU for 18 months before landing a job at a commuter airline. Schulz accrued more flight time working for another Flying Aggie who opened a flight school in Stillwater, AESI, and a charter airline, Exec Express, ferrying passengers in a twinengine Piper Chieftain.
"We would literally take the tickets, check the people in, load the baggage, do the weight and balance and then fly from the right seat," he said. "We made $10 a flight hour. We would start at six in the morning, land in Enid at six at night for $40, and we loved every minute of it."
For a long-term career, Schulz knew he wanted to fly for Southwest Airlines. It didn't pay the most or have the most benefits, but it had never had a furlough.
He had to have a type rating for a Boeing 737 to even apply.
He made $20,000 a year flying for a commuter airline and managed to save the $9,650 to cover the costs of getting the type rating. He quit work to have the time to earn the rating. He was 26, married and living with his in-laws, washing cars to make money, waiting for a call. Schulz reached back to the Flying Aggies for help and picked up a job at another commuter airline. Six months later, Southwest called.
Final Flight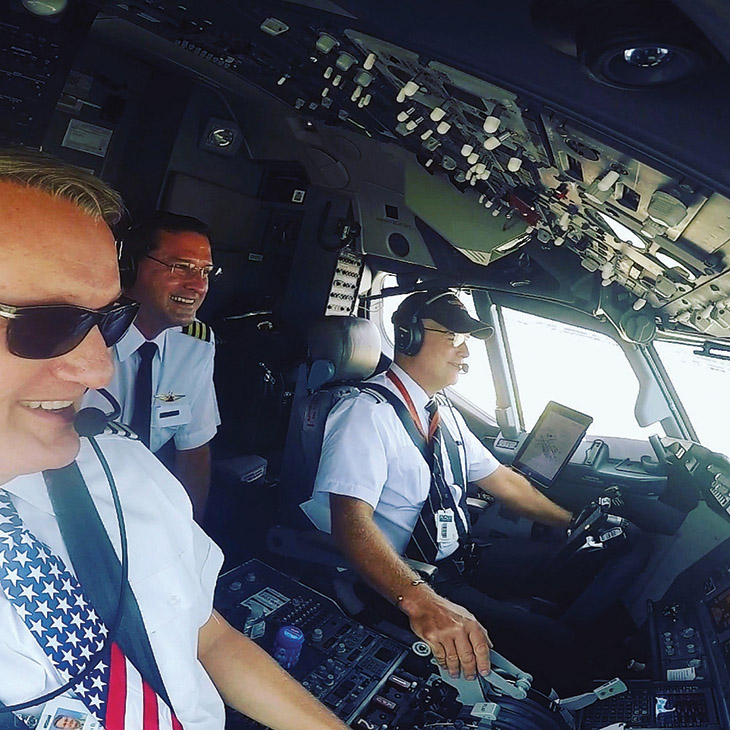 Schulz has no nail-biting, landing on- the-Hudson moments to share. He does have 31 years to the day of successfully ferrying Southwest Airlines passengers and their bags to their next destination as on time as he could manage.
Before COVID-19, when an airline pilot retired, airport fire trucks typically shot a water cannon salute over the plane as it taxied to the gate followed by snacks and celebration in the pilot's lounge. So many pilots had chosen to retire around Sept. 1 that the company couldn't plan a special sendoff for everyone.
So Schulz planned his own: three Flying Aggies and their beloved advisor, together again for one final leg. Martin was scheduled to retire from Delta's international flights on Aug. 31. Schulz called a week before his own final flight and asked Martin to come along. Martin hesitated.
"My first thought was, 'No,' because of COVID. But at the same time my heart said, 'Man, you gotta do this.' It felt like an honor to be invited on the final flight of Mark's. It felt like my final flight, too, in a way. It will be the last time I'll be in an airliner cockpit for the rest of my life."
Fergerson is still flying for Southwest Airlines, but the day was emotional for him as well.
"It really didn't hit me until that day that this is it for Mark. I didn't realize it was the last day Phil gets to suit up. It was cool to see all three of us in uniform, but I remember back when we were just excited to fly a Piper Chieftain. It was neat how we gelled into the same people we were when we were 18, 19, 20 years old. It was just the joy of being around each other."
Hoover was honored to be invited.
"It almost brought me to tears," he said. "Their personalities really had not changed a bit. They were still the rowdy bunch they always were. These boys took chances, but they were calculated. They knew what they wanted to pursue and made sacrifices to get there. To see them all in uniform together and at the ranks they have achieved, along with their families, was a treat."
For Schulz, it was the perfect ending.
"What was cool about it was that Kevin, Phil and I became friends at Battle Creek in the spring of '83 and we went out basically together in the same airplane, one day, one leg. Thirty seven years later, they're still my best friends. It really couldn't have gone any better."
---
The Oklahoma State University Aviation Program in the College of Education and Human Sciences has taken on new life in the last decade. An aging fleet of planes has been refreshed and expanded to 38, with several newer models including six new Cirrus SR20s. Four twin-engine planes are available for multi-engine and commercial ratings.
Lance Fortney, program manager for the OSU Flight Center, said there were around 130 students in the flight program when he started in 2012. That number has almost doubled. Demand became so great that the program now accepts only 75 new students every fall to ensure enough flight time for everyone.
The program has outgrown its current flight center north of the Stillwater Regional Airport.
"We have so many students and we do so much flying right now, there's not enough room. People are sitting in the lobby trying to brief. There's not enough privacy for instructor/ student conversations."
Construction has started on the new Ray and Linda Booker OSU Flight Center, with completion expected in the fall of 2021.
"The new building will give us the space and the privacy to hold those educational briefings and debriefings," Fortney said. "It will allow us to get our simulator in the same building, with hopefully room for two simulators."
For more information or to donate, visit OSUgiving.com/AviationComplex