Inaugural class of OSU College of Osteopathic Medicine at the Cherokee Nation holds first White Coat ceremony
Thursday, December 17, 2020
The future looks brighter for rural, underserved and Native communities across Oklahoma with the opening of the nation's first tribally affiliated medical school — the OSU College of Osteopathic Medicine at the Cherokee Nation — in Tahlequah.
The inaugural class of 54 first-year medical students marked the official opening of the medical school with a White Coat ceremony, which symbolizes their entry into the medical profession.
"This ceremony is the historic beginning of a new era in training physicians for our rural communities," said Dr. Kayse Shrum, OSU Center for Health Sciences president and OSU College of Osteopathic Medicine dean. "These 54 medical students represent the fulfillment of many dreams over many years — to create a medical school in partnership with the largest tribal nation in the heart of Indian Country. The students can attend medical school, complete their residency training, and practice medicine all right there in Tahlequah under the auspices of both OSU Medicine and the Cherokee Nation. I can't think of a better way to attract and train primary care physicians for rural and underserved Oklahoma."
Physicians reported as American Indian or Alaska Native alone and in combination represented 0.56 percent (4,099) of the estimated 727,300 active physicians in 2016, according to a report from the Association of American Indian Physicians and the Association of American Medical Colleges. In 2017, 0.48 percent (836) of the 174,570 total full-time faculty members at MD-granting institutions were reported as Native alone or in combination with another race or ethnicity.
Ashton Glover-Gatewood of Mustang, Oklahoma, said mentors within the Native American Research Centers for Health, Indian Health Services and Oklahoma City Indian Clinic have opened many doors for her.
"My own journey would not have been possible without support from my tribes," said GloverGatewood, an enrolled member of the Choctaw Nation and descendent of the Chickasaw and Cherokee Nations of Oklahoma.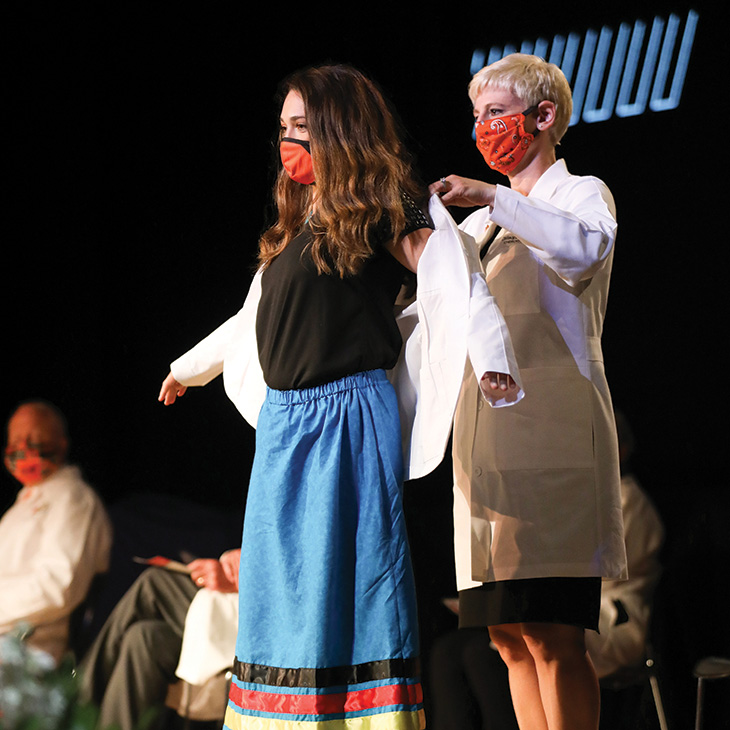 Glover-Gatewood was thrilled with her white coat. "The white coat holds the weight of all the dreams, hard work and expectations of the communities, leaders, and health care professionals that went into launching this inaugural class," she said. "Being part of this first class is not only the next step in my career, which I've dedicated to improving the health and wellness our of Native communities, but it is also the most fitting way to honor those who have invested in me. The tenacity, resilience and leadership that it takes to be members of an inaugural class will serve us all well in rural, Native and underserved communities as future physicians."
Glover-Gatewood says her classes have been going well, both for her and for her fellow students.
"Entering the first year of medical school is one of the most difficult academic and personal transitions of a career, yet it has been enjoyable, thanks to the support that we've all received," she said. "Every single day, the OSU College of Osteopathic Medicine staff, faculty, physicians and other medical students impress me with their loyalty to their mission, authentic devotion to student success and their innovative approaches to not only launching an inaugural class but doing so during an unprecedented global pandemic."
She can't wait to be a physician and loves the idea of returning to the Oklahoma City Indian Clinic, where she worked six years prior to medical school.
"Being able to practice within Indian Health Service allows me to serve a great need in my own Native community," she said. "Not only is a trusting relationship facilitated by patients having access to medical doctors who look like them, but also higher quality of health care delivery can be enjoyed by both patients and physicians."
"As we mark the official opening of the first tribally-affiliated medical school in the United States, we know that we will one day look back on this day and what will matter most is whether our efforts have changed lives for the better," said Chuck Hoskin Jr., principal chief of the Cherokee Nation. "I believe that this partnership will advance quality health care for all by allowing us to teach a new generation of medical professionals to serve our communities for years to come."
Students had a mix of online and in-person classes with appropriate physical distancing during the fall semester as construction — which was delayed due to the pandemic — of the 84,000-square-foot state-of-theart medical facility continued. It is scheduled to open to students in early 2021.
The new facility includes an anatomy laboratory, clinical skills lab, osteopathic manipulative medicine lab, standardized patient labs and a simulation center that will feature stateof-the-art computer programmable manikins. There are also lecture halls, classrooms, faculty offices, study carrels and a gym/workout area.
"The students who make up the Class of 2024 have fulfilled our greatest hopes," said Dr. William J. Pettit, dean of the OSU College of Osteopathic Medicine at the Cherokee Nation. "They come with impeccable academic credentials and a desire to make a difference in the lives of others. Our faculty here in Tahlequah and in Tulsa are committed to their academic and professional success. Our singular mission is to prepare them for a fulfilling and successful career in medicine."