International humanitarian Dr. Tererai Trent speaks about life-changing scholarship
Thursday, December 17, 2020
For Dr. Tererai Trent, speaking at the 2020 Women for OSU Virtual Symposium was a special homecoming.
The international speaker, humanitarian and best-selling author holds the title of Oprah Winfrey's "all-time favorite guest" and is recognized as one of the world's most acclaimed voices for women's empowerment and education. She's also a highly decorated two-time graduate of OSU's newly renamed Ferguson College of Agriculture and a 2014 recipient of an honorary degree of Doctor of Humane Letters.
Trent's story is one of tenacious resolve and unwavering conviction. She battled poverty, illiteracy and gender inequality growing up in war-torn Rhodesia (now Zimbabwe), when girls were not allowed to attend school and forced into marriages at young ages. Trent married an older, abusive man when she was 11 and had four surviving children by age 18.
"Nearly 20 years ago Dr. Trent was awarded a scholarship, and it helped shape her story. I can't help but wonder about the exponential impact our annual awards will have in another 20 years."
- Michal Shaw, Director, Women for OSU
In 1991, a chance meeting with Jo Luck from Heifer International changed Trent's life when she was asked about her aspirations. With dreams of achieving her undergraduate, master's and doctorate degrees, Trent spent the next eight years earning her GED before being admitted to Oklahoma State University. Her family, which by then included five kids, moved to Stillwater in 1998.
"Oklahoma State University became a family. I had champions who stood for me," she said during the Sept. 2 virtual event. She recalled how OSU and the Stillwater community gave her money to buy a gown for graduation ceremonies, helped provide food and shelter for her family and even a bike for one of her five children.
"There was this group of women — The Women's Giving Circle — I was in my undergraduate program, and I couldn't graduate because I owed so much money," Trent said. "These women came together to pay my tuition so I could graduate."
That group would go on to become Women for OSU.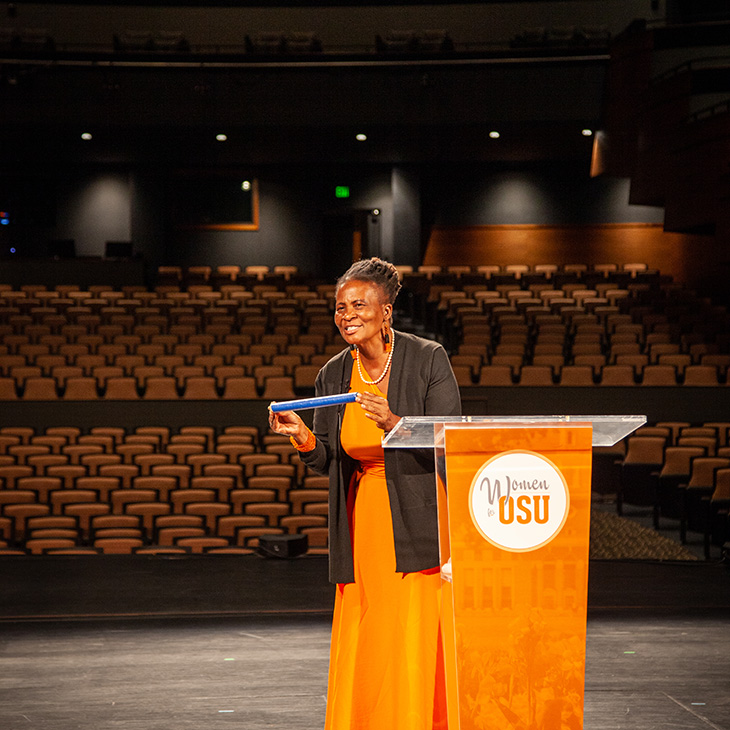 "I stand on the shoulders of giants. I stand on the shoulders of OSU," Trent said. "It takes great leadership like we see now with Women for OSU that we build platforms for students to thrive. That's the essence of our humanity."
Trent's full-circle moment was a poignant reminder of the significance and power of philanthropy, said Michal Shaw, director of Women for OSU and assistant vice president of donor relations at the OSU Foundation.
"Nearly 20 years ago Dr. Trent was awarded a scholarship, and it helped shape her story. I can't help but wonder about the exponential impact our annual awards will have in another 20 years," she said. Since 2009, Women for OSU has awarded more than $345,000 to OSU students who demonstrated their dedication to service and philanthropy.
Last year, the group's Women for OSU endowed scholarship fund grew to over $1.2 million.
"Dr. Trent's story reiterates what is possible when we give back and help others around us. It's incredibly rewarding," Shaw said.
After Trent's keynote address, she sat down with several Women for OSU leaders, including Robin Byford, chair of the Women for OSU council, Dr. Kayse Shrum, Women for OSU honorary council member and president of the OSU Center for Health Sciences, and Blaire Atkinson, president of the OSU Foundation. The panelists shared challenges they've faced as women and the impact women can have through philanthropy in their communities.
The event also honored 12 Women for OSU scholars, recognized Helen Hodges as the 2020 Philanthropist of the year and introduced a new program called Partnering to Impact. Additional details about this year's scholars can be found at OSUgiving.com/Women.
"I hated we couldn't be together in person, but it is exciting that over 2,000 members of the Cowboy family were able to participate virtually in this year's symposium," Shaw said. "We had people watching from all over the country."
Dana Bessinger, who earned both bachelor's and master's degrees from Oklahoma State, was determined to make watching the virtual symposium fun.
"While we were sad we couldn't be together in person, a few of us got together in Stillwater to watch with our orange gear on," she explained. "After the event, we enjoyed lunch at the Ranchers Club to add a little more OSU celebration to the day."
Several viewers connected with each other on social media, sharing photos and encouraging moments from the featured speakers and honorees — Bessinger included.
"I like when events use social media, like the Women for OSU hashtag, to help us connect," she said. "There were such amazing and emotional stories to share from Dr. Trent, Helen Hodges and the students."